Had One Too Many Dabs? How to Stop Being High From Weed
If you've overindulged on weed, you're probably reading this to look for the best ways to stop being high so that you can go on about your day and not be so green sick. You're likely wondering how you can get as much THC out of your system as possible and kick away the negative side effects quickly.

The truth is, the period of time it will take for you to become completely sober will depend on how much weed you consumed, in what forms, and just how high you are already.

Depending on these factors, it could take a few hours or even overnight before you fully recover. Nevertheless, there are some ways you can stop being high from weed much faster. While these suggestions may not instantly lower your blood THC levels, they could help you stay a bit more physically and mentally alert and avoid the nausea that sometimes comes from being too high.

However, keep in mind that if you've consumed large quantities of cannabis, you should still avoid operating a vehicle or heavy machinery unless you are completely sober.

In this post, we're going to cover some of the most effective ways to stop being high from weed, while separating fact from fiction, and hopefully help you figure out some fast ways to stop being high. So, let's dive in.  

How Long Does a Weed High Last?
The amount of time a weed high lasts depends on several factors. How did you consume it? Was your cannabis something you got from a plug or is it topshelf Black Diamond from your favorite Tacoma dispensary? How often do you smoke? All of these factors play a role in how long your weed high will last, though some of these outweigh the others.

Most pertinent is usually the method of consumption. Smoking, dabbing, and vaping will produce a faster, stronger high that doesn't last as long; eating an edible or drinking a cannabis beverage will take anywhere from 30 minutes to 2 hours to fully take effect, but it has a long-lasting and deep high. Without attempting to stop being high from weed, the following are some pretty accurate average estimated times:

Smoking, dabbing, or vaping will get you high in a matter of moments, with a high that lasts for an hour to two hours with a blissful period of another hour.
Eating an edible or drinking a cannabis beverage will get you high within one to two hours, lasting for roughly four to six hours after ingestion. The blissful period is another hour or two. For more information on edibles, check out our article on "Beginner's Guide to Edibles."
Once again, these are just estimated time periods, but they will be true for most cannabis consumers. The main thing to note here is that inhalation will generally go away on its own before too long, while edibles are a bit of a toss-up in how long they will take to kick in and how long they will last.

Now that you know how long each method of consumption will last, how about ways to stop being high from weed?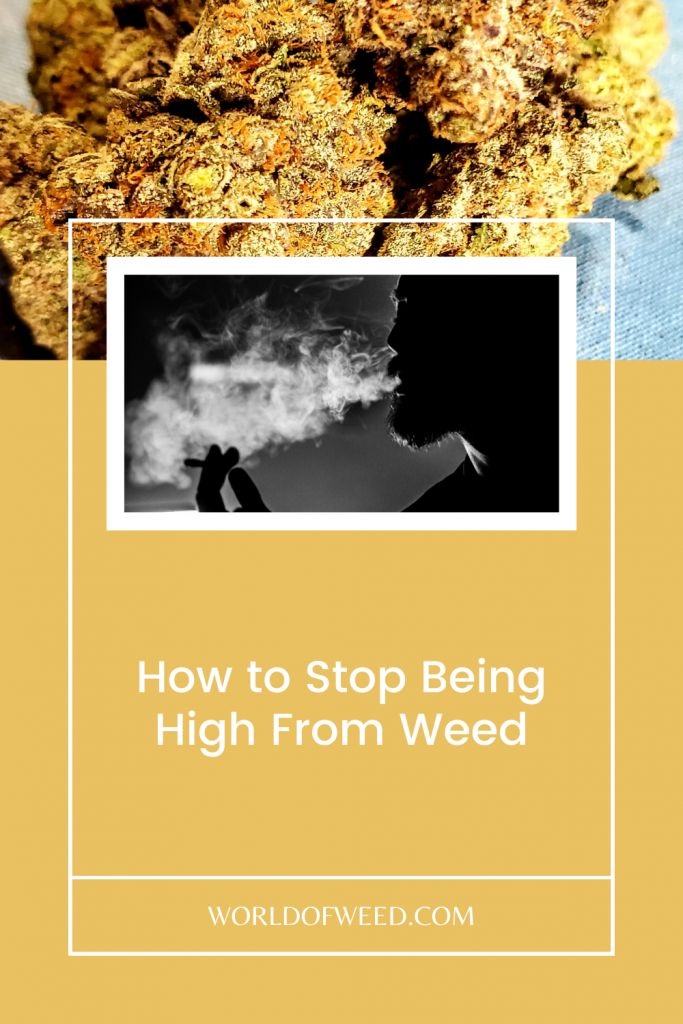 Ways to Stop Being High From Weed
Hydration
Water may be as effective at clearing a THC-muddled brain as it is at quenching your thirst. Smoking can dehydrate your body, which causes some side effects such as dizziness and dry mouth. It also helps to dilute the THC in your bloodstream. Try drinking a glass of water when you smoke or following the eating of a cannabis edible.
Chew Black Peppercorns
Aside from staying hydrated as you sesh, the most effective way to stop being high from weed is to munch on some black pepper. This will help reduce the anxiety and mental haze associated with weed. Rich in Beta-Caryophyllene, or just caryophyllene, this is a terpene that gives cloves, black pepper, and some cannabis strains their spicy bite.

Black pepper has been used for years as a way to alleviate the side effects of cannabis. This was then supported by a 2011 study that found both beta-caryophyllene and THC bind to the same CB1 receptors in the body. This creates a relaxing effect that promotes alertness, relaxation, and feeling less high. 

This process is known as the "entourage effect", and is why different strains have different effects. THC is a consistent cannabinoid among all the strains of marijuana, but it's the combination of the terpenes and all the cannabinoids present that give the effects.

For example, a strain high in Linalool will likely have a very sedative effect, while a strain high in Limonene will elevate your mood and relieve stress, in turn, increasing your energy levels.

So, if the terpenes in cannabis are what give a strain their specialized effects, it would only make sense that flooding your body with a specific terpene would increase those effects.

So, if you want to stop being high from weed, try chewing on some black peppercorns to reduce the effects of the THC. This will load you up on a significant dose of beta-caryophyllene and, given the entourage effect, will most likely help you sober up. 

Consume Citrus Fruits
As we discussed above, the terpene limonene is commonly used to stop being high from weed, and not without a valid reason. The scent of citrus has long been recognized for its revitalizing and invigorating effects, and even studies have shown limonene is effective at reducing anxiety. 

If you're one of the types who is calmed and refreshed by the taste and/or scent of citrus, try eating a tangerine or orange. It will help you to stop being high from weed, in addition to clearing up any cottonmouth you may be having.

Another way to consume limonene in citrus fruits is to down a smoothie. Your overage pineapple-orange smoothie is loaded with all manner of goodness that will get you out of your stoned haze faster than you can say, "Can I have a wheatgrass shot?" (Actually, maybe skip that part.) Pineapple, ginger, mint, coconut, and orange are high in Vitamin C and antioxidants that will help you to sober up faster after a heavy smoke sesh. 

Take Some Ibuprofen, But Avoid Caffeine
Another way to stop being high from weed that isn't as commonly discussed is using Ibuprofen. Yes, the headache medication. This medication will help dampen the effects of being stoned.

A 2013 study found anti-inflammatories have a significant impact on the duration of a weed high, while also not reducing the beneficial properties of the cannabis taken for medicinal reasons. While the tests were conducted on lab animals, this method works for humans as well. The same dose you would use for a headache will work well to help you stop being high from weed.
A lot of Ibuprofen also contains caffeine, so be on the lookout for that.

You may know by now that the age-old method of drinking coffee to sober up from drinking isn't actually rooted in fact, but what about when it comes to stopping being high from weed? 

Well, that may not actually be true either. In fact, it may have the opposite effect. A 2014 study found behavior in a group of animal test subjects that indicated the effects of cannabis consumption are increased when caffeine is introduced, not reduced. Furthermore, earlier in 2012, a scientist from the same research team as the 2014 study released evidence proving caffeine increased memory impairment from the THC in rats.  
Get Intimate
While a loss of intimacy is often a reason to blaze in the first place, a healthy dose of it could actually reduce the negative effects. A 2015 study found oxytocin (the "love hormone) injected in animals helped them to rapidly regain motor and brain function after alcohol impairment. It would stand to reason that this would be the same for cannabis impairment as well. So, the next time you want to stop being high from weed, get intimate with your partner.

Work Out
A bit of cardio goes a long way in preventing you from staying too high following your smoke sesh. Exercise gets the blood coursing through your body faster, which means it flows through your liver and detoxes your blood faster. The method of working out to stop being high from weed is a plausible one, but not one backed up with any scientific evidence.

Eat Something Else If You Consumed Edibles
While inhaling cannabis means the THC molecules never touch your digestive system, so eating doesn't have any effect, consuming foods rich in carbohydrates and fats shortly after eating an edible may help reduce some of the effects. However, you can still expect those weed gummies to keep you soaring for at least a couple of hours. It will, on the other hand, reduce dry mouth and haziness.

Ingest CBD
In 2012, a study showed CBD acted as a strong CB1 antagonist, meaning it has the potential to counteract and force THC to abdicate from our cannabinoid receptors. Thus, take CBD to stop being high from weed.

Taking a CBD tincture would be the fastest method of absorption. 

Final Thoughts
You took too many dabs at the sesh and now have to talk to your parents on the phone. You ran into your boss after an epic weed tasting. You need to have a serious conversation with your partner after you've both been blazing for hours. Whatever the case may be, many of us have been in a situation where we are higher than we would like to be and we need to stop being high from weed – and fast.

So, what do you do?

While there is no magic solution that will instantly undo the effects of THC, the above methods are going to help reduce the adverse effects such as haziness, nausea, and memory impairment.

The overall winner? Take a few tablets of Ibuprofen (without caffeine), consume a CBD tincture, chew on some pepper, and eat a tangerine to start feeling more like your usual self.
Happy blazing (or sobering!)

---
Disclaimer: Marijuana has intoxicating effects and may be habit-forming. Smoking is hazardous to your health. There may be health risks associated with consumption of Marijuana. Marijuana, in any form, should not be used by individuals that are pregnant or breastfeeding. Marijuana is intended for use only by adults 21 and older. Keep out of reach of children. Marijuana can impair concentration, coordination, and judgment. Do not operate a vehicle or machinery under the influence of this drug. This product may be unlawful outside of Washington State.