A stoner's travel guide isn't your typical travel guide. No, this travel guide to Tacoma, Washington will take you on a Hazey journey (see what we did there?) through one of the best places to smoke weed on the west coast.

As you watch the orange and purple sunset light up Mount Rainier dead-center of the Murray Morgan Bridge, cozy with blunt in hand as you sit on a blanket laid out on the grass of Fireman's Park, you'll wonder why you hadn't visited sooner. 

Tacoma, Washington, with a population of around 215,766, is the birthplace of the world-famous glass artist, Dale Chihuly, and home to an ever-growing creative community of artists, writers, musicians, filmmakers, photographers, entrepreneurs, and business owners. If you are looking for a sense of wonder and vibrant art in all forms, Tacoma is the place to be. 

Compared to the neighboring city of Seattle, Tacoma is a far more chill piece of the Pacific Northwest. While Seattle hums with its throngs of cars and people racing to and from businesses, Tacoma offers calming scenery and creative passion to be enjoyed in whichever way you'd prefer.

The city-loving stoners will love the wealth of restaurants, bars, and the best Tacoma recreational dispensary around – World of Weed. Families will love Point Defiance Park, while nature lovers will want to walk through the old-growth forests, botanical gardens, and historic sites. Art buffs and writers will be drawn to the world-class museums of glass art, classic cars, rare manuscripts, and shipbuilding. Hikers will head to Mount Rainier National Park and gaze upon the beauty that is the Cascade Mountain Range. 

From the best Washington recreational dispensary to hidden murals and calendar-worthy slices of nature, there is plenty to add to your itinerary when traveling to Tacoma.

Here is a stoner's travel guide to Tacoma, Washington.

First stop: Weed!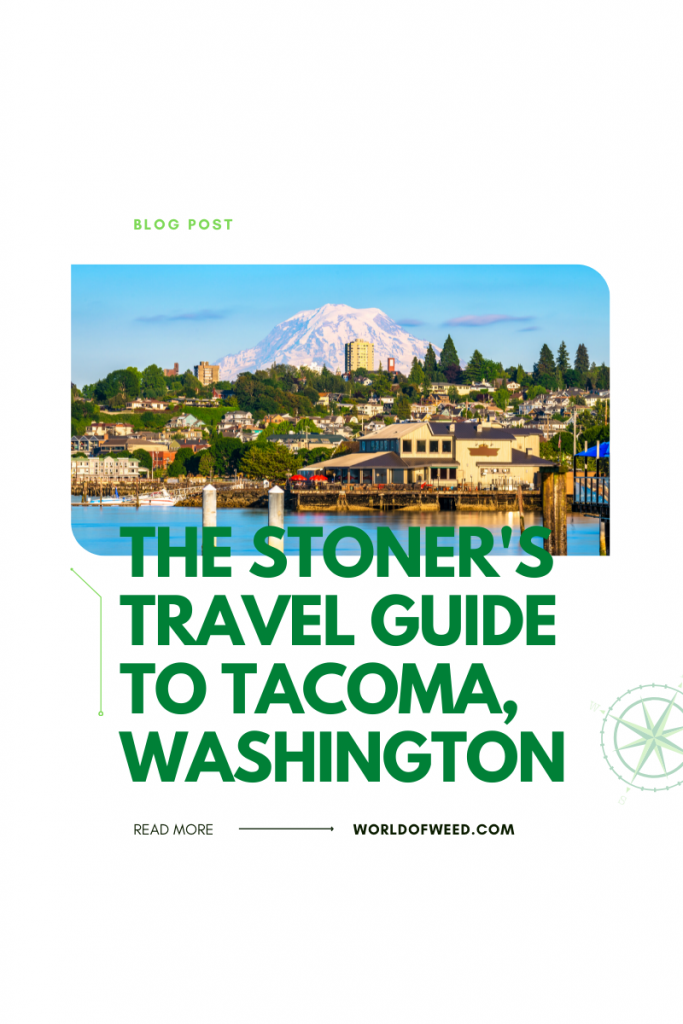 The Stoner's Travel Guide to Tacoma, Washington
Start Your Journey: Where to Get Some Green
All stoner adventures should begin with smoke-filled lungs, and the recreational dispensary World of Weed is the perfect place to begin. This shop has been voted the number one pot shop in the state out of more than 400 marijuana dispensaries on Leafly and Thrillist. With our unique Northwest charm and subtle eclecticism, we offer the best cannabis products with the best value. 

Whether you begin your journey at 8:00 a.m. and fuel your morning with some energetic Lemon Pie dabs, take a more traditional route with some bong rips of Galactic Glue at 4:20 p.m., or get your night going with a strong cannabis beverage, you can be guaranteed to find outstanding products, friendly budtenders, and chill ambiance to be part of the Tacoma stoner experience.

World of Weed
3202 Portland Ave E, Tacoma, WA 98404
(253) 272-9333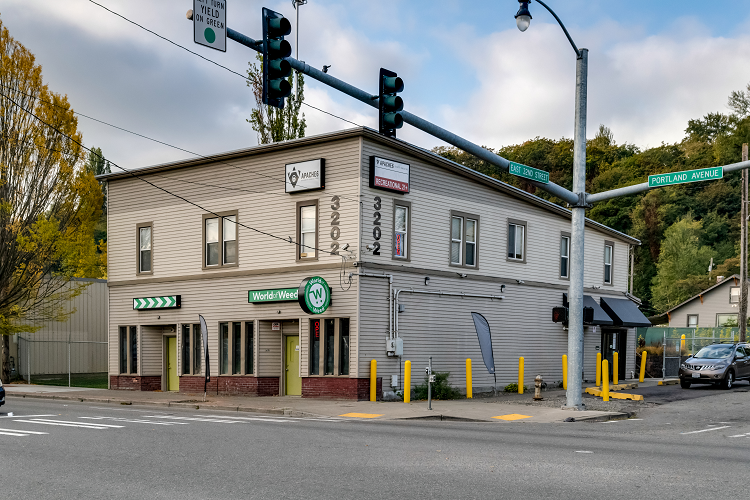 Settle In: Where to Stay as a Stoner in Tacoma
With a full stash, head to the North Slop District to get settled in at The Blue Whale Inn, a historically registered, cannabis-friendly bed and breakfast.

This inn is central to many fun spots, within walking distance of parks, stores, and restaurants, and has easy access to many Tacoma and Puget Sound attractions, such as Downtown and Mt. Rainier. Enjoy homemade meals that include fresh artisan bread, baked right there in the Blue Whale Inn kitchen, as you puff away. 

Guests are permitted to use a vaporizer in their room and in other accessible parts of the inn. A Storz and Bickel "Mighty" vaporizer is also provided for on-site use.

The Blue Whale Inn
824 North K Street, Tacoma, WA 98403
(425) 379-0907

Feed the Munchies: Where to Eat When Stoned in Tacoma
Some time ago, we put together a list of the best places to eat in Tacoma when stoned. Now, we're going to expand on that for your stoner travel guide to Tacoma, Washington.

Start with the legendary Memo's Mexican Food, open all hours of the day and night for whenever you need to satisfy raging munchies with some carne asada fries, sweet churro, or rich cinnamon horchata. The food is always served fast, and it's always delicious.

Memo's Mexican Food
1703 6th Ave, Tacoma, WA 98405
(253) 572-9503

Next, head to Legendary Donuts for mind-blowingly massive donuts you won't find anywhere else. There are tons of sweet culinary creations to choose from, including a 9-inch donut cake and an 11+ pound "King Kong" donut your doctor will be mad about.

Legendary Donuts
2602 6th Ave, Tacoma, WA 98406
(253) 327-1327

Finally, Frisko Freeze awaits your cherry-eyed arrival, waiting to offer you the best milkshakes and fries in all of Tacoma. Pro tip: Dip your fries in your milkshake for a stonerifically perfect combination of salty-sweet and hot-cold. 
Frisko Freeze
1201 Division Ave, Tacoma, WA 98403
(253) 272-4800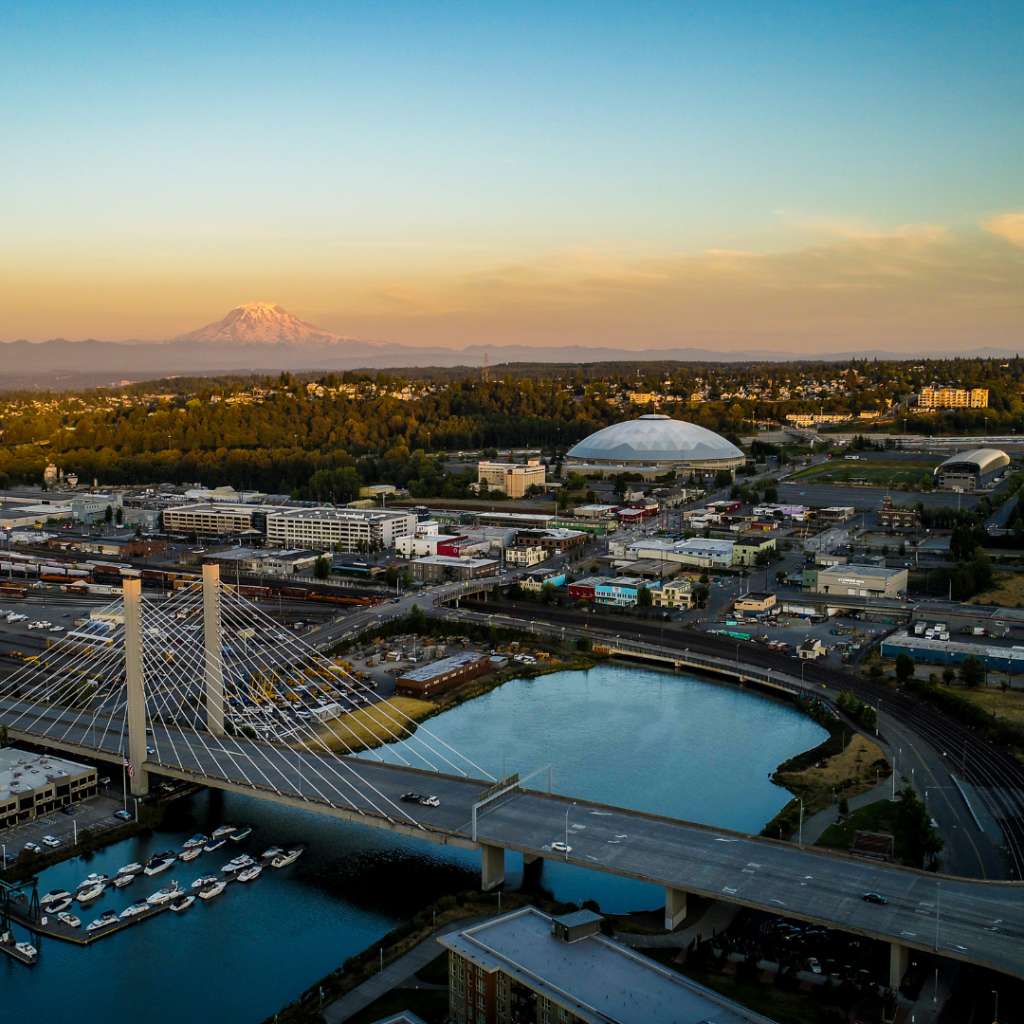 Get a Boost: Where to Find Coffee in Tacoma, Washington
Let's face it: Smoking big is relaxing and trekking around the city is tiring. Many Tacoma residents can testify, if you love to smoke weed, you very likely love coffee as well. Dip into Treos for some much-needed caffeine to pair with that THC. This landmark coffee shop goes against the grain of corporate coffee shop chains with its authentic Old Town Tacoma feel, filled to the ceiling with beverage options that go far beyond coffee. Sample some famous local wines and draft beers as you recharge in the calm and comfortable ambiance mid-stoner-travel journey, one that frequently features live performances from local musicians. 

Treos 
2312 N. 30th St., Tacoma, WA 98403
(253) 212-2287

Treat Your Senses: Fun Stoner Things to Do in Tacoma
It's important to take the time to engage in activities that stimulate the mind, but that doesn't mean they can't be fun stoner things! Bookworms should take a drive to Saint Helens Avenue in the Stadium District and visit King's Books, a 4,000+ square-foot, community-centered bookstore. In addition to the myriad of books and event space, with several active book clubs meeting there each month, King's Books also hosts many author and community events. Bookstore staff selections line the shelves, so you can try new titles based on recommendations from those who run the very store you're in.

King's Books is the quintessential indie bookstore for stoner bookworms to visit, and one that has been operating for over 22 years!

King's Books
218 Saint Helens Ave., Tacoma, WA 98402
(253) 272-8801
Once you're done there, take a trip to the Chihuly Bridge of Glass to take in some of the most beautiful glass pieces in the world. Just imagine if you could smoke out of them! 

Dale Chihuly is a Tacoma-born, world-renowned glass artist famous for his unique creations. The 500-foot, partially covered Bridge of Glass spans the Interstate 505 and Foss Waterway and is intended for pedestrians. It links the Museum of Glass with Museum Row and Downtown Tacoma. The covered part has a ceiling installment known as Seaform Pavilion, from which hangs more than 2,000 glass pieces, giving the appearance of a coral reef as seen from beneath.

As you go along the bridge, you will pass towers made from a blue translucent crystal that captures and refracts the sunlight and are illuminated at night. The final Chihuly Bridge of Glass installation is Venetian Row, an 80-foot wall that is completely full of 109 glass sculptures. 

The Bridge itself offers an arresting view of Mount Rainier and the city of Tacoma. Crossing the bridge is FREE.

Chihuly Bridge of Glass
Bridge of Glass, Tacoma, WA 98402
(866) 468-7386
After you've admired the glass you wish you could dab from, make your way to Owen Beach in Point Defiance Park. During these summer months, Owen Beach is the perfect place to swim, sunbathe, fish, or get your puff on as you walk along the paved seaside path. The beach has lots of picnic tables, a rentable picnic shelter, a playground, restrooms, and food concession stands.

As you sit on the beach and (discreetly) enjoy your weed, you can take in the beautiful view of Puget Sound and Vashon Island. Pretty frequently, seals and sea lions sun themselves on the shore. Just be sure to adhere to the state regulations requiring people to give the marine animals 100 yards of space and not approach them or permit their dogs to approach them. Make your Owen Beach trip extra lit by renting a kayak or canoe and seshing out on the water.

Owen Beach
505 Owen Beach Road, Tacoma, WA 98407
(253) 305-1010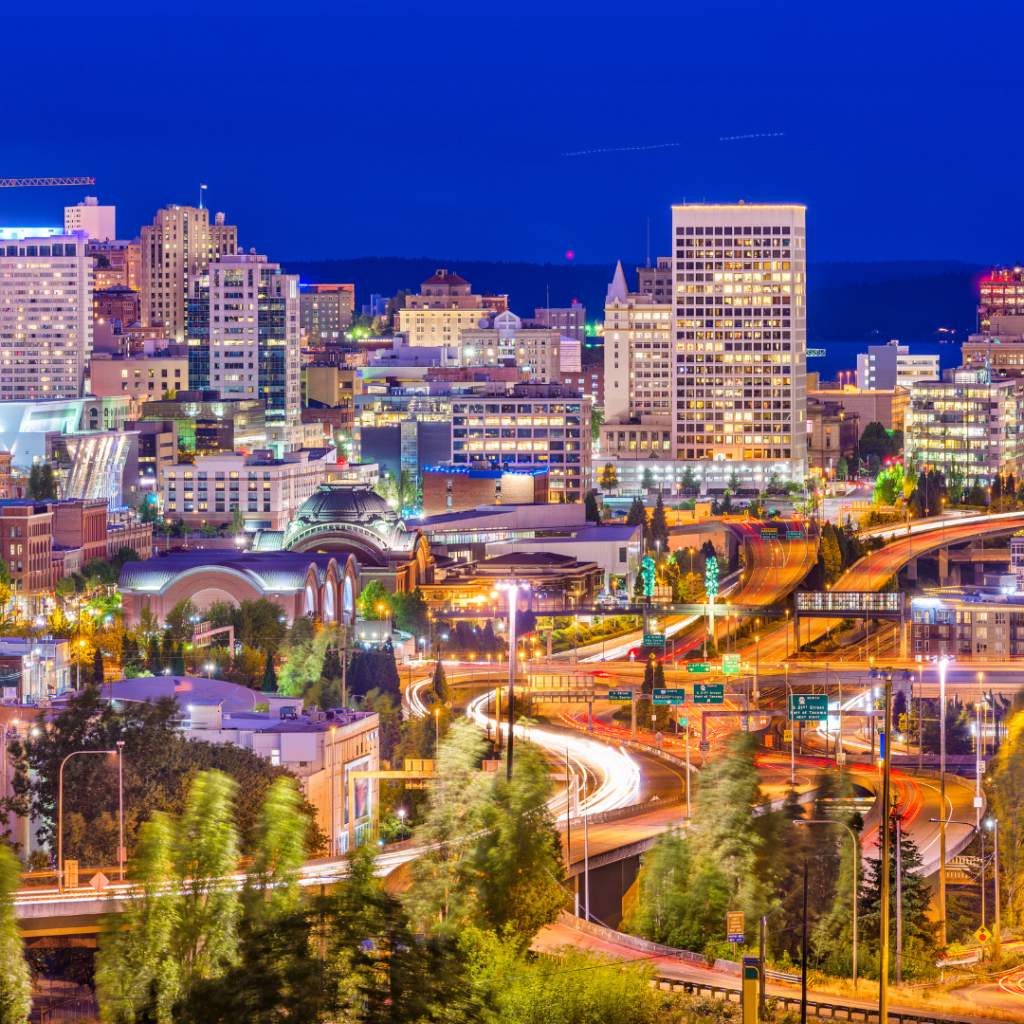 Keep Your Travel Guide to Tacoma, Washington Handy
Known as the "City of Destiny", the year-round vibrant greenery, laid-back creative atmosphere, and picturesque nature views make Tacoma, Washington a stoner Mecca of the Pacific Northwest. Planning a vacation to this cannabis-friendly city must be done carefully in order to get the most out of your trip.

If this is your first time in Tacoma, you'll soon find that the vast array of options for food, fun, lodging, and everything in between is mind-blowing. Regardless of how long you choose to vacation in Tacoma, it's nearly impossible to see and do everything. 

However, if you plan it out right with our Stoner's Travel Guide to Tacoma, Washington, you can experience all of the best stoner spots and avoid the "well, that was crappy" moments. If you want to get it right, stock up on premium cannabis from World of Weed to fuel your trip around Tacoma. After all, Washington and Colorado were the two states to first legalize recreational marijuana use, way back in 2012. If you're taking a stoner vacation, Tacoma is the destination you want.
For more information on all things Tacoma recreational cannabis, be sure to keep up with the World of Weed blog! 

---
Disclaimer: Marijuana has intoxicating effects and may be habit-forming. Smoking is hazardous to your health. There may be health risks associated with consumption of Marijuana. Marijuana, in any form, should not be used by individuals that are pregnant or breastfeeding. Marijuana is intended for use only by adults 21 and older. Keep out of reach of children. Marijuana can impair concentration, coordination, and judgment. Do not operate a vehicle or machinery under the influence of this drug. This product may be unlawful outside of Washington State.