You smoke the green and you have a pet.

And, because your pet loves you, she wants to sit right next to you (or on you), smack-dab in the center of the smoke zone. You could even go so far as to say she seems particularly keen on getting your attention when you're rolling up or getting a dab ready (maybe she likes the smell, that stoner).

You do your best to blow the smoke as far away from your furry friend as possible – ideally, right out through a window or door – but, there's still some concern that your smoke seshes are adversely affecting her in some way.

Sure, she doesn't seem to be at all bothered by it, but it would really be upsetting to learn you are inadvertently getting your pet high – and possibly scaring the bejeezus out of her – without her giving her permission. It's not like she sat down in the circle and told you to pass that blunt over her way.

Essentially: Is it safe to smoke weed around pets?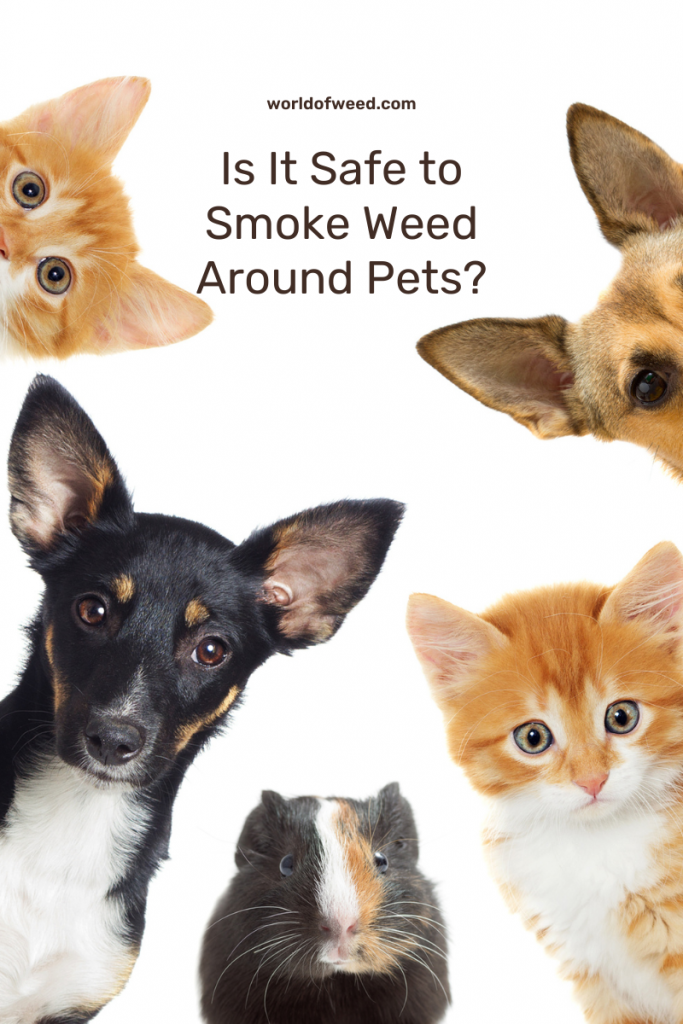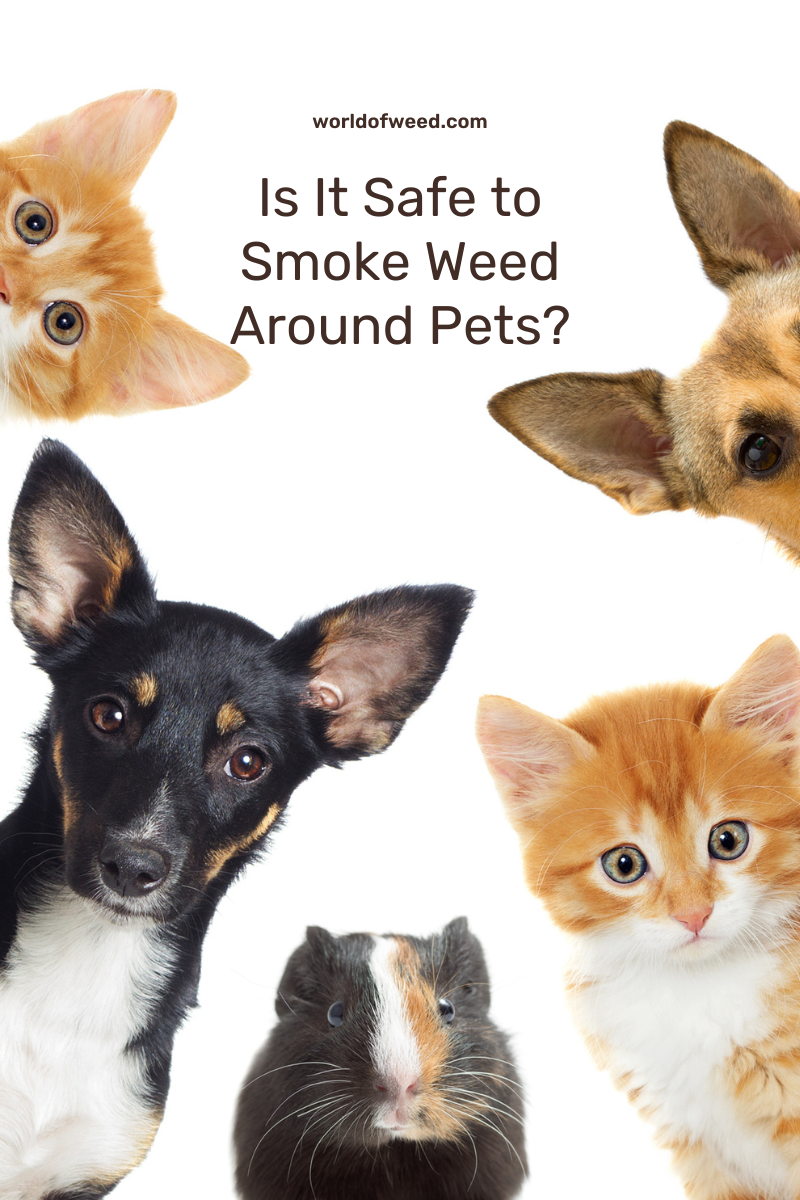 Cannabis Consumption and Your Pet
While the cannabis popularity has boomed for us humans, the question still looms: Is cannabis safe for pets?

Only a very select few cannabis-derived compounds are considered to be safe for cats and dogs, though it's imperative that pet owners choose the right type of cannabis products. While those with CBD and other non-intoxicating cannabinoids are sometimes given to these animals, in some instances recommended by veterinarians, products that contain THC pose a serious risk and are rarely, if at all, appropriate supplements for dogs or cats.

Cannabis and cannabis products that contain THC can severely affect your pet in a negative way. This is true for ingestion and inhalation. The molecules enter the animal's body and bind to certain cannabinoid receptors, resulting in altered neurotransmitter function. 

When a cat is "high" or "stoned", they tend to be incredibly vocal and hyperactive, much like they are when they consume catnip. While catnip interacts with the feline system in a way that is considered safe and suitable, weed does not. In high doses, weed can cause drooling, vomiting, and even tremors.

Dogs tolerate THC even less than cats do, and an accidental consumption can be traumatic for your pet – and for you.

While the lethal dose of THC is very high for pets, there have been cases of death caused by ingestion of highly concentrated edibles containing THC.

In fact, the number of pet deaths related to cannabis was exceedingly rare prior to the introduction of the super potent cannabis concentrates available now. In fact, when researchers surveyed more than 200 veterinarians throughout the United States and Canada in 2021, they found 283 reported cases of cannabis poisoning in pets, with the majority of them in dogs. The most common source of this poisoning was cannabis edibles, followed closely by cannabis flower.

As a general rule: The best way to keep your pet safe from weed is to not allow them to ingest or otherwise consume any cannabis product intended for human use, especially those that contain THC.

If you choose to use products with CBD for pets, do so with a veterinarian's consultation, and only give the specified dose of a specifically formulated pet CBD product that contains zero or insignificantly minute concentration of THC. 

Secondhand Pot Smoke and Pets
Yes, your pet can technically get high from inhaling THC-laden fumes; this is a rarity, however. In most cases, cannabis intoxication in pets results from a dog or cat eating an edible.
The inhalation of secondhand pt smoke is far less likely to get pets high, but it is still possible and likely to occur if the smoke is in an unventilated, confined environment. 

That being said, the answer to the question of whether it's safe to smoke weed around pets is a no. 

Exposing pets to any kind of smoke is not a good idea. Domestic animals have extremely sensitive respiratory systems that become heavily irritated by any type of smoke. Irritation of the lungs causes coughing and exacerbates pre-existing conditions, such as asthma, and can lead to other health conditions like Chronic Canine Bronchitis. 
Signs Your Pet is High From Weed
Cats and dogs exhibit most of the signs people do when they are incredibly stoned. They lose coordination and grow unsteady on their feet; they seem disoriented and are unusually vocal. They have dilated pupils, making their eyes look very open and wide, and they may drool, vomit, or urinate. In severe cases, the pet may develop seizures and enter into a coma.

Veterinary diagnosis of cannabis toxicity in pets requires an accurate medical history (yes, you have to tell the vet your dog consumed weed) and clinical signs – elevated or decreased heart rate, blood pressure, and respiration. While short-lived, these side effects can be potentially dangerous to your pet and, at the very least, will make your pet feel very distressed. 
What to Do If Your Pet Gets High From Weed
If your pet has consumed THC, you must immediately call either your veterinarian or an the animal position control center (800-213-6680). Both options will have animal medical professionals trained to specifically handle the ingestion of cannabinoids.

Cannabis consumption is dangerous for animals on its own, but the presence of the other ingredients in some products – such as edibles or wax – poses an even greater problem.

The veterinarian will treat the cannabis toxicity using one or more different methods, ranging from the administration of IV fluids to gastric lavage (pumping the stomach).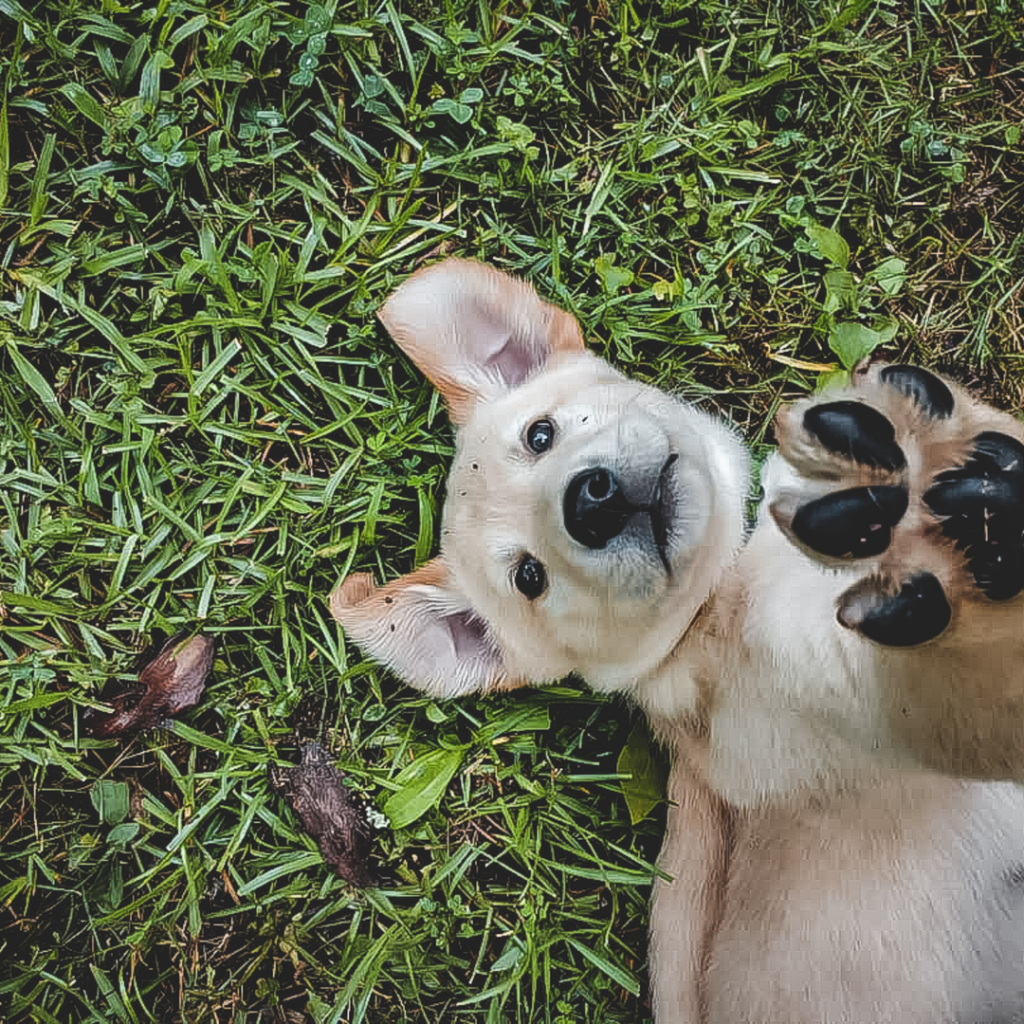 Making It Safe to Smoke Around Pets (Well, Safer)
There are several ways to make it a lot more safe to smoke weed around pets. Your pet ingesting any amount of cannabis is going to be highly upsetting for the both of you – not only due to the emotional distress and physical issues but also for the financial punch from the vet bills. 

The best way to prevent your pet from consuming cannabis is to treat your pets like children when it comes to weed. Keep your stash securely contained in a locked box far out of reach.

It's also best to consume cannabis away from your pets. To your fur baby, that sweet THC-filled treat is super tempting and worth trying to get a bite of.

If you are smoking weed around pets – unable to restrict your smoking to a separate area or have an overly insistent pet with separation issues – be sure to have good ventilation so the animal does not have exposure to the cannabis smoke.

Make It Safe to Smoke Weed Around Pets With Good Ventilation
Just like you would ensure proper ventilation when smoking in a home with children, smoking weed in a home with pets requires very good ventilation. After all, you certainly don't want to end up hotboxing your apartment with your dog around.

However, if there is proper ventilation and there is no smoke directly blowing in your pet's face, the risk of your pet having a problem is minimal.

If you are unable to open the windows, there are some ways to create a healthy flow of air throughout the room and the rest of your home to make it safe to smoke weed around pets.

Open the Doors

Open all of the doors in the house that lead to other rooms as a way to greatly improve the airflow, even if you don't have a fan. This will allow the smokey air to disperse and the fresh air to flow in.

If you have doors that open to the outside but have screens, keep the primary door open as you smoke and for at least 10 minutes after your sesh. Close the doors that lead to enclosed spaces in which the fresh air can become trapped, such as the pantry, laundry room, or closet.

Use Ceiling and Oscillating Fans

If you have ceiling fans in the room in which you will be smoking weed around pets, turn them on at a medium or high setting. This will facilitate air movement and circulation, as the ceiling fans move the air between the top, sides, and bottom levels of the room. This causes a breeze that will push the weed smoke out of the doorway of the room in which you and your pet are hanging out.

Oscillating fans placed on a table or desk, while not as strong as ceiling fans, will produce similar results that will aid the circulation of the air and ventilate the room.

Place Box Fans in Open Doorways

Setting up a box fan in each open doorway will pull the air from the other room in and push the weed smoke out. While this isn't the best option for a huge smoke sesh if you don't want the rest of your house to become smokey, it will make it a safer environment if you are going to smoke weed around pets.
Run the Air Conditioner

The air conditioner in your home will keep the room ventilated, making it a lot more safe to smoke weed around pets that insist on being in close proximity to you. 
Air conditioning units remove heat from the air in the room and continuously circulate the air throughout the home. This ongoing cycle of airflow reduces the stale weed smoke in the air and the weed smell, replacing that space with cleaner air.

So…Is It Safe to Smoke Weed Around Pets?
When it comes down to it, pet owners can feel free to hit the bong in their own home, provided they take a few cautionary measures to keep their furry friend safe and healthy. It's important to understand that cannabis ingestion is harmful to pets, so keeping products out of their reach and only smoking or dabbing in a well-ventilated area is a must if you're going to smoke weed around pets.

Regularly steam-cleaning upholstered furniture and rugs, washing the pillows and throw blankets, and washing the drapes and carpets will help minimize your pet's exposure to THC, as will keeping your pet properly groomed. 

Most importantly, do not blow smoke directly into your pet's face, have plenty of airflow, and make sure their curious selves cannot reach any of your stash.

As a pet owner, do you smoke weed in your home? How do you keep your pet safe while you puff?
Let us know in the comments!
For more information on all things Tacoma recreational cannabis, be sure to keep up with the World of Weed blog!

---
Disclaimer: Marijuana has intoxicating effects and may be habit-forming. Smoking is hazardous to your health. There may be health risks associated with consumption of Marijuana. Marijuana, in any form, should not be used by individuals that are pregnant or breastfeeding. Marijuana is intended for use only by adults 21 and older. Keep out of reach of children. Marijuana can impair concentration, coordination, and judgment. Do not operate a vehicle or machinery under the influence of this drug. This product may be unlawful outside of Washington State.