While we all know marijuana is hardly a new thing, but it's recreational use is a bit more recent. Back in the 1990s, some states started legalizing marijuana for medicinal use, and more recently, there are 11 states (plus D.C.) where recreational marijuana is legal. As with many other substances, the increased availability of marijuana has resulted in an increase of accidental exposure in pets, especially in dogs. This exposure can cause marijuana toxicity in pets, which requires immediate veterinary treatment. 
Read on to learn about marijuana toxicity in pets, what to do if your pet consumes marijuana, and what to do to prevent it.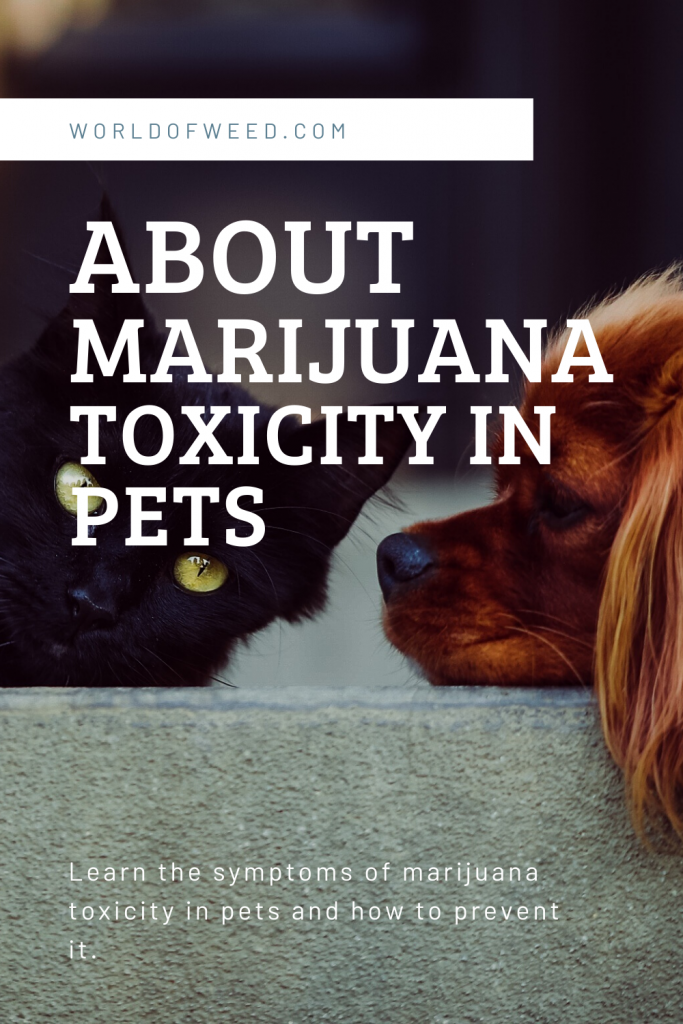 Marijuana Toxicity in Pets
Recreational marijuana is usually enjoyed in two ways – inhalation and digestion. Pets can be adversely affected by consuming either an edible or the dried plant. Marijuana edibles look particularly yummy to dogs and are a common cause of marijuana toxicity in pets. Both dogs and cats are attracted to marijuana in bud form.
Marijuana enters the pet's body via either inhalation or ingestion, where it then binds with certain receptors in the brain, causing a change in neurotransmitter function. THC interacts with neurotransmitters, such as serotonin. Both humans and animals have two types of receptors as part of the endocannabinoid system – CB1 and CB2. CB1 receptors affect the central nervous system, while CB2 receptors affect peripheral tissues. The CB1 receptor is thought to be most responsible for the effects of marijuana.
THC is highly lipid-soluble, so it is stored within the fatty tissue of the liver, brain, and kidneys before being eliminated from the body. In order for the effects of the marijuana to wear off, the THC has to be metabolized or purged / excreted.
Marijuana toxicity is often not life-threatening, but is very unpleasant for your pet and can make them very sick. 
Symptoms of Marijuana Toxicity
The most common cases of marijuana toxicity in pets involves a dog that has eaten someone's stash or edible. The signs of toxicity appear anywhere from 5 minutes to 12 hours after marijuana exposure. The symptoms can last anywhere from 30 minutes to several days, depending on how much marijuana your pet consumed.
Inhalation is also a common cause of marijuana toxicity and requires different treatment than ingestion. If you believe your pet has eaten or inhaled marijuana, look for the following signs and call your veterinarian immediately.
Symptoms of marijuana toxicity in pets include:
Becoming wobbly and uncoordinated
Hyperactive 
Very vocal
Dilated pupils
Excessive drool and / or vomiting 
Urine incontinence 
Lowered or elevated heart rate and blood pressure
Slowed respiratory rate
Lethargy
Decreased body temperature
(Severe) Tremors, seizures, and /or coma 
These side-effects of marijuana are generally short-lived, but they make your pet incredibly sick and miserable. 
What to Do If Your Pet Consumes Marijuana
It takes very little THC to make your pet sick. A small edible or a tossed joint can cause your pet to become ill. If you do think your pet has ingested cannabis, keep them warm and offer water to maintain hydration. 
Do not attempt to induce vomiting, because your pet could inhale the vomit and can also be potentially fatal. Instead, immediately take your pet to the veterinarian. There, the symptoms will all be monitored during recovery.
Be honest with the veterinarian. They are not obligated to call the police, but instead need to know everything in order to properly treat your pet.
Treatment for Marijuana Toxicity in Pets
While there is no actual cure for marijuana toxicity, veterinarians and veterinary staff provide supportive care through the symptoms of the toxicity. The veterinarian may induce vomiting or, if the symptoms are visible, will start your pet on fluid therapy, control the hypothermia, and make sure your pet is safe and as comfortable as possible. In their care, the pet will also be monitored for low blood pressures and seizures, should they happen. Depending on the dosage and severity of the marijuana toxicity, more extensive treatment may be required.
How to Prevent Marijuana Toxicity in Pets
There are several things you can do to avoid your pet getting into your stash.
Keep your marijuana up and away, out of sight and reach of curious pets.
Choose a place your pets cannot reach. Check your house and find a storage place too high up for your pets to get into.
Put your weed away when you're done smoking. Never leave weed out on the coffee table or at your bedside, even if you know you're going to be smoking again within the hour. Always put every marijuana product away after you're done using it, as this will reduce the chances of your pet being able to get into it.
Consider buying a lock box. Marijuana packaging may be child-proof, but that doesn't mean it's dog- or cat-proof. A locked box will provide you with a safe and convenient way to store your marijuana.
When seshing with friends, tell your guests about marijuana safety. Have visitors keep their weed away from your pets when they're in your house. Make sure they are diligent about putting the lids on containers and keeping all products out of sight and reach of pets who may go for them.
Be prepared in case of emergency. Call your veterinarian right away if you think your pet may have consumed or inhaled marijuana. Save your veterinarian's phone number in your phone, if you have not already done so, as a way to keep it ready when you need it.
Final Thoughts
With the widespread legalization of marijuana has come an increase in the accidental ingestion of marijuana and marijuana products by pets. This often happens when the pet owners are not present or not looking and the marijuana has not been safely stored or left within reach of the dog or cat. This results in an emergency visit to your veterinarian. 
If you consume marijuana, take the above precautions and to ensure the safety of the pets in your home. Know the signs of marijuana toxicity to look for and call your veterinarian immediately should your pet consume or inhale marijuana. 
If you have any further questions, consult your veterinarian.
---
Disclaimer: Marijuana has intoxicating effects and may be habit-forming. Smoking is hazardous to your health. There may be health risks associated with consumption of Marijuana. Marijuana, in any form, should not be used by individuals that are pregnant or breastfeeding. Marijuana is intended for use only by adults 21 and older. Keep out of reach of children. Marijuana can impair concentration, coordination, and judgment. Do not operate a vehicle or machinery under the influence of this drug. This product may be unlawful outside of Washington State.