There are numerous ways to meditate, and if the technique you are following quiets the mind and relaxes the body, you will reap the benefits of meditation for stress relief and improved overall well-being. That's where the cannabis meditation technique comes in.
The following technique combines the calming benefit of cannabis with the simplicity of a basic breathing meditation to create peace of mind even for those who are completely new to meditation or find the practice difficult.
Do this as often as you can and, not only will you reduce stress in the present moment, but you will also build resistance toward future stress. It is recommended to smoke the cannabis beforehand in order to get into the proper mindset rather than during meditation, as smoking can interfere with breathing and prove to be distracting. If you'd rather use a tincture, just put a serving under your tongue and hold it there for 60 seconds before swallowing. Wait 15 minutes before starting your cannabis meditation, allowing the tincture time to take effect.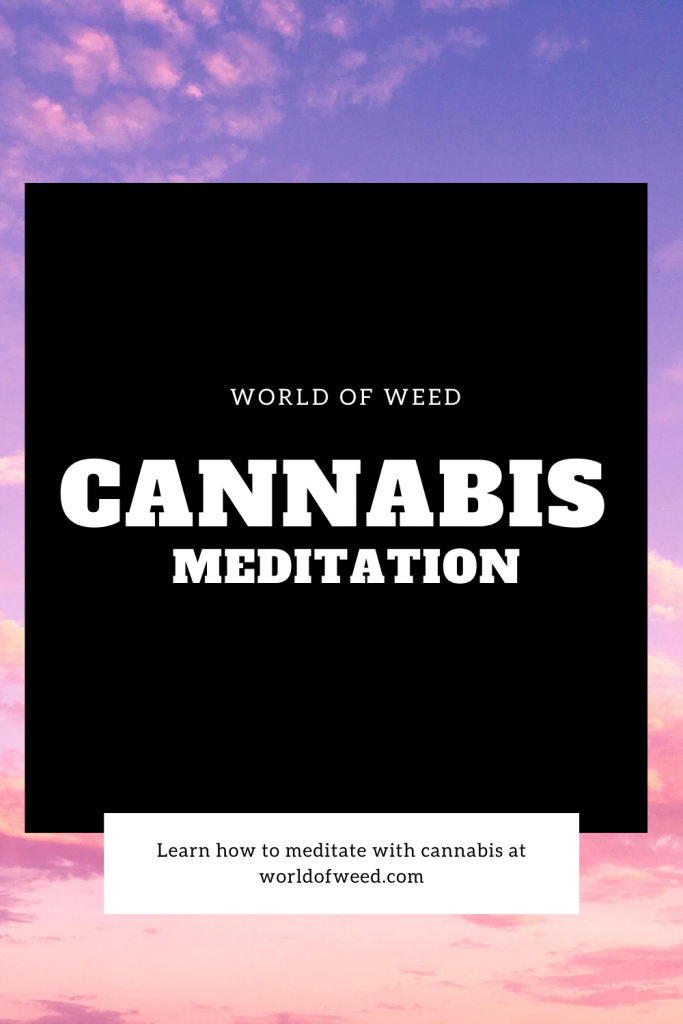 The Cannabis Meditation
The best way to get started meditating with cannabis to get into as comfortable a position as possible. Make sure you are wearing loose, comfortable clothing and are seated – or laying – in a way that is most comfortable for you. If you are seated, your back should be upright, but not too tight. Rest your hands wherever feels natural.
After you've smoked and are ready to meditate, close your eyes.
Now, take notice of your body and relax it. Notice the shape of your body, the weight of it. Feel each limb becoming relaxed as you breathe. Relax any tense or tight areas. Focus on the sensation of the cushion or blanket beneath you, the touch, the connection with the chair or the floor. Breathe.
Focus your attention on your breath. Feel the natural flow of air as you inhale and exhale. You don't need to change your breathing. Just breathe naturally, in and out. Notice where you feel your breath. It may be in your abdomen, in your chest, in your nostrils, or in your throat. Notice the sensation of breathing, one breath at a time. See if you can feel where one breath stops and one breath starts, without changing your breathing.
Keep breathing and noticing. Keep your attention focused on your breath. As you do this, you may notice your mind start to drift elsewhere. You may find yourself thinking about events from your day, things you have to do, or just other things in general. Acknowledge the thought, and then gently guide your focus back to your breathing.
Do this for five to ten minutes. If this is too long for you, build up to this by starting with one-minute meditation sessions. Every now and then, you will get lost in thought. Gently bring your attention back to your breath when this happens.
After a few minutes, redirect your focus back to your body, seated or lying there. Relax even more deeply, and stay there for as long as you need. Offer yourself some appreciation for indulging in self-care by taking another bong rip. You earned it.
Some Best Strains for Cannabis Meditation 
To avoid a case of haziness that can affect your cannabis meditation, it's important to choose the right strains — and to not smoke too much of them!
Some of the best weed strains for meditation we've found are:
Blue Cheese
Aromatic and calming, Blue Cheese is an indica cross of Blueberry and UK Cheese that provides a relaxed and stress-free effect that lends itself perfectly to meditation. This sweet and savory strain has a very body focused high with sativa-like mental energy. You may notice your mind wander a bit with this strain, but you'll be able to guide your focus back to your breathing easily.
Granddaddy Purple
Reach the ultimate zen state with Granddaddy Purple. With this strain, the relaxation starts the moment you inhale the sweet berry scent of the buds. Smoke this, and you'll experience a blissful euphoria paired with deep physical relaxation. Known for being a sedating strain, this indica still leaves you with enough energy to practice several types of meditation. Just don't smoke too much of it, or you will find yourself struggling to stay awake.
GSC
Girl Scout Cookies, or simply GSC, will give you a much more intense cannabis meditation experience, as this is a famously potent hybrid. This strain is well-known for causing uplifting euphoria, which can lead to self-reflection as your muscles and limbs relax and stress fades away. This is a sativa hybrid, so it brings the exhilarating cerebral high of a sativa, but in a much more subdued way than a straight sativa. This is perfect for cannabis meditation, as you are able to focus your attention on your breathing while feeling the euphoric effects.
Bubba Kush
Bubba Kush is a heavy indica strain that lends itself well to those who are having trouble relaxing during meditation. The high begins with a cerebral rush, but the haziness fades into a body melt that becomes more intense the more you smoke. While this is not an energizing strain by any means, it will help you be able to focus on your breathing while relieving stress at the same time. In large doses, this will put you to sleep. 
For more strains that work well for meditation, read our blog post on strains that calm your nerves.
Meditating with Cannabis
Cannabis meditation can help quiet the mind. In these days of chaos, we are accustomed to a constant bombardment of stress. Using cannabis before meditation can make it easier for someone to have a more impactful meditative experience. With cannabis, many people are able to quiet their mind and calm their body, so they can focus on their breathing.
There are many benefits to practicing meditation, even if you only do every now and then. In the present, it promotes calm.
Next time you're feeling stressed, or simply want to feel calmer, try meditating with one of the strains mentioned above. All of them are available here at World of Weed, so browse our menu and get to meditating! 
---
Disclaimer: Marijuana has intoxicating effects and may be habit-forming. Smoking is hazardous to your health. There may be health risks associated with consumption of Marijuana. Marijuana, in any form, should not be used by individuals that are pregnant or breastfeeding. Marijuana is intended for use only by adults 21 and older. Keep out of reach of children. Marijuana can impair concentration, coordination, and judgment. Do not operate a vehicle or machinery under the influence of this drug. This product may be unlawful outside of Washington State.