Stress is usually considered to be a bad thing, but the right amount of stress can better enable you to withstand life's trials and tribulations. As uncomfortable as stress is, it's what keeps us progressing. Stress kept us alive in the caveman days when a predator was trying to eat us, and it keeps us alive today when we hit the brakes as someone runs a red light.

The dictionary defines stress as "a state of mental or emotional strain or tension resulting from adverse or very demanding circumstances." Stress triggers the release of a series of hormones that bring your body back to its balanced state. That's what they're supposed to do anyway. This is acute stress, of which a certain amount can make you more resilient.

When you are stressed, your body goes into what is called a "flight or fight mode." Your heart rate increases, your blood pressure rises, your breathing becomes rapid, and your muscles tighten. This is to keep you focused and alert for a short period of time, but it should subside after the stressful event is over.

When stress lingers, that is chronic stress, and it can be detrimental to your mental and physical health. People handle stress differently. Some take medication to stay calm, while others use more natural methods. As the knowledge of cannabis and their terpenes grows, it becomes apparent that strains with certain terpenes have calming effects.

Keep reading for the best terpenes and their strains to calm your nerves.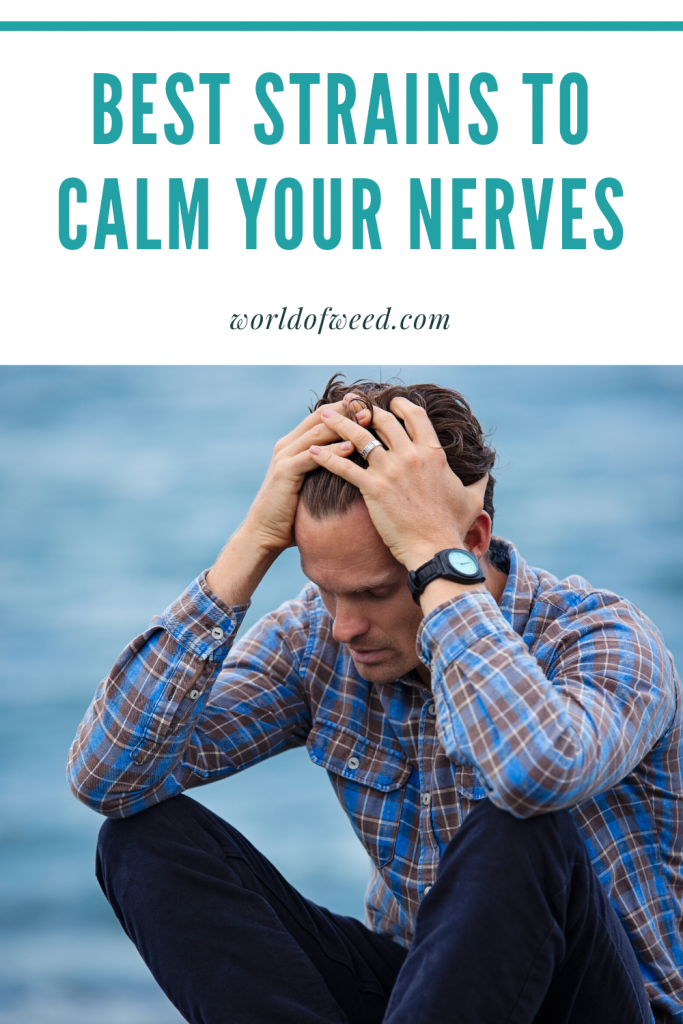 Best Terpenes to Calm Your Nerves
Address your stress with these three calming terpenes. These aren't the only sedative terpenes out there, but they're the best place to start on your search for the best strains to calm your nerves.

1. Caryophyllene
This is the terpene that gives strains their spicy, peppery flavors and aromas. Caryophyllene quells stress, making it perfect for those days you have trouble with nerves. Plus, as an added bonus, it reduces pain.

2. Linalool
Linalool is a sedative-like terpene that is also abundant in lavender plants. It's been extensively studied, and is found to beat stress, reduce inflammation and pain, and prevent / manage seizures. If you're looking to beat stress, look for strains with linalool.

3. Myrcene
Myrcene gives strains their aromas of cloves and hops. Usually the most abundant of all cannabis terpenes, Myrcene is known to cause sedative and analgesic (pain-relieving) effects. This terpene offers sweet relief when you're dealing with acute or chronic stress.
Terpene-Rich Strains to Calm Your Nerves
No more nervous pacing or trying to breathe yourself into a calm state. Check out these terpene-rich strains offering sedative qualities to help stop stress.

Granddaddy Purple: Myrcene
An indica hybrid of Purple Urkle x Big Bud, Granddaddy Purple is one of the most popular purple strains in the country. Perfect for calming your nerves, this strain gives both a mind and body high initially, but then fades into a sedating body high. Be careful, though, as this strain packs quite the punch.

Purple Punch: Linalool
Born from the crossing of two classic strains, Larry OG and Granddaddy Purple, this indica hybrid is a grape flavored strain rich in linalool. The high starts in the head and then flows down your whole body. Purple Punch is a popular favorite for calming nerves, offering a mood uplift paired with dreamy sedation.

Bubba Kush: Caryophyllene
Bubba Kush is dominant in caryophyllene, and is a heavy indica strain. The high begins with a disorienting cerebral rush, but the haziness fades into a body melt that builds the more you smoke. Although you won't be energized by any means, it will help you feel more alert and able to focus on the situation at hand while calming your nerves at the same time. In large enough doses, this is also great if you're having trouble sleeping because of your nerves.

GG#4: Myrcene
GG#4 is one of the most popular strains for relaxation and sedation, and will be one of the best strains to calm your nerves. This indica-dominant hybrid has a piney, fruity aroma and offers heavy and very potent effects.

Do-Si-Dos: Caryophyllene
Do-Si-Dos was introduced to the world through the crossing of the famous Girl Scout Cookies with powerful Face Off OG. The result is a potent indica-dominant hybrid that produces strong cerebral and euphoric sensations. A bowl of Do-Si-Dos is sure to calm your nerves.

Smoking the Best Strains to Calm Your Nerves
Feelings of nervousness and stress are most often caused by how we feel about a certain situation, rather than the situation itself. Learning to respond to situations in a positive, calm way will help reduce the havoc wreaked on your nerves. However, positive thinking alone will not completely quell stress; we still have basic survival instinct hardwired into us, so we are bound to experience nervousness and stress at some point.
Stress impacts everyone's lives, but you can minimize its impact by doing certain things, like smoking these strains rich in calming terpenes.

Do seek professional help if you feel stress is taking over your life and sabotaging your wellbeing. If left unaddressed, stress can adversely affect your mental and physical health.
---
Disclaimer: Marijuana has intoxicating effects and may be habit-forming. Smoking is hazardous to your health. There may be health risks associated with consumption of Marijuana. Marijuana, in any form, should not be used by individuals that are pregnant or breastfeeding. Marijuana is intended for use only by adults 21 and older. Keep out of reach of children. Marijuana can impair concentration, coordination, and judgment. Do not operate a vehicle or machinery under the influence of this drug. This product may be unlawful outside of Washington State.