If you long to wake up feeling refreshed and energized after a night of deep, replenishing sleep, you're not alone. 27 percent of surveyed US adults have trouble falling asleep or staying asleep most nights. And plenty more people wake up feeling tired, whether it's from insomnia or sleep disturbances like sleep apnea or acid reflux.

But, not getting enough sleep can cause a whole host of health problems. A lack of quality sleep can increase your risk of weight gain, Type 2 diabetes, depression, high blood pressure, heart disease, and memory and concentration problems. Lack of sleep also ages you, so you will look older than you really are.

And yet, data and anecdotal evidence shows many of us are still struggling to get the sleep we need. Here are eight proven tips for using weed for sleep, so you can get a better night's rest. 

8 Tips on Using Weed for Sleep
1. Increase exposure to bright light during the day
Your body has a natural clock known as your circadian rhythm. This affects your brain, your body, and your hormones, helping you to stay awake and signaling to your body when it's time for sleep.

Natural sunlight during the day helps keep your circadian rhythm functioning at optimal level. This reduces daytime fatigue, as well as improves nighttime sleep quality and duration. In fact, one study showed bright daytime light exposure improved sleep for those with insomnia, and reduced the time it took to fall asleep.

Try going for an outdoor sesh, if you can. If you're unable to go outside and smoke, have bright lights in your home. Stick to sativas during the day and indicas at night, to combat daytime sleepiness. Using this combination is one of the best ways to use weed for sleep.
2. Set a sleep schedule — and stick to it!
Stick to a sleep schedule where you go to bed and wake up at the same times each day, even on the weekends. This will help regulate your body's circadian rhythm, helping you to fall asleep and stay asleep at night. 
Aim to have your nightly smoke sesh at the same time each evening, making it part of your sleep schedule.
3. Practice a relaxing bedtime routine using weed for sleep 
A relaxing routine carried out right before bedtime, away from bright lights, will help keep your sleep time and active times separate. This will make it much easier to fall asleep and remain asleep.

Try eating some potent edibles a couple of hours prior to bedtime to get your eyelids heavy.
4. Reduce blue light exposure at night
Exposure to bright light is beneficial during the day, but light exposure at night has the opposite effect. Once again, this is due to the effect on your circadian rhythm, as the light tricks your brain into thinking it's still daytime. This reduces your production of melatonin, a hormone that relaxes you and gets you into a deep sleep.

Blue light is the worst type of light when it comes to sleep, and is emitted in large amounts by electronics.

You can limit your blue light exposure at night by:

Wearing special glasses that block out blue light
Install an app that blocks blue light on your phone. There are several of these available for both Android and iPhones.
Stop scrolling through Facebook or watching TV and turn off any bright lights two hours before you want to be in bed.
Ditch the electronics and take a dab of some indica concentrate instead.
5. Smoke indica flower
Indica strains are known for causing couch-lock and inducing sleepiness. This is because of the terpenes and CBN, which is commonly found in indica strains. Indica strains contain a lot of myrcene, a terpene with sedative and motor relaxant effects. They also contain a lot of linalool and terpinolene, terpenes that cause relaxing and sedating effects. CBN produces little to no psychoactive effects, but it is sedating.
Some potent indica strains are:

Grape Ape
Pineapple Chunk
UW Purple
Candied Grapes
Blackberry Kush
Purple Cadillac
Critical Cure CBD
6. Avoid naps
If you have trouble falling asleep at night, you're going to want to avoid taking naps during the day. If you find that you absolutely must take a nap, follow these tips:

Keep them short. Aim for naps that are only 10 to 20 minutes long. The longer you nap, the more likely you are to feel groggy and disoriented after. 
Nap early in the afternoon. Taking a nap after 3 p.m. can interfere with your nighttime sleep.
Nap in a restful environment. Nap in dark, peaceful space with comfortable room temperature and few (or no) distractions. 
Give yourself time to wake up before going on about your business. 
Smoke sativa after for a pick-me-up.
7. Ditch the caffeine
It takes five hours for half of the caffeine from your favorite beverage to leave your system. Enjoying caffeine too late in the day can cause disturbed sleep — or stop you from sleeping at all. In a 2013 study, researchers found consuming 400mg of caffeine (the amount in two or three cups of coffee) six hours before bed reduced sleeping time and caused sleep disturbances.
Need something energizing? Smoke some sativa strains.
Some sativa strains high in THC include:
Allen Wrench
Jack Herer
Maui Wowie
Sour Patch Kids
8. Massage sore muscles
Are muscle aches and pains keeping you up at night? Try massaging the area with a cannabis topical. Cannabis topicals are absorbed through the skin for direct effects on specific areas. These products are non-psychoactive and provide physical relaxation without a mind-altering high.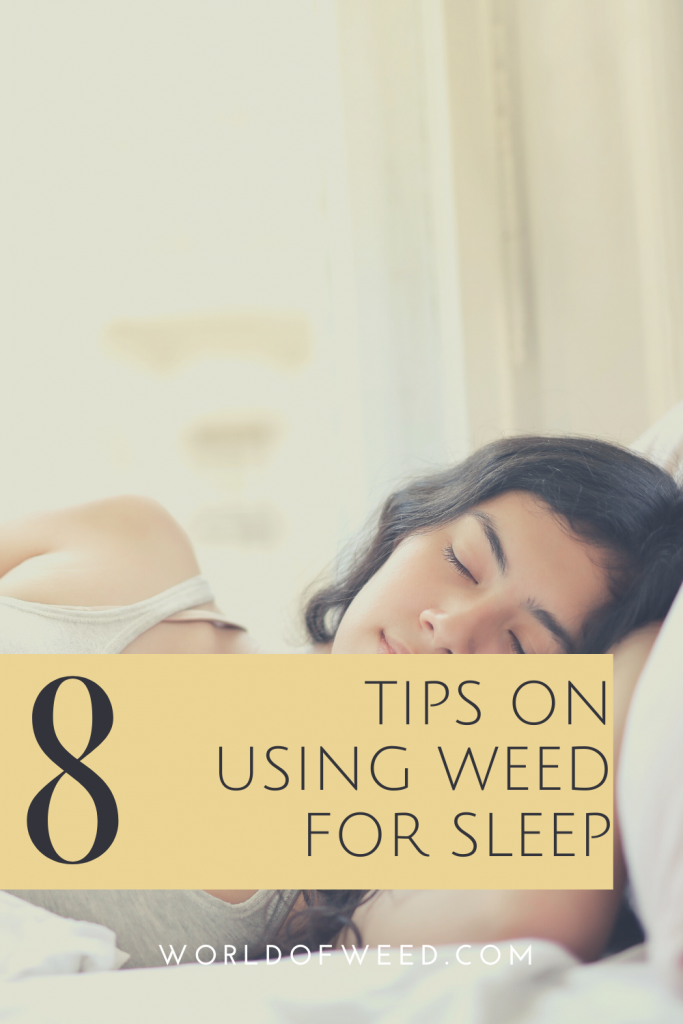 If you follow these eight tips on using weed for sleep, but still can't get enough rest, talk to your healthcare provider. If you can't resolve your problems with the help of your doctor, consider seeing a sleep specialist. These experts will help you figure out if such problems as chronic pain are keeping you up at night as well. 

Disclaimer: Marijuana has intoxicating effects and may be habit-forming. Smoking is hazardous to your health. There may be health risks associated with consumption of Marijuana. Marijuana, in any form, should not be used by individuals that are pregnant or breastfeeding. Marijuana is intended for use only by adults 21 and older. Keep out of reach of children. Marijuana can impair concentration, coordination, and judgment. Do not operate a vehicle or machinery under the influence of this drug. This product may be unlawful outside of Washington State