Despite the "lazy stoner" stereotype, not all weed is going to put you into a sleepy couchlock. In fact, we already shared a whole list of seven high energy strains that are known to boost productivity and uplift your mood.
The best high energy strains?
Sativa.
How Do High Energy Strains Perk You Up?
Research has helped us to better understand how cannabis causes energizing and creative effects. The CB-1 and CB-2 cannabinoid receptors in your brain directly affect your dopamine levels. An increase in dopamine production creates a feeling of being rewarded, which motivates you.
Sativa triggers the release of dopamine far more than indica, providing the user with a euphoric, uplifting cerebral high that leaves one feeling energized and buzzing. That cerebral high improves your focus and gets the creative juices flowing.
It's like downing amazing coffee, but without the stomachache and the jitters. Just uplifting, focused energy.
Keep reading to learn about fifteen (more) of the best high energy strains!
15 Best High-Energy Strains
Sativa and sativa-dominant strains can offer energizing effects, and here we've outlined fifteen more of the best high energy strains.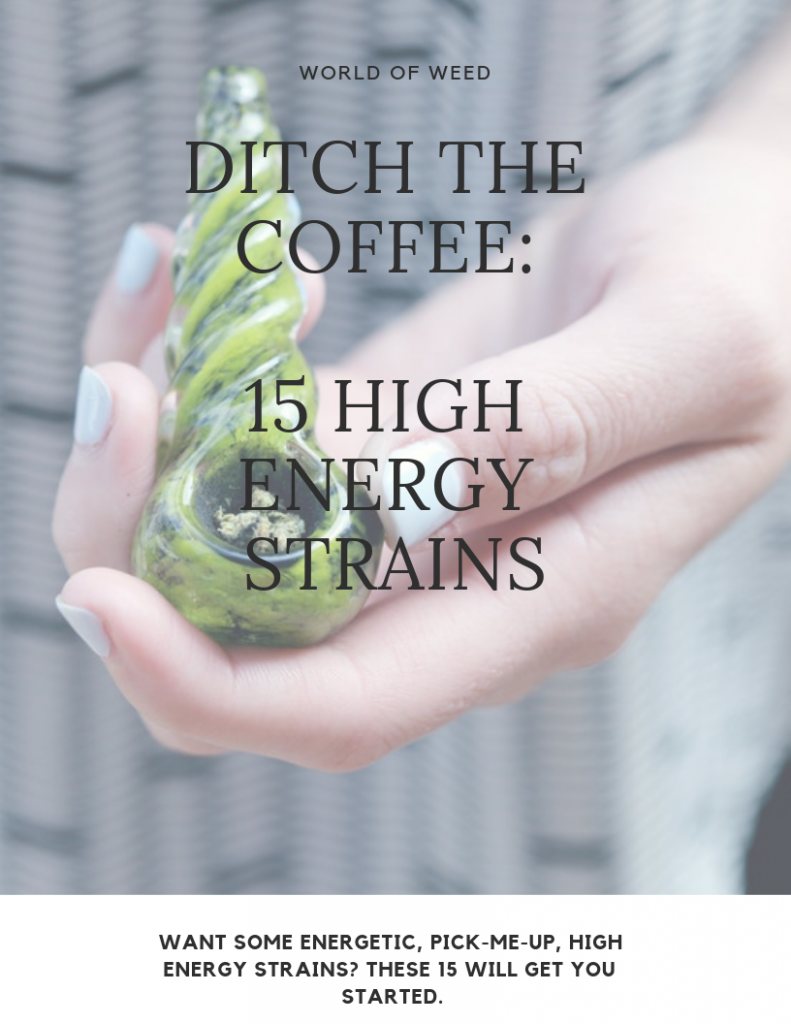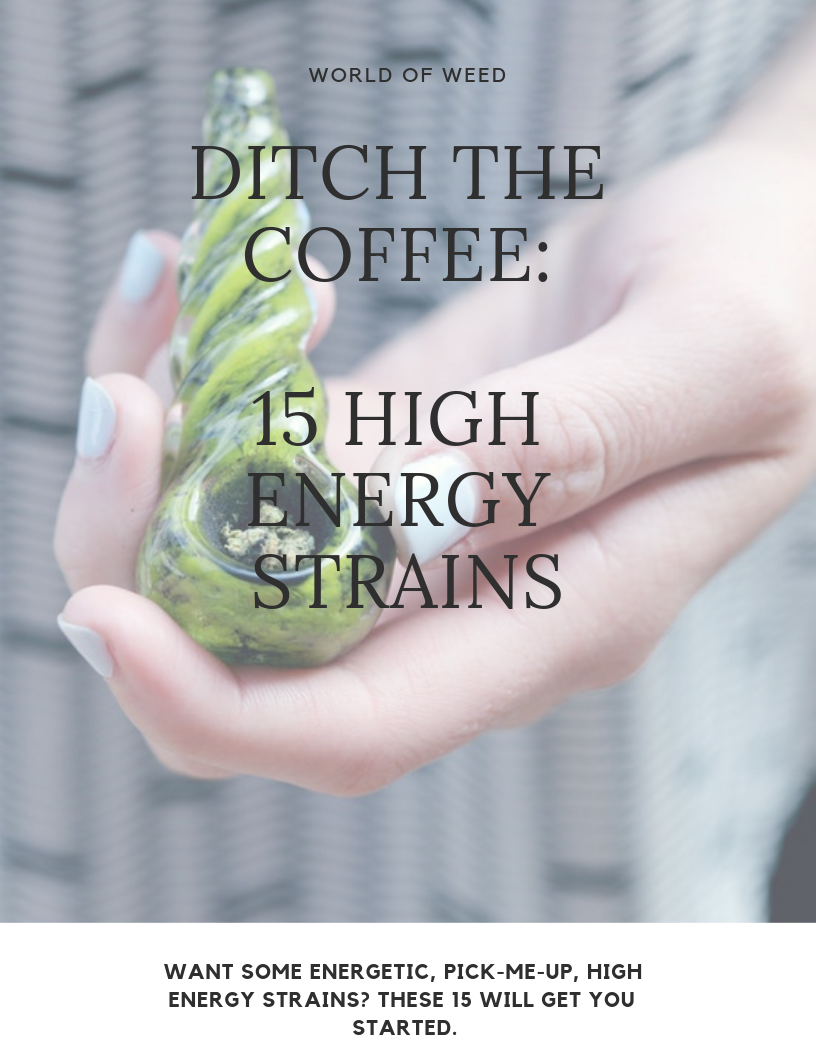 1. Jack Herer
This sativa dominant strain, named for the late Jack Herer, cannabis activist and author, is one of the best high energy strains for starting your day off with a good ol' Wake & Bake. The offspring of a Haze hybrid x Northern Lights No. 5 x Shiva Skunk, Jack Herer was originally bred by Sensi Seeds with the goal of creating a strain that encompasses both the heavy resin production from its indica genetics and the cerebral buzz from the sativas. With such a rich genetic background, several different variations of the strain, each with their own phenotype, were born – – and each with its own unique effects and features.
We've got Jack Herer carts available by AiroPro
2. Maui Wowie
This classic sativa brings on some nostalgic, throwback vibes with its tropical scent and fruity flavors. This strain melts away the stress, while offering a high energy, euphoric high with improved focus and mental clarity. This is a great one to smoke a couple bowls of if you've got some creative projects to be working on.
We've got Maui Wowie flower available by Bota Buds
3. Jillybean
Jillybean is a sativa hybrid that smells and tastes like a sweet mix of flowers, citrus, and tropical fruit like mango. It smells good enough to eat, and smoking it leaves you feeling uplifted, energetic, euphoric, and motivated to get things accomplished.
4. Harlequin
Harlequin is rich in CBD, and is definitely one of those strains that lights a fire under you and gets you ready to start your day off with high energy levels. If you're not big on consuming large amounts of THC, then this CBD-rich Harlequin is one of the best high energy strains for you. You still feel the psychoactive effects from the THC, but they're at minimal levels. If you want sharp mental focus for some serious work or studying, or plan to do something intensely physical like a gym workout, Harlequin is the energizing strain you're looking for.
We've got Harlequin carts available by AiroPro
5. Ghost Train Haze
Pretty aptly named, Ghost Train Haze will have you buzzing right out of your body. A potent, long-lasting sativa, this strain allows you to stay productive and focused for extended periods of time throughout your day. There's an intense THC high, but not enough to jar your focus and prevent you from getting things done.
6. Pink Lemonade
Pink Lemonade by Kronik Cannabis is sativa hybrid that is built like an indica. This complicated strain blessed us all with its existence when someone crossed Purple Kush x Lemon Skunk x Some Unknown Strain. Even though the Pink Lemonade strain has an ambiguous heritage, it's one absolutely delicious strain that has caught the attention of cannabis lovers all around the Pacific Northwest. This popular strain is every bit as refreshing and savory as the name suggests. Take a hit, and full smoke carries the sweet, sugary flavors across your taste buds, supercharging your senses just like regular lemonade. Flavors of sweet-sour lemon candy, with mildly earthy undertones, come paired with a sour earth aroma that is complemented by sharp lemon and subtle notes of fruity candy sweetness.
We've got Pink Lemonade available by Kronik
7. Hawaiian Diesel
With its savory, citrusy-pine scent and tropical-citrus taste that lingers in your mouth well after the last hit, you'll get the relaxing body high plus energizing and uplifting cerebral buzz. Hawaiian Diesel is a sativa hybrid that's made a big name for itself within the cannabis community as one of the best high energy strains around.
We've got Hawaiian Diesel available by Creekside Cannabis
8. Mango Haze
Uplifting and fruity, Mango Haze is a sativa strain with a distinctive mango aroma and flavor. This is one of the best high energy strains, offering immediate buzzing cerebral highs and creative focus. Take a couple hits of this, and you'll be ready to start your day off on a motivated note.
9. Double Dream
Double Dream is a potent sativa hybrid born from crossing Blue Dream with Dream Star. The result? This euphoric, dreamy strain that is guaranteed to boost your mood and energize your mind, all while relaxing your body and melting away stress.
We've got Double Dream available by Creekside Cannabis
10. Strawberry Diesel
Strawberry Diesel is one of the best high energy strains for getting in an upbeat, motivated, and inspired mood. Bonus? This strain tastes and smells just like fresh strawberries, with pungent undertones of Sour Diesel. This adds a little mellow to the high, making this a great strain for recreational enjoyment and creative productivity.
11. Animal Cookies
Animal Cookies is a sativa hybrid with a sweet scent of cherry and brown sugar, paired with fruity, grape flavors. The Animal Cookies by Cannavore has a THC content of 22.30%, making it one of the most potent, best high energy strains that uniquely energizes the mind while calming and relaxing the body.
We've got Animal Cookies available by Cannavore
12. Ultra Orange
Ultra Orange is a sativa hybrid and one of the best high energy strains around, though it can be hard to find. But, it's one well worth waiting for. This strain offers aromas of citrus sweet orange, paired up with the exotic undertones of cloves and vanilla. The spiced-orange and sweet-vanilla comes through in flavors, with dense smoke that is rich and buttery. A potent sativa hybrid, this strain brings on a mellow euphoria that will take over your mind, buzzing you into an energetic and focused mindset – – but still relaxed enough to be creative with your energy.
We've got Ultra Orange available by Fire
13. Trainwreck
Trainwreck is one of the best high energy strains – – a sativa hybrid that brings on an immediate rush of energetic euphoria and creativity. These sativa effects are gently balanced with a body and mind relaxation that makes it easy to settle into your tasks and get going. This strain has a pine flavor with strong notes of lemon.
We've got Trainwreck prerolls enhanced with added kief and oil by Mr. Toker's
14. Sour Patch Kids
Coming from a cross of Sour Diesel x Sour Kush, Sour Patch Kids perks up your mood, gets you in the productive mood, and relaxes your body – – all at once. Plus, this strain tastes and smells just as candy-sweet as the name suggests, making it one of the best high energy strains to treat yourself with.
We've got Sour Patch Kids available by Good Earth Cannabis
15. Vortex
Vortex is a powerfully invigorating sativa hybrid that fuels inspiration and brings on intense feelings of euphoria. This strain is one of the best high energy strains for work, as it allows you to focus on what you're doing, while still feeling whimsical enough for creative projects.
We've got Vortex available by Bondi Farms
We've got the best high energy strains waiting for you
These are just some of the best high energy strains for productivity and focus, and all of them are sure to make your coffee pot worry about its job security. Stop by World of Weed to talk with our knowledgeable budtenders or order online if you know exactly which of these best high energy strains you're after. Just order online, and come pick up in the store.
Buying your weed has never been easier.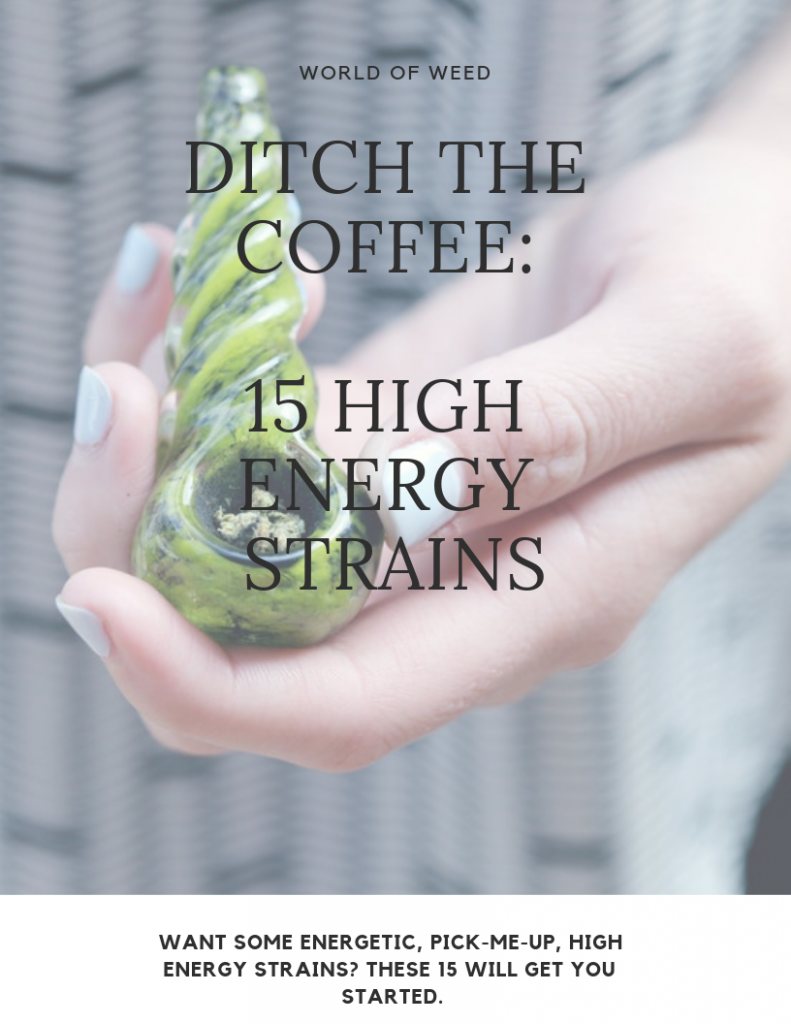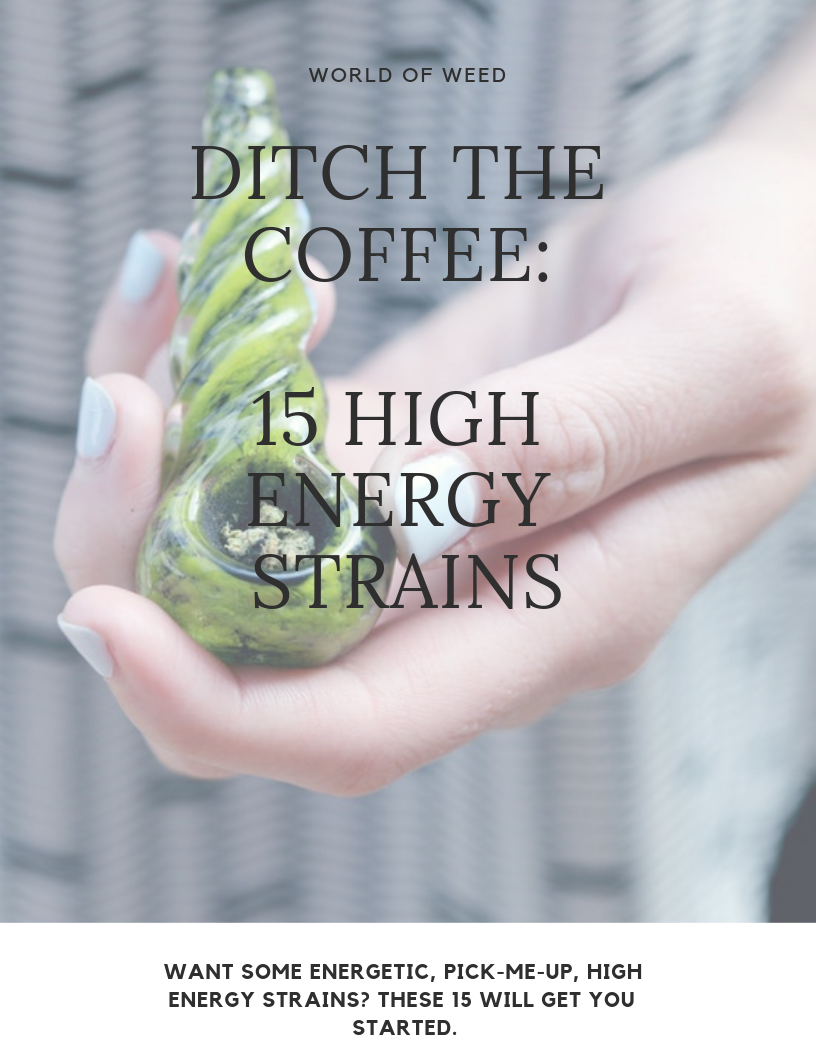 ---
Disclaimer: Marijuana has intoxicating effects and may be habit-forming. Smoking is hazardous to your health. There may be health risks associated with consumption of Marijuana. Marijuana, in any form, should not be used by individuals that are pregnant or breastfeeding. Marijuana is intended for use only by adults 21 and older. Keep out of reach of children. Marijuana can impair concentration, coordination, and judgment. Do not operate a vehicle or machinery under the influence of this drug. This product may be unlawful outside of Washington State.