As of late, many of the common concerns from cannabis consumers are related to having feelings of anxiety and depression as a result of being in isolation during this time of crisis. Many people who work from home, or who have physical disabilities, normally stay home a lot of the time as it is. But, now, during the COVID-19 pandemic, as we self isolate in our homes, a lot more of us, whether we normally stay home or not, are experiencing loneliness and feelings of isolation.

Many people find a sense of purpose and connectedness in being able to go out, socialize, and just run errands. Now that we're told to stay at home and follow social distancing practices, how do we perk up and deal with feelings of depression from sheltering in place? The following strains my help. 

Strains to Smoke During Quarantine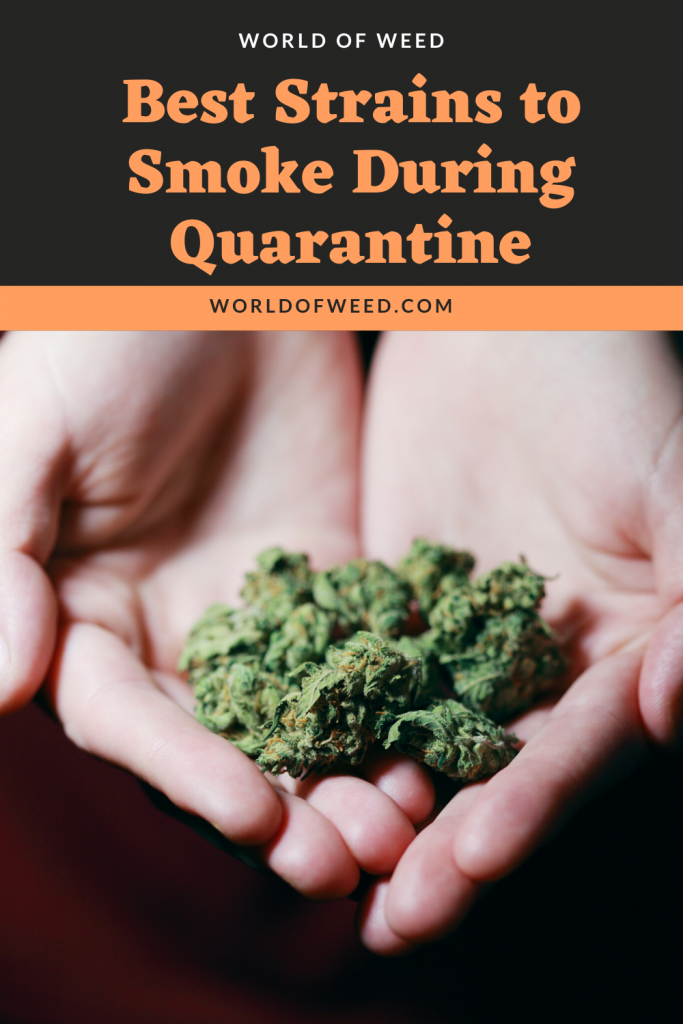 Sedative Strains for Sleep
First, let's begin with helping you get a better night's rest. It's all over the media to get some sleep, get some rest, because sleep helps your immune system. But, with the COVID-19 pandemic in full swing, we're willing to bet that falling asleep isn't always the easiest thing to do these days. So, why not try packing yourself a sleepy time bowl of some strains you can use at night?

Sedating strains we suggest are: Grape Ape, Pineapple Chunk, UW Purple, Candied Grapes, and Blackberry Kush
Perky Strains for a Better Mood
While sheltering in place at home, in isolation, it is very normal to experience feelings of sadness, loneliness, and boredom. It can be hard to stay in a good mood, especially if social isolation gets to you. So, we recommend some sativa hybrid strains that will perk you right up, and help you to stay in a better mood.

Perky strains we suggest are: Space Queen, Forum Cookies, Breathwork, Grrranimals, and Wedding Cake
Energizing Strains to Wake You Up
If you're having trouble falling asleep, then you're more than likely having trouble waking up. Because so many of us are staying in the same place for days and days, changing strains may help you feel like you're changing environments. There is immense power in the way these strains affect well-being.

Energizing strains we suggest are: Jack Herer, Oregon Silver Haze Sugar Leaf, Allen Wrench, Maui Wowie, Sour Patch Kids, and Dirty Girl

Calming Strains for Feelings of Anxiety
The isolation and mandatory stay-at-home-orders can be a great source of anxiety for many. A worldwide pandemic is a highly stressful event that may leave you feeling "off" or unbalanced. Even if you do not have anxiety, you may be experiencing restlessness and feelings of anxiety due to the current situation. And that's perfectly fine. It is completely normal to be worried. Below are some strains to help you manage your feelings of anxiety during quarantine.

Calming strains we suggest are: Do-Si-Dos, Wedding Cake 9, Purple Punch, Sundae Driver, and Supermax OG

Munchie Strains for Lack of Appetite
You know how you get stressed and then want to eat everything in sight? Yeah, us either. While this may make you seem odd compared to stress eaters, losing your appetite during a highly stressful time is a lot more common than you may know. So don't worry too much. Instead, kick back and smoke some munchies-inducing strains to get your appetite back.

Munchie strains we suggest are: GG#1, XJ-13, MAC, Pineapple Express, and Headband

Tips for Staying Calm During Quarantine
Even if you are not normally an anxious person, this situation we are living through is not normal. Staying confined to your home for weeks on end, isolated from friends and family, and only hearing bad news day after day can really take a toll on your mind. We've put together a list of suggestions to help you stay calm during this time of crisis.

Just a note: This content is not intended as treatment for any anxiety disorders — that should be discussed with a healthcare professional, such as your doctor or therapist. 

Make New Connections Via Social Media
While there may be a lot of negative posts being shared on social media, there are also a lot of funny and inspirational posts as well. Some people even make videos to share with others. Regardless of which social media platform you choose, you'll undoubtedly find something to make you laugh or smile.

Social media is also a fantastic way to meet individuals with your similar interests. Places like Instagram offer private group messages where you can chat with others and share videos, photos, and text. You can connect with people like yourself, and maybe even make new friends who understand what you're dealing with.
Keep Your Mind Active
When you have a lot of time alone in your house, it can be easy to fall into negative thinking or even a depressive episode. Use this time as a way to expand your mind. Distract yourself from the pandemic and escape into a new book, or crack open a non-fiction book to learn something new.

Pick up a new hobby. Learn a new language. Break out the board games and puzzles. Do a crossword or word search. Read about the best strains for your zodiac sign.

These are all great ways to keep your mind stimulated during isolation. Plus, they're fun!
Create a Sanctuary in Your Home
While it may seem very obvious at the moment, your environment directly affects your mood. No matter how much self-care you do, or how much you exercise, or smoke some dank strains, if your dishes are piling up and you're stepping on clothes to get your bed, it can be difficult to improve your mood.

Start by cleaning your whole space, and then fill it with things that calm you. This could be plants, candles, crystals, incense, LED lights, or whatever else. Decorate your space with things that comfort you.

It's extremely important during this pandemic to follow the WHO guidance on basic safety and hygiene, in order to stay healthy and cut down your chances of catching the coronavirus.

But, it is also important to keep your mind healthy and the above mentioned strains help create a more positive mindset and promote calm during this time of crisis.

Ready to buy some of these strains? Browse our menu!
---
Disclaimer: Marijuana has intoxicating effects and may be habit-forming. Smoking is hazardous to your health. There may be health risks associated with consumption of Marijuana. Marijuana, in any form, should not be used by individuals that are pregnant or breastfeeding. Marijuana is intended for use only by adults 21 and older. Keep out of reach of children. Marijuana can impair concentration, coordination, and judgment. Do not operate a vehicle or machinery under the influence of this drug. This product may be unlawful outside of Washington State