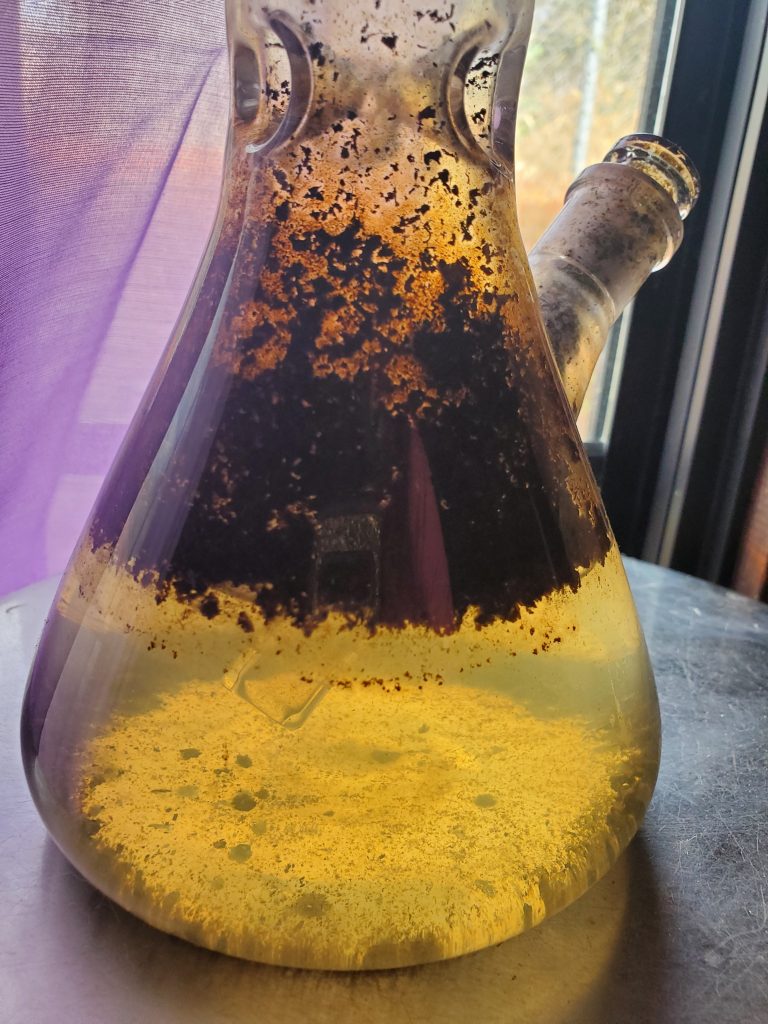 If you're looking at your resin-caked bong full of dirty bong water, wondering if you could get away with smoking or if you should just go ahead and clean it, go with the cleaning. Smoking out of dirty bong water poses several big health risks, as well as ruins a good smoke sesh.

Keep reading to learn all about the hidden dangers of a dirty bong.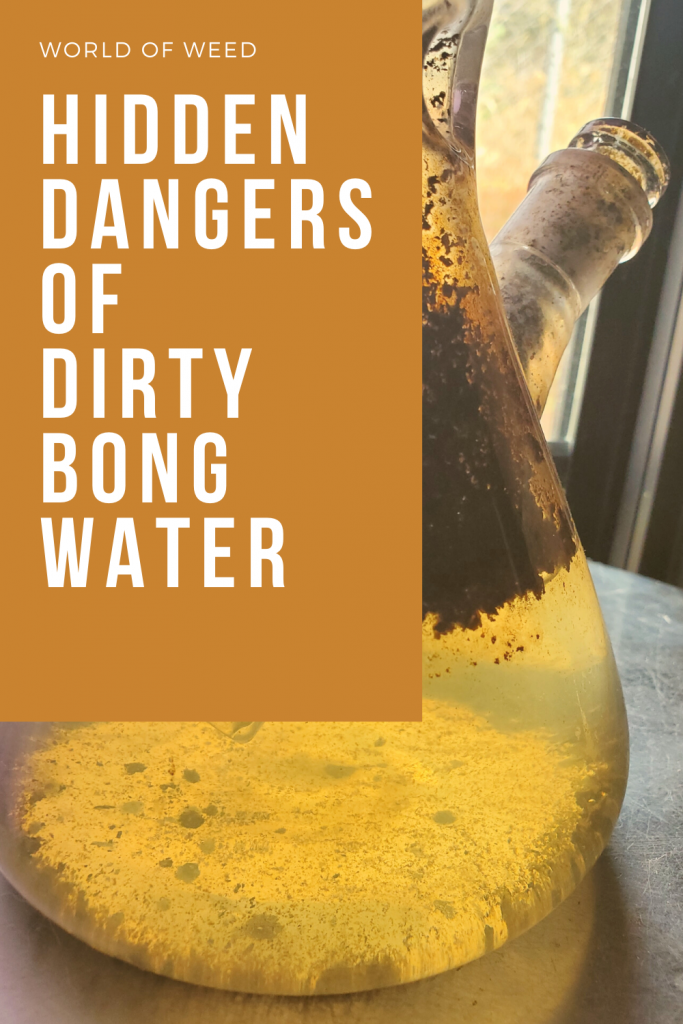 Why is Dirty Bong Water Bad for You?
Smoking through dirty bong water doesn't just look gross, it's also bad for you and for your herb.

Dirty bong water compromises the taste of the flower
Whether you've been smoking for ages or are new to smoking, you more than likely care about the taste of the product. We all know each marijuana strain holds its own unique aroma, taste, and effects. So, it goes without saying that if you pack some great weed, like Cherry Cookies, into a bong with caked on resin, dirty bong water, and condensation, none of those flavors will come through. In the end, all you're tasting is resin and stagnant water. Now, that's a fast way to ruin a great smoke sesh!
Dirty bong water poses health risks
Not only does a dirty bong completely destroy the flavor of your weed, it also poses some serious health risks. Dirty bong water is a haven for all kinds of bacteria, yeast, fungi, and other microbes — all of which form a slime called biofilm. Microbes excrete substances that allow them to easily latch onto surfaces such as the glass and resin found inside your bong. When these substances are secreted, the biofilm begins to grow. It serves as protection for the microbes, which is why infections caused by these microbes are so difficult to treat and pose serious health risks. Biofilm is completely resistant to antibiotics, because they aren't strong enough to penetrate the biofilm.
Dirty bong water introduces harmful pathogens to your system
If you smoke through a dirty bong, the chances are pretty great that you'll introduce the plant matter and caked-on resin to your system. The resin-coated bong is a breeding ground for harmful bacteria and pathogens. These can lead to illnesses like strep throat and pneumonia.

Here are some of the common kinds of bacteria that thrive in dirty bong water:
Aspergillus is a fungus that grows on cannabis plants
When aspergillus breaks down through burning, mycotoxins. When you inhale mycotoxins, you can get very ill. Symptoms include cough and chest pain. Furthermore, the spores of this fungus are strong enough to survive your lighter. In fact, there have been 2 cases of people who suffered severe lung dysfunction caused by this fungus after smoking weed.
E. coli thrives in dirty bong water
There are numerous strains of E. coli, and most of them are harmless, but there is one dangerous strain called E. coli O157: H7. If this bacteria starts to breed in your dirty bong, you would likely fall very ill. E. coli is more likely to occur if you have pets or if you don't wash your hands after using the restroom and then handle your already dirty bong.
Campylobacter jejuni can be found in dirty bong water
This bacteria is one of the most common causes of food poisoning, and can be found in stagnant water. Infection causes campylobacteriosis. Symptoms include cramps, diarrhea, fever, and pain and take 10 days to appear.
Streptococcus is a common bacteria found nearly everywhere
This is the bacteria behind strep throat, pneumonia, and scarlet fever. It can only be found in water if the environment has already been contaminated — such as a dirty, resin-coated bong.

Giardia lamblia is a parasite found in dirty water
This is the parasite behind infection giardiasis, an illness that causes intestinal symptoms that include nausea, diarrhea, cramps, and gas. Giardia lamblia is commonly found in contaminated water, so it's important to keep your bong clean and change the water frequently.

Pseudomonas aeruginosa is a type of bacteria that can live in dirty bongs
This is a type of bacteria that grows in even healthy bodies, and it's only a problem when the bacteria grows excessively or grows where it shouldn't — like in your bong. Having a compromised immune system puts you more at risk of developing infections from this bacteria, such as pneumonia.

Hepatitis A is a virus that lives in stagnant water
Hepatitis A is a virus that causes a very serious infection that causes jaundice, dark urine, nausea, stomach pain, chills, and fever. This illness can lay hidden for a while, as symptoms appear 28 days after exposure to the virus. So, clean your bong!

Flavobacterium is a bacteria found in stagnant water
This bacteria loves dirty, stagnant water. If you're exposed to it, such as smoking through a dirty bong, you can be at risk for respiratory infections and fever.
Dirty bong water leads to mold growth
Biofilm develops in dirty water after less than 24 hours. This biofilm mixes with the plant residue in your bong. If you let this sit without cleaning, it will lead to a buildup of slimy, green-black mold and resin. This buildup will be very difficult to clean and will make the bong hard to sanitize. If this happens, you may just have to get a new bong.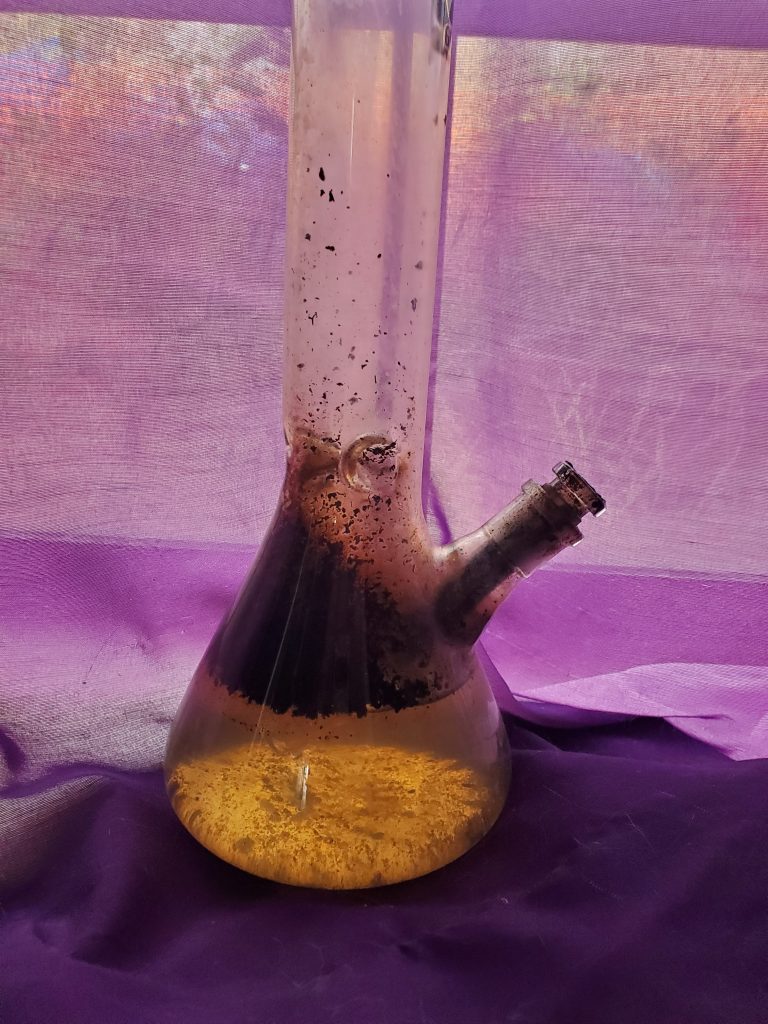 Now that you've read this and learned about the hidden dangers of dirty bong water, you probably want to go clean your bong. Not sure how? Check out this article.