It's one of those nights when you're at home, chilling and enjoying a bowl (or five) of your favorite weed. But, in about thirty minutes, your friends are coming over.

The problem?

These particular friends don't like weed. At all. In fact, they can't stand the smell of it.

We did a post on how to get the smell of weed out of your house, but what do you do if you have very limited time? 

That's where incense comes in.

One of the fastest ways to mask the smell of weed is to cover it with another scent. You've probably tried the usual air fresheners. But, here's the thing about those: We don't know the harmful ingredients that are in it, and the scent options are pretty limited.

Instead, try incense sticks for a fast way to mask the smell of weed and add ambience to the room. Incense will leave your home smelling fresh and not so dank, and will leave you feeling at peace and calm.

The purpose of incense varies; it has been used during religious rituals and meditations, while others use it to block the smell of weed smoke or deter insects.

Incense comes in a wide variety of scents and types, but the following are the best types of incense for masking the smell of weed.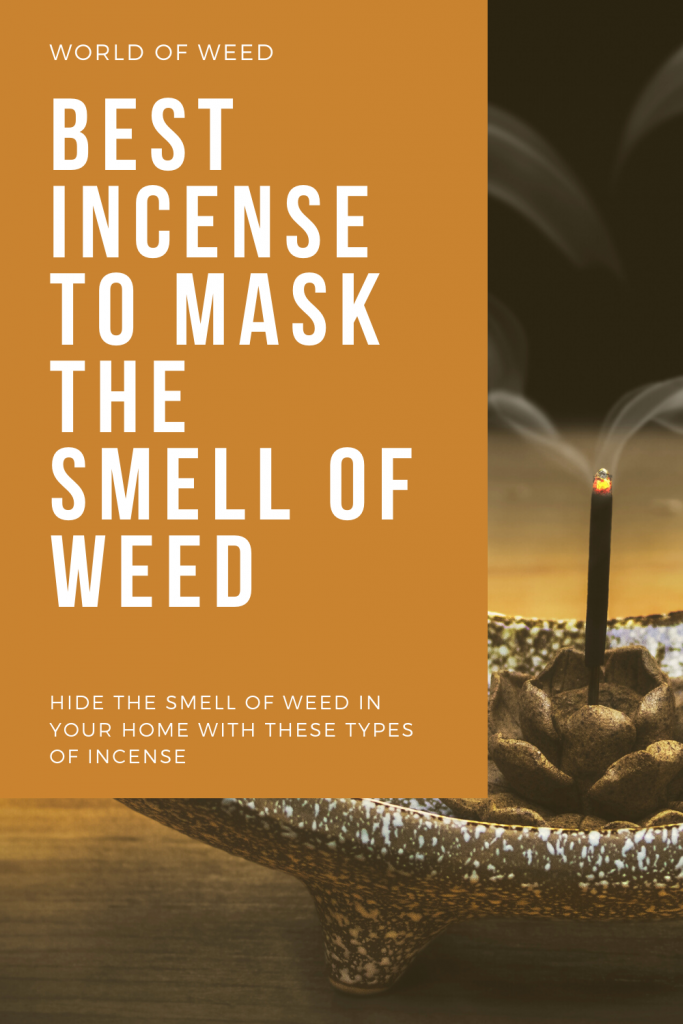 What is Incense?
Incense is a substance that produces a fragrant scent when burned. The word "incense" comes from the Latin "to burn." 

Incense is usually comprised of an aromatic material and a combustible binding material that holds the incense into its molded shape. The aromatic materials used in incense are usually plant-based and include a wide variety of flowers, resins, roots, barks, and even seeds.

The specific ingredients are often different, depending on the region the incense is from and the brand. Examples of aromatic ingredients include lavender, Palo Santo, patchouli, sandalwood, and myrrh.

When the flame is applied to the incense, the combustible binding material ignites, causing the incense to burn and produce aromatic smoke.

How to Burn Incense
There are numerous types of incense, but the most common are the incense sticks and incense cones.

In order for incense to produce the scent, you must first gently ignite it. Touch the flame of a lighter or match to the tip of the incense. Once it is ignited, extinguish the flame by blowing it out. The end of the incense will glow orange-red and begin producing the scented smoke. When the incense is all the way done burning, it will put itself out.

You can use a regular incense holder, or go for one that is more ornate and has aesthetic function. For example, some incense holders look like dragons and have the smoke coming out of the mouth or nostrils. It all depends on personal preference, the style you're going for, and what type of incense you are burning.

Do keep in mind the fact that incense, like candles, is a natural fire hazard. To safely burn incense, you should use a stand or burner specifically designed for incense. This will contain the ash and keep the burning incense still. Always put the incense holders on a fire-resistant surface, rather than on wood or fabric. Never leave burning incense unsupervised.
The Best Incense to Mask the Smell of Weed
While all types of incense have a specific scent, not all of them are ideal if you want to mask the smell of weed in your home. Mellow aromas that dissipate quickly won't do you much good. The best choices are stronger, as these tend to better block the scent of the weed and replace it with long-lasting, pleasantly fragrant smoke.

Some of the best incense to mask the smell of weed include:
Nag Champa
If you've ever been around incense or have been smoking weed for a bit, you've probably heard of the very popular nag champa incense. The base of the scent is sandalwood, followed by the champa flower with its sweet plumeria scent. Other scents come from the essential oils, resins, and gums from various flowers and blends of natural scents like lavender, cardamom, saffron, cinnamon, and more. This incense also includes a soft tree resin that helps give it a slow and pleasant burn. Nag champa is strong, and one that will quickly cover the smell of weed when you need to.
Patchouli
Patchouli is a type of plant in the mint family, native to tropical Asia. The incense and oil have been long-used in aromatherapy, and many people love its deep, spicy-sweet, mossy scent. It's an exotic aroma, and one that you're likely to not forget. The best part? It's great if you need to mask the smell of weed.
Dragon's Blood
Not only does this incense just sound cool, but it's also dark red in color – which is part of where it got its name. Dragon's blood is a natural plant resin extracted from several different species of tropical tree typically called "dragon trees." The scent is a mixture of amber, patchouli, frankincense, and jasmine. It's sweet and soft, but very rich and does an excellent job of creating a calming atmosphere and covering the smell of weed.
Sandalwood
Sandalwood is a type of tree that produces a yellow, aromatic wood that can hold its scent for decades. It has a sweet, woody, and warm scent. It's exotic and unique, and you'll instantly recognize it once you smell it again. It's rich and long-lasting, which is why many people use it to mask the smell of weed.
Using Incense to Cover the Smell of Weed
If you have people coming over that aren't fond of weed, or you need to mask the smell of weed right away, incense is the key. There are a wide variety of types of incense, all with their own unique scent. The best types of incense to cover the smell of weed are going to be rich and highly aromatic, with lingering scents. Place incense in different rooms of your home, making sure to burn the same type in each area to avoid conflicting scents. Remember to burn the incense safely, on a fire-resistant surface and inside of an incense burner or stand.

Want other ways to get the smell of weed out of your house?

---
Disclaimer: Marijuana has intoxicating effects and may be habit-forming. Smoking is hazardous to your health. There may be health risks associated with consumption of Marijuana. Marijuana, in any form, should not be used by individuals that are pregnant or breastfeeding. Marijuana is intended for use only by adults 21 and older. Keep out of reach of children. Marijuana can impair concentration, coordination, and judgment. Do not operate a vehicle or machinery under the influence of this drug. This product may be unlawful outside of Washington State.