Weed measurements and THC content are a point of confusion for many cannabis users. Whether you're a newbie stoner or even quite experienced, sometimes weed measurements just don't seem to make any sense!

You've got grams and eighths and then there's ounces, and, on top of that, there's a THC percentage. It's a lot. Learning weed measurements should be the first step in your cannabis journey, but it's easy to get by without quite understanding it all.

If weed measurements cause you strife on a regular basis, this post is for you! We're here to help so that you can read a menu without confusion and feel confident when shopping at your local Tacoma dispensary.

So, before you go asking your budtender for "a cup of weed" or – perhaps even worse – "a handful of bud", here is an overview of the most common weed measurements to know.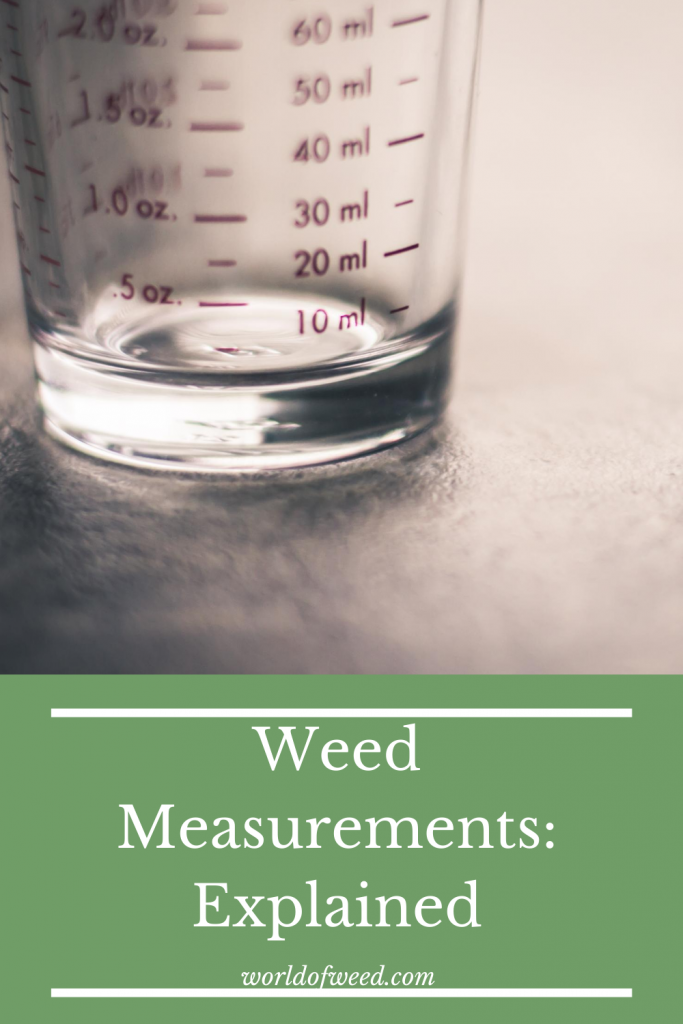 Weed Measurements – Ascending
Before we go over the different names of weed measurements, we need to first cover how weed is actually measured. Weed measurements start low with metric grams, but move up into imperial system ounces as the weight goes up. It can get confusing, which is why we've written this blog post!

The Dime Bag
While most dispensaries do not offer dime bags, they are the smallest amount of weed you can purchase. A dime bag equals half of a gram and costs $10, which is why they are called "dime" bags.

A Gram
A gram is usually the smallest amount of weed you can purchase from a dispensary, and they typically run anywhere from $10 to $20+. It is available in several ways, whether it's in the form of dried flower or in pre-rolled joints.

After this, weed measurements can get a bit confusing.

An Eighth
After gram, we jump to the "eighth", or one-eighth of an ounce. This equates to roughly 3.5 grams, and prices range from $20 to $60, depending on the quality of the weed. If you're not a big smoker, an eighth can probably last you about a week. If you're a bigger stoner, you're going to want to look at the next section of the weed measurements – the quarter.

A Quarter
Also known as a "Q", a quarter is one-fourth of an ounce, or seven grams. Prices vary widely, often ranging from $30 to $70+. If you're smoking more than an eighth a week, go up a size and get this larger quantity.

Still don't think that's enough weed to get the job done? Go up again.
A Half
A half is half of an ounce, or 14 grams. If you smoke more than a quarter's worth, but not quite an ounce's worth, this is a happy medium. Some dispensaries offer halves, but not every dispensary does. Instead, they jump on up to the ounce. 

An Ounce
When it comes to legal weed measurements, the ounce – 28 grams – is the highest a dispensary will offer. An ounce tends to range between $80 to $200+, with places charging higher for top-shelf cannabis. The ounce is also referred to as an "O" or a "zip," which alludes to the fact an ounce fills a Zip-Lock bag. Fortunately in places like Washington, you can buy an ounce legally from a dispensary. If you're a serious stoner, an ounce would likely last between two weeks to a month.
More Weed Measurements: THC Percentage
Now that we've gone over the units of weed measurements for the most common dispensary purchases, it's time to look at the measurements of THC content. There are at least 113 different cannabinoids, but THC is the primary psychoactive compound that induces euphoria and relaxation associated with marijuana.

The THC content of any given marijuana plant is expressed as a percentage of how much of the flower is made up of THC, versus other cannabinoids and plant matter. Average THC content for marijuana flower ranges from roughly 15% – 30%, with more potent strains available.

When discussing the THC content of concentrated forms of marijuana, such as wax and edibles, the weed measurements shift from a percentage to milligrams. A gram of budder, for example, may contain 75% THC, but is labeled as containing 75mg of THC per dose. Edibles work the same way, with the average dose for edibles starting at 10mg. Concentrates are stronger than most edibles and start working immediately, but edibles have a high that lasts a lot longer. Learn more about edibles by reading the beginner's guide to edibles.

Now that you've read this blog post, you're ready to take a trip to your favorite Tacoma dispensary and ask for whichever amount of weed you want to buy, whether it's flower or concentrates.

Browse our menu to start shopping!

---
Disclaimer: Marijuana has intoxicating effects and may be habit-forming. Smoking is hazardous to your health. There may be health risks associated with consumption of Marijuana. Marijuana, in any form, should not be used by individuals that are pregnant or breastfeeding. Marijuana is intended for use only by adults 21 and older. Keep out of reach of children. Marijuana can impair concentration, coordination, and judgment. Do not operate a vehicle or machinery under the influence of this drug. This product may be unlawful outside of Washington State.