September is National Baby Month, which brings us to the topic of safe marijuana storage.

For those of you who are parents who indulge in a bit of weed every now and again (which can totally mean 'daily.'), keeping it out of reach of children is a top priority.

While a mason jar on the coffee table used to be just fine, you now need something that can't just be twisted open. It needs to lock and have some security to it — you know how curious kids are.

READ MORE: The Ultimate Cannabis Storage Guide
The good news is, as marijuana becomes even more widely available for parents, so do safe storage options that keep your weed away from curious little fingers.

Today's jars and containers come in a wide variety of shapes and sizes that range from super affordable to elaborate and expensive. All that matters, though, is whether or not the storage options are childproof and / or have a lock they cannot open.

And, with that goal in mind, here are some tips on safe marijuana storage for parents — including fur parents!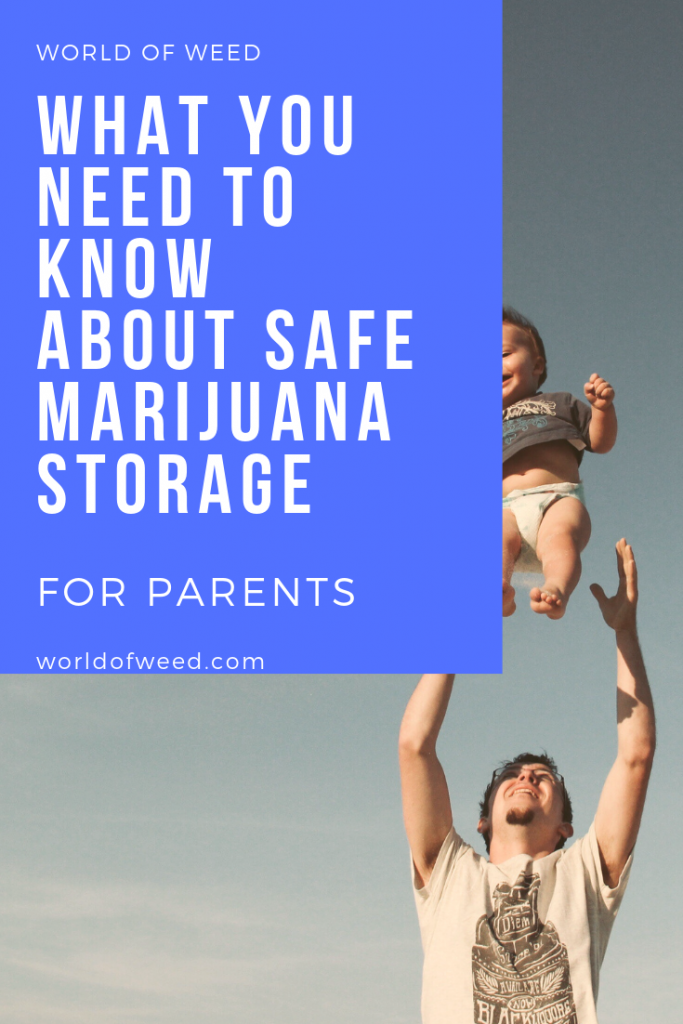 Safe Marijuana Storage for Parents

Calls to the Washington Poison Center involving young children with accidental exposure to cannabis have nearly tripled over the last five years, according to a recent report from the center.

In many cases, children find the parents' stash and consume it, not knowing what they're ingesting. Some older minors involved in reports to the poison center were experimenting with the weed they could buy from dealers out on the street.

A huge part of the problem is that many cannabis products, especially edibles and beverages, are not readily identifiable as containing THC by children.
Parents, families, and caretakers should be aware that marijuana and marijuana products should be treated just the same as any other potentially toxic product and should be kept safely out of sight and reach of children, as well as secured against curious hands.

Here are some tips for safe marijuana storage:
1. Store Marijuana Out of Reach of Children
You wouldn't leave an open can of beer on the table or put medication in a low cabinet where your children can easily get to it — and you shouldn't do it when storing your stash.

Store your weed on a high shelf, in a high cabinet, or in a drawer that cannot be easily reached by wandering kid hands. The harder it is to reach your weed, the less likely your child or curious teen will be able to get to it.

2. Store Marijuana Securely.
Storing your weed and edibles out of sight and reach of children is a fantastic start. But, even if you feel absolutely sure your kids can't reach the stash, it never hurts to be a little extra when it comes to safety and lock it up.

Keep your stash in a locked safe or other type of box with a lock that cannot be opened by determined children or teens.
Put your weed in proper stash or weed storage jars, instead of keeping them in easy-to-open bags or containers.

This way, should they manage to reach your high-up hiding spot, they still won't be able to access your weed or get into the edibles.

3. Keep Edibles in Original Packaging
Always keep edibles and cannabis beverages in their original containers / packaging, which is usually childproof and comes with warning signs. If you just have your cannabis soda in a glass, cup, or regular bottle, it's going to be impossible to tell the difference between it and a regular soda. Keep edibles in their original packaging to avoid confusion, as well as to provide dosage, serving size, and ingredient list — all of which is helpful information to have in an emergency.
4. Use Stash Bags When on the Go
You're not always going to be at home, right by your secret stash spot. Sometimes, you have to run errands and, you know, do parent things.
Keep any marijuana products in your car back in the trunk, in a smell-proof stash bag. This is out of reach of everyone in the car, and won't leave your trunk smelling dank.

Attending a family function, or another get-together? Keep things like your vape pen and vape carts, jars of flower, pipes, etc., in a locked carry case inside of your bag or purse.

This way, curious children who manage to find their way inside of your bag without being spotted won't be able to get their hands on your weed.

5. Stay Safe and Know Who to Call
The holidays are coming up, so get ready to enjoy all sorts of festive edibles. This may be the time to get a jump on some Halloween shopping and stop in the best Tacoma dispensary, World of Weed.

If you ever do find yourself in a situation where you believe a child has accidentally been exposed to cannabis or ingested a cannabis-infused product, call the National Poison Control Center immediately at (800) 222-1222. Their specialists are available 24/7 to answer your questions and, if needed, direct you to the nearest hospital.

However, if the reaction seems severe, call 911 immediately and /or go to an emergency room right away.

Tips From Parents 
"I kept my stash in a jar under the produce until she was old enough to walk. After that, I moved it into a locked box, high up on a shelf she cannot reach."

"The stash is kept in a jar up on a high shelf. When we use the products, we keep them away from the children."

"I use stash containers that look like cleaning products, and keep those in a locked cabinet. The kids have never tried to go in there and, even if they did, it would only look like a bunch of cleaning stuff."

"I keep all of my weed in a locked safe, along with all the pipes. My bongs are up on a high shelf in the living room, where the kids can't ever reach them." 

How do you ensure safe marijuana storage in your home? Share your tips with us in the comments!
---
Disclaimer: Marijuana has intoxicating effects and may be habit-forming. Smoking is hazardous to your health. There may be health risks associated with consumption of Marijuana. Marijuana, in any form, should not be used by individuals that are pregnant or breastfeeding. Marijuana is intended for use only by adults 21 and older. Keep out of reach of children. Marijuana can impair concentration, coordination, and judgment. Do not operate a vehicle or machinery under the influence of this drug. This product may be unlawful outside of Washington State