This cannabis cocktail is perfect for the weekend, especially in the summertime. Frozen Strawberry Daiquiris are the ultimate when it comes to refreshing, poolside thirst quenchers.
This particular recipe is made with fresh and frozen strawberries, instead of the usual ice cubes. Why use dilute your drink with ice when you can just use frozen strawberries?
It also uses cannabis tincture and sugar in place of rum, so you don't have to worry about having a nasty hangover!  

What is a Strawberry Daiquiri?
Traditionally, a strawberry daiquiri is not a cannabis cocktail, but rather an alcoholic one – the main ingredients are rum, citrus juice, and sweetener. There's a wide variety of daiquiris, but this recipe is focused on summer strawberries.
What Tincture Do You Use in a Cannabis Cocktail?
You use the best! The tinctures we have here in our shop, to be exact. This isn't the type of drink you want to skimp on when it comes to product quality, as you want the highest potency and best flavor. This is also a pretty light drink, so even with an ounce of CBD / THC tincture, you still have a LOT of strawberry deliciousness in there to balance it out! You could probably even say this drink is healthy.
The best cannabis tinctures include:
Tips for This Cannabis Cocktail
You definitely want to take the time to freeze strawberries (or purchase them) instead of using ice cubes. You want a drink that's full of flavor, which means a drink that isn't diluted with water. Frozen strawberries does the trick!
You can adjust the amount of cannabis sugar, depending on how potent you want your drink to be. If you don't want to use cannabis sugar, just use regular sugar instead.
Adjust the lime to taste.
If you don't like strawberries, are allergic, or can't find them in the stores, swap out strawberries for peaches. It's just as delicious!
Cannabis Cocktail Recipe: Strawberry Daiquiri
Recipe Note: Read all instructions first. The cannabis sugar needs to sit overnight before it's ready for use.


Ingredients 
4-5 medium frozen strawberries
4 medium frozen strawberries
1-2 tbsp cannabis sugar
1 tbsp lime juice
1 ounce cannabis tincture


Instructions
1. Make cannabis sugar.
2. Put all ingredients into a blender. Blend.
3. Sugar the rim of a hurricane glass.
4. Pour the liquid into the glass.
5. Garnish with strawberry.


Cannabis Sugar Recipe

Ingredients
4 cups sugar
½ cup cannabis tincture

Directions 
Add sugar to glass bowl.
Mix in cannabis tincture.
Line a baking tray with parchment paper.
Evenly spread the sugar mixture over the paper in a thin layer.
Let sit overnight.
Using a solid object, crush up the sugar to remove lumps.
Store in a cool, dry place.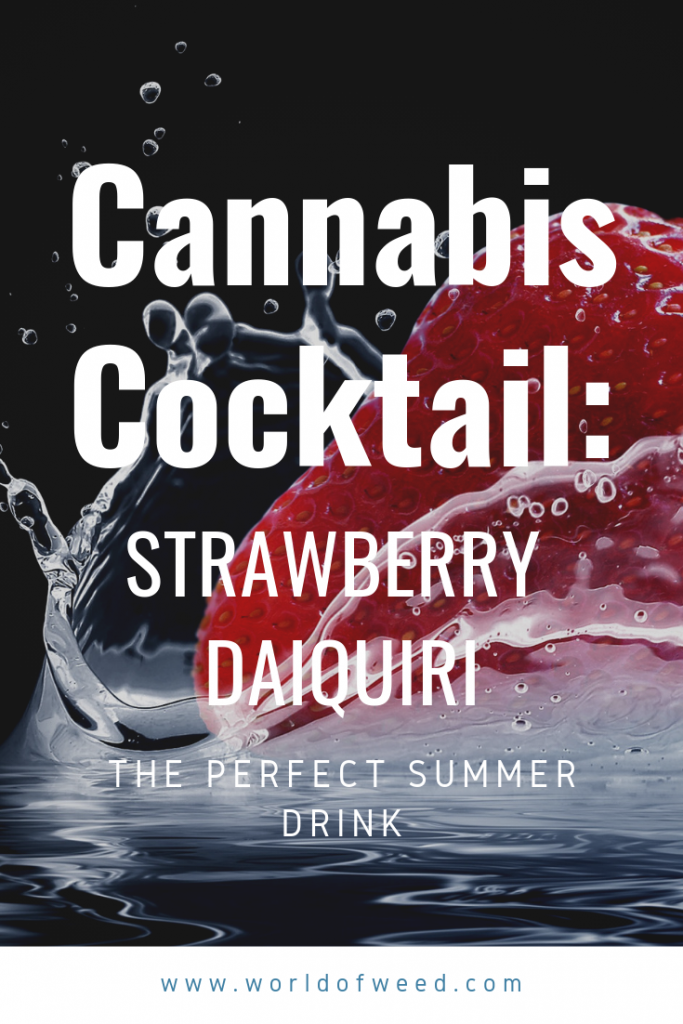 ---
Have you ever had a cannabis cocktail?
Tell us about it in the comments!
---
Disclaimer: Marijuana has intoxicating effects and may be habit-forming. Smoking is hazardous to your health. There may be health risks associated with consumption of Marijuana. Marijuana, in any form, should not be used by individuals that are pregnant or breastfeeding. Marijuana is intended for use only by adults 21 and older. Keep out of reach of children. Marijuana can impair concentration, coordination, and judgment. Do not operate a vehicle or machinery under the influence of this drug. This product may be unlawful outside of Washington State