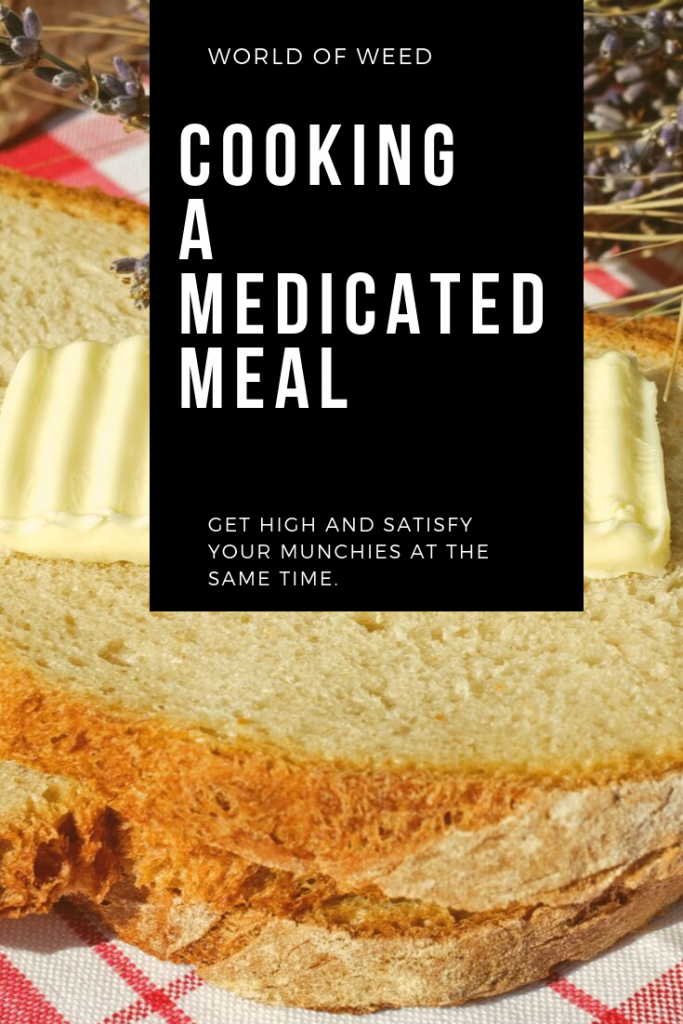 The evenings are getting cooler, which means it's time start cooking again. Now is a great time to start experimenting in the kitchen, and cook up a medicated meal for yourself.

Take that weed and infuse it into cannabutter, and start cooking up some dank deliciousness. We're not talking pot brownies here; we're talking full meals that'll both get you high and satisfy your appetite.

What's better than that?
First things first: Making cannabutter.

---
How to Make Cannabutter
Cannabutter (cannabis-infused butter) is one of the easiest and most popular ways to make cannabis-infused foods. However, the process of creating the cannabutter can be a bit tricky. Before the flower can activate its psychoactive properties, the flower must first be heated, slowly and at a low temperature.

This first section will teach you how to make cannabutter, which you'll need for the following medicated meal recipes.

Please note: It's VERY difficult to accurately dose homemade meals or edibles. While there are some things you can do to increase the preciseness of the dosing, there is no way to guarantee homogeneity or potency.
Making Cannabutter
Ingredients 

1 cup butter
1 cup (7-10g) ground cannabis
Instructions:

Decarb the flower. Preheat oven to 245 degrees F. Place the buds on a non-stick, oven-safe tray. Cover tray with parchment paper and insert tray into the oven for 30-40 minutes. Drier, older buds take less time than fresher buds. Every 10 minutes, gently shake the tray to mix the buds and heat the buds equally.
Grind. Grind the decarboxylated flower.
Melt butter. Add 1 cup water and 1 cup butter into a saucepan or stock pot. Simmer on low and let the butter melt.
Add the cannabis. As the butter melts, add in the ground cannabis.
Simmer. Keep it on low (between 160 and 200 degrees F.), and let simmer 2-3 hours, stirring occasionally. Never let the mixture boil.
Strain. Get a jar, and put a funnel in the top. Line it with cheesecloth. Once the butter has cooled, pour it down the funnel and let it strain on its own.
Refrigerate. Put the butter in the fridge. If there is water at the bottom after an hour, remove the solid butter and drain the water.
Pro Tip: To test the potency of your finished cannabutter, spread ¼ or ½ teaspoon on a slice of bread (or other snack) and see how that dose hits after an hour. Let that be your baseline for cooking a medicated meal.
---
EASY Medicated Mac 'n' Cheese
This has got to be the easiest Mac 'n' Cheese recipe ever – perfect for a first medicated meal. It only has two instructions. Two. That's it.

Here we go.

Ingredients

1 box Macaroni 'n' Cheese (any brand, about 7 ¼ oz.)
1-2 teaspoons cannabutter
Instructions

Make macaroni 'n' cheese according to the instructions on the box, substituting regular butter or margarine for cannabutter.
Wait 45 minutes before eating a second serving.
---
EASY Medicated Angel Hair Pasta
A savory bowl of angel hair pasta, smothered with garlic, cannabutter, and parmesan cheese. This is a medicated meal you'll find yourself making again and again.

This recipe yields 6-8 servings, so there's plenty to share — or save for later!
Ingredients

1 package angel hair pasta
4 tablespoons cannabutter
7 cloves, chopped garlic
¾ cup parmesan cheese
Salt and black pepper, to taste
Instructions
1. Melt cannabutter in large pan over medium heat. Add garlic and cook until lightly browned (3-5 mins). Remove from heat and set aside.
2. Boil large pot of generously salted water. Add pasta and cook, stirring until soft (2 minutes). Drain, saving ½ cup pasta water.
3. Put pasta back in the pot and add the garlic cannabutter, salt, and pepper. Combine well.
4. Add ½ cup grated parmesan cheese and pasta water. Combine gently.
5. Taste. Add more cheese to taste.
6. Serve topped with remaining cheese.
TIP: Round out your medicated meal with a cannabis-infused soda or cannabis cocktail! 

---
Which of these two medicated meal recipes are you trying first? Let us know how it goes in the comments!
---
Disclaimer: Marijuana has intoxicating effects and may be habit-forming. Smoking is hazardous to your health. There may be health risks associated with consumption of Marijuana. Marijuana, in any form, should not be used by individuals that are pregnant or breastfeeding. Marijuana is intended for use only by adults 21 and older. Keep out of reach of children. Marijuana can impair concentration, coordination, and judgment. Do not operate a vehicle or machinery under the influence of this drug. This product may be unlawful outside of Washington State