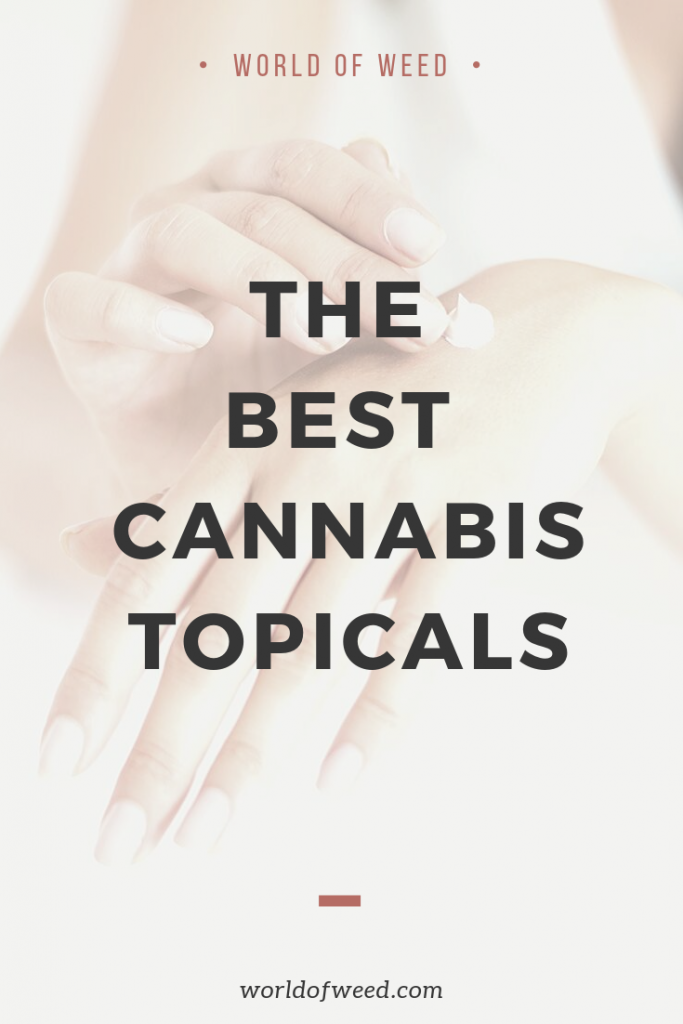 ---
Cannabis:
You can smoke it.
Heck, you can even drink it.
But, did you know you can use it topically too?
New methods of consumption are shining light on the therapeutic benefits of cannabis, and make the notion that it has to get you high into a thing of the past.
Cannabis topicals are a prime example of how these new methods of consumption are helping to end the stigma surrounding cannabis and normalize its use. It's also introducing some of the most unlikely people to the world of medical marijuana.
What Are Cannabis Topicals?
Cannabis topicals are lotions, creams, balms, oils, or sprays infused with marijuana. They're applied to the skin, where they soak in to provide localized relief of inflammation, pain, and tenderness.
Cannabis topicals will not get you high or stoned, making them the best option for those who want the therapeutic benefits of the plant without the psychoactive effects that come from other consumption methods.
There are strain-specific topicals that utilize the terpenes and cannabinoids in a chemical makeup similar to whichever strains the producer chooses to imitate. In addition to THC, CBD, and other cannabinoids, the producers of cannabis topicals may also include natural ingredients and essential oils that offer relief, such as peppermint, clove, or tea tree. 
How Do Cannabis Topicals Work?
Cannabis topicals work by binding to CB2 receptors within the body. These receptors are located all throughout the body, and they're activated by either the body's natural endocannabinoids or by phytocannabinoids, such as THC and CBD.
Even if a cannabis topical contains THC, it still won't get you high like smoking flower or eating edibles would. With the exception of transdermal patches, cannabinoids don't even breach the bloodstream; they only go deep enough to reach the network of CB2 receptors. 
What Are Cannabis Topicals Used For?
Cannabis topicals can be used to treat a wide variety of symptoms, ranging from pain, psoriasis, and cramping to inflammation and headaches. The most effective cannabis topicals contain both THC and CBD, both of which are anti-inflammatory.
Different topicals have different benefits, depending on how they are produced and which ingredients are used. Try a few different cannabis topicals to see which one works best for you.
Talk to your budtender about your needs and preferences, and they'll be able to help you find the best cannabis topical for you. 
The Best Cannabis Topicals 
1. Fairwinds Flow CBD Cream – THC 3mg ; CBD 30mg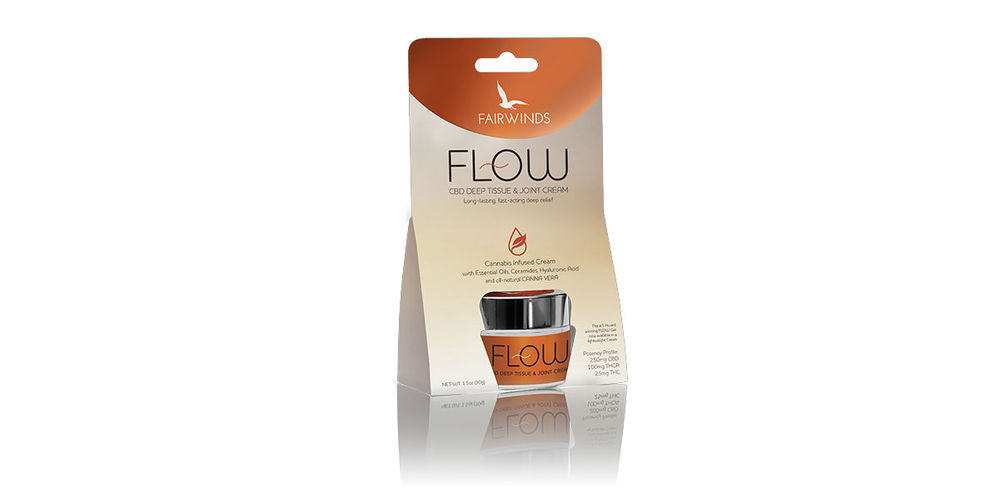 Flow is a soothing cream from Fairwinds. This complex formula consists of seven primary components, including an optimized blend of cannabis oil, essential oils, terpenes, herbal extracts, ceramides, hyaluronic acid, and Fairwinds' exclusive Canna Vera base.
This cannabis topical applies and absorbs quickly, leaving a subtle and refreshing scent. It supports skin structure and moisture with fortified ceramides and hyaluronic acid (naturally present in skin), delivers the active ingredients when and where you need them most, and provides the deep and long-lasting relief you're looking for.
2. Fairwinds Flow Roll On – THC 2mg ; CBD 148mg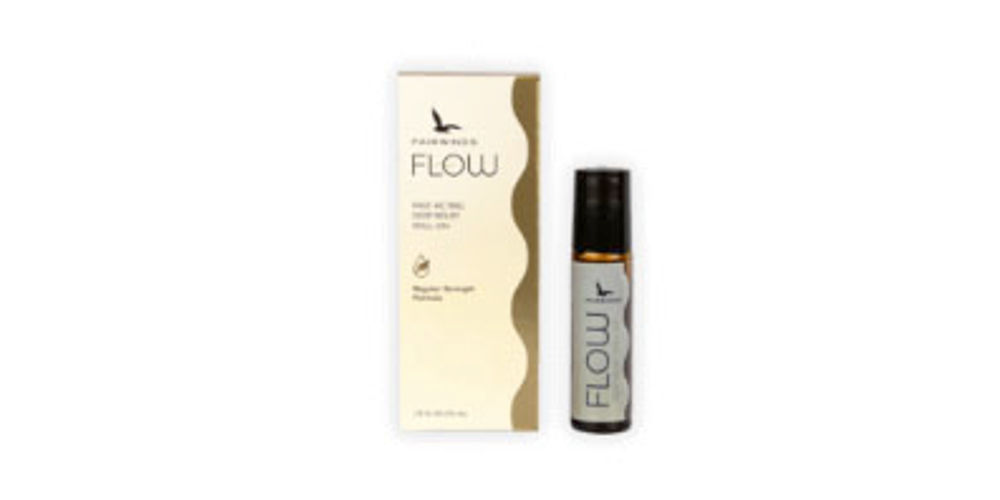 Flow Roll-On is the newest cannabis topical from Fairwinds, and is designed to provide all the relief you'd expect from a Flow topical, combined with the convenience of a roll-on applicator that makes this the perfect option for those on the go.
This extra strength formula was specifically designed to deliver the maximum benefit in the shortest amount of time. This formula contains: Carrier Oil Blend (MCT, Squalane), Linalool, Nutmeg, Caryophyllene, Clove, Ginger, Eucalyptus, Peppermint, Turmeric, MSM, and Cannabis Oil with Clinical Terpene Blend.
3. Green Revolution Solace Topical CBD: THC – THC 1mg; CBD 100mg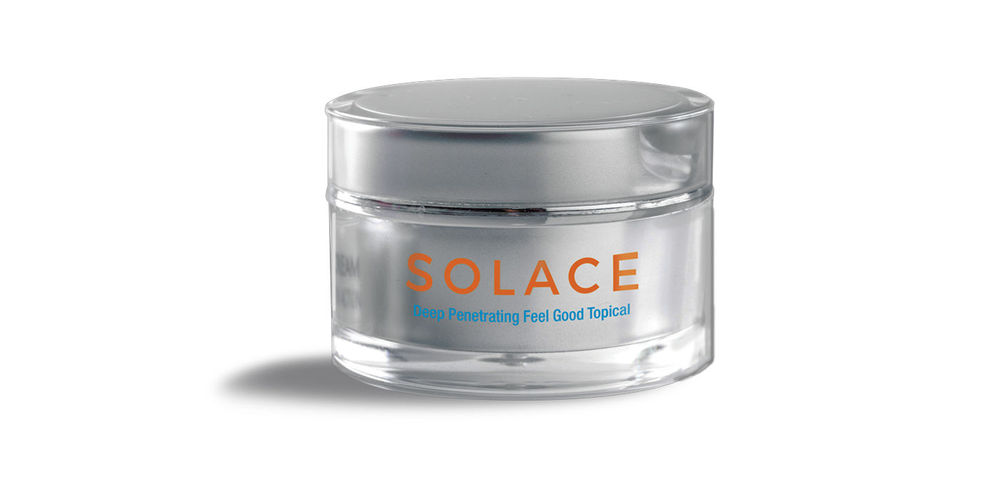 The Solace topical from Green Revolution is a deep-penetrating, feel good type of cannabis topical that provides fast-acting and long-lasting relief.
Produced with soothing aloe vera, shea butter, and other therapeutic ingredients, the Solace topical is a powerful combination of full cannabinoid and terpene profiles, as well as nutritive ingredients that provide fast-acting, localized relief for aching muscles, joints, and /or skin. Other ingredients, such as hemp seed oil, coconut oil, and argan oil help moisturize as the CBD and other cannabinoids penetrate deep into the skin to provide relief.
SHOP Green Revolution Solace Topical 

---
Disclaimer: Marijuana has intoxicating effects and may be habit-forming. Smoking is hazardous to your health. There may be health risks associated with consumption of Marijuana. Marijuana, in any form, should not be used by individuals that are pregnant or breastfeeding. Marijuana is intended for use only by adults 21 and older. Keep out of reach of children. Marijuana can impair concentration, coordination, and judgment. Do not operate a vehicle or machinery under the influence of this drug. This product may be unlawful outside of Washington State