You're on the go all day, every day.

You're running around – finishing errands, paying bills, commuting to and from work, and visiting friends.

With the hectic nature of our daily lives, it's imperative that you take some time to decompress and recharge your batteries, both mentally and physically.

Fortunately, we have plenty of strains to choose from, so you can get your high on and wind down from the day. Marijuana has shown to help improve cognitive function, so don't skip your bowls!

Also equally important is having some activities or hobbies you enjoy that help improve cognitive function and abilities. In fact, the way we spend our free time now can have a massive impact on how we mentally function during the rest of our lives.

Hobbies that improve cognitive function and stimulate the brain can be paired with smoking marijuana to not only help you relax, but also become smarter, more focused, and more mentally resilient as well.

Here, we look at five stoner hobbies that will help you work out those brain muscles of yours.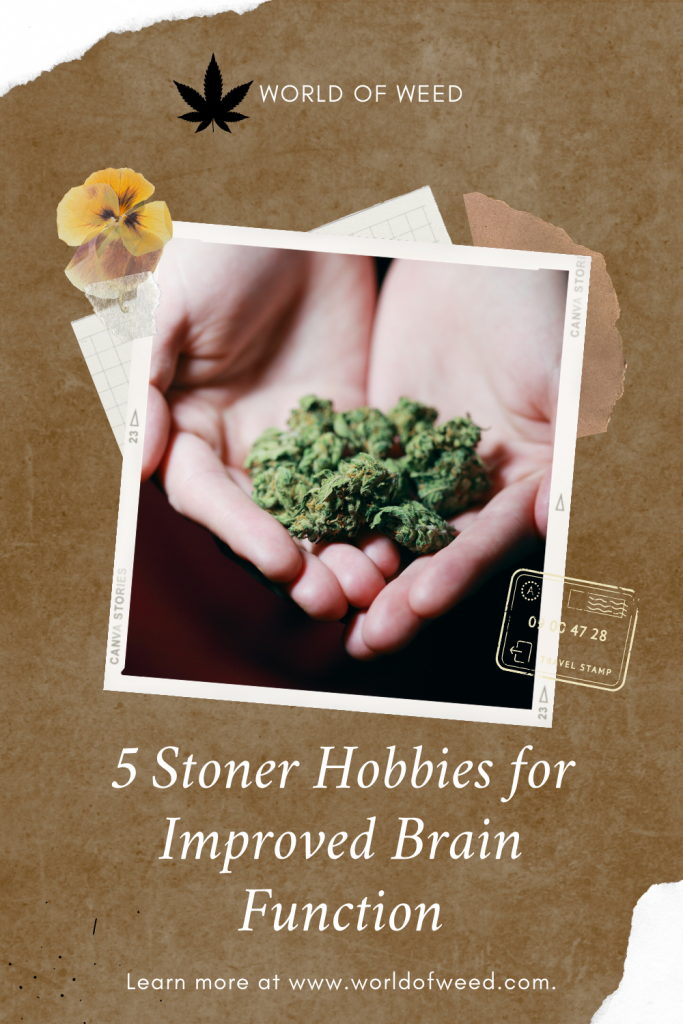 5 Stoner Hobbies to Boost Your Brain
1. Crochet / Knitting
Chain eight, join, and turn.

Crochet is a centuries-old craft, and one that can actually help improve your brain function. In a 2011 study, researchers interviewed a random group of 1,321 people ages 70 to 89, the majority of whom were considered cognitively normal, about the cognitive activities they performed in the late stages of life. The study found that those who crocheted or knitted had a reduced chance of developing cognitive impairment and memory loss. Those who read the paper or magazines, or who played music, did not show such benefits. The researchers concluded that activities like crocheting and knitting actually promote the development of neural pathways in the brain, thereby helping to maintain one's cognitive health.

So, next time you're looking for a new hobby to engage in while you blaze, grab some yarn and a hook and give crocheting a try!
2. Play some music
When you make music, certain regions of your brain are stimulated as you recognize and memorize notes, move your body, and feel the rhythm of the music. These actions are said to strengthen the corpus callosum, the region of the brain that bridges the right and left hemispheres, by forming new connections. Having these new connections improves brain function.

Ever smoke a few bowls and then want to get soulful on the guitar? Science says that's a great idea! Playing music is a fantastic stoner hobby for improving brain function.

3. Gardening
Gardening has long been touted as a stress-relieving activity that can improve our mood. But, did you know it can also improve brain function? Just being out in the sun elevates serotonin levels, which in addition to improving our mood, also supports cognitive function in the prefrontal cortex of the brain.

As if that wasn't enough, there's even evidence that the soil has certain bacteria present that stimulates serotonin release.

The act of gardening is a form of physical meditation in and of itself, as it raises our concentration and helps prevent mental fatigue. Planning a garden takes problem-solving skills and mulching, digging, and repotting take motor skills. All of this activity produces brain-derived neurotrophic factor (BDNF), proteins that generate new neural growth within the brain.

So, if you want to give your brain — and mood — a big boost, take your bong and flower and head outside for some gardening. Two types of greenery come together in harmony to keep you uplifted and sharp.
4. Dance it out
You know music and good weed go together like spaghetti and marinara. But, did you know getting your groove on to the music can actually be one of the best stoner hobbies for improving brain function?

It's true. Not only do you get a physical workout from dancing, it also reduces stress and raises serotonin levels. Additionally, dancing increases cognitive acuity, meaning it can boost your brain power.

So, next time you put on some tunes and hit the bong, be sure to dance it out as well. Smoke a sativa to really get that fun energy going.

5. Smoke some more
The best stoner hobby for improving brain function is, well, smoke more weed!

Evidence from a fairly recent study suggests marijuana may not actually impair executive functioning in adults and, in many cases, may actually improve it. After the marijuana treatment was conducted during the study, it was observed that the patients were better able to perform certain cognitive tasks, specifically those facilitated by the frontal cortex.

Additionally, numerous other studies have shown marijuana relieves anxiety. When anxiety is reduced, it's likely that an individual's cognitive function would improve. The same goes for a reduction in chronic pain, which marijuana also provides. This shows marijuana provides symptom improvement that resulted in improved cognitive performance.

So, there are a few ways in which hitting the bong can actually improve brain function. Feeling inspired to boost your brain? Browse our menu!
---
Disclaimer: Marijuana has intoxicating effects and may be habit-forming. Smoking is hazardous to your health. There may be health risks associated with consumption of Marijuana. Marijuana, in any form, should not be used by individuals that are pregnant or breastfeeding. Marijuana is intended for use only by adults 21 and older. Keep out of reach of children. Marijuana can impair concentration, coordination, and judgment. Do not operate a vehicle or machinery under the influence of this drug. This product may be unlawful outside of Washington State.