Spring is in full swing. Tank tops and shorts are being pulled from closets, birds are out singing and chirping, and there is an abundance of blooming flowers. And although everyone is excited about it being spring, we're actually a tad bit more excited about these spring strains for 2021. Let's dive in!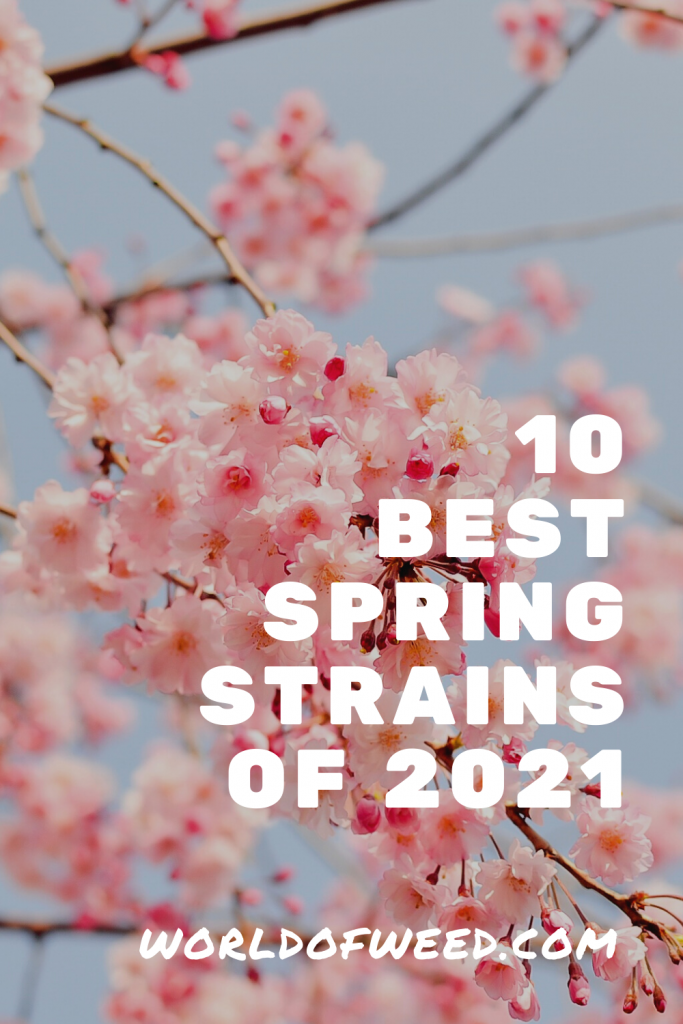 10 Best Spring Strains
1. Santa Cruz
Santa Cruz is an indica hybrid created through the crossing of OG Kush and Afgooey. It's a standout strain – one that is perfect for relaxing during the spring – with 27.19-31.19% THC.

The nose is a unique mix of scents, delivering sweet and peppery aromas that are complemented by citrus essence. The palate matches, carrying layers of sweet citrus over a lingering, spicy and peppery exhale.

The Santa Cruz strain is perfect for a mellow spring day, as it offers a potent combination of both indica and sativa effects. The high is soothing and calming overall, yet you are mentally stimulated and euphoric. The creative juices are flowing, and you likely feel very social. Do something you love while enjoying this spring strain.
2. Maui
Maui is a sativa hybrid strain of unknown origins. It's one of the best spring strains in that it's uplifting and motivating.

The nose throws out powerful notes of fresh lemon, complemented by a dank skunkiness. Some fruitiness lends to the complexity of the strain as well.
The flavor begins with a smooth, palatable smoke. It's quite exceptionally fruity, carrying a tropical taste with hints of pineapple.

At 22.18-26.18% THC, this hybrid is a bit on the powerful side, but the effects and tropical flavors come together to create an overall vibe of being in paradise. This is highly smokeable and pleasant. A perfect mid-afternoon spring strain.

3. Duct Tape
Duct Tape is an evenly balanced hybrid created through the combination of Original Glue and Do-Si-Dos. Coming in at 19.81-23.81% THC, this hybrid is a bit on the potent side.

The aromas of the strain are gassy, piney, and chocolatey all at once. The flavor, on the other hand, is quite different. It tastes of patchouli incense and hash. The smell and aroma are very loud, so be careful if discretion is important when you smoke this.

The Duct Tape strain offers a pleasant cerebral experience paired with full-body relaxation. Expect feelings of euphoria, invigoration, and increased focus. This is one of those spring strains best enjoyed when you have something to do, such as work or spring cleaning.

4. Do-Si-Dos
Do-Si-Dos is one of the best spring strains for relaxing after a particularly long day. A cross between Girl Scout Cookies and Face Off OG, this strain is an indica hybrid that brings on very strong cerebral and euphoric sensations.

This strain may come from the Cookies family, but it smells completely different and smells nothing like Do-Si-Dos cookies. Instead, the nugs contain a thick and sweet aroma that carry earthy and dank notes. When the nugs are ground, there is a distinct skunkiness to them. The flavor is nothing like the aroma. Rather, the Do-Si-Dos strain tastes like skunky fruit. The smoke is very pungent, so be aware of that if discretion is an issue.

5. GG #1
If you're a stoner, you've undoubtedly heard of the popular GG #1. This potent (21.20-25.20% THC) indica hybrid holds a delicious aroma of pine and fruit, yet smells of sweet pine. It provides heavy and strong indica effects, which make this one of the best spring strains for kicking back and relaxing, living that care-free lifestyle you saw on Instagram.

6. Golden Pineapple
Golden Pineapple is an uplifting sativa that was created through the crossing of Golden Goat and Pineapple Kush.

As one would assume from the name, this beautiful strain tastes a lot like pineapple. It's tropical and fruity in aroma and flavor, but it also holds sour notes and subtle hints of pine and diesel. It's highly aromatic, one that you can smell a mile away.

A strong sativa hybrid, this is one of the best spring strains for those seeking energetic, euphoric, and uplifting effects for daytime adventures and activities. You will walk with a bounce in your step and a grin on your face. You just can't help it with Golden Pineapple! Plus, with its high THC content (20.96-24.96%), this strain is one that is sure to get you lifted.

Shop the Golden Pineapple strain

7. Lava Cake
Lava Cake has earned a place on this list of best spring strains, as it's quite rare and a potent hybrid that was born after Thin Mint Cookies and Grape Pie were crossed. Aptly named, Lava Cake is sweet and chocolatey with just a hint of mint and fruit. The aroma is just as sensational, smelling of fruit, pine, herb, and almonds.

This strain is perfect for a relaxing high that brings on introspection and creative thinking. It's a great choice for leisurely or artistic activities. This creative thinking and reflection are paired with gentle uplift and a wave of euphoria. You will be completely at ease and relaxed, though not sedated. Satisfy your sweet tooth and get your high on with Lava Cake! 

8. Grease Monkey
Grease Monkey is one of those great spring strains that was created through the crossing of GG#4 and Cookies and Cream. This indica strain provides relaxation and full-body contentment while also stimulating your other senses and invigorating your entire self. Although Grease Monkey is indica-dominant, it does also provide buzzing, uplift, and mental clarity. This is the strain to smoke when you need to get things done but still be relaxed.

9. Green Crack
In all honesty, no list of spring strains would be complete without the inclusion of Green Crack. Spring is the time to rejuvenate your home, go outside and enjoy the sunshine, and plant some beautiful flowers. It's also the time to smoke plenty of weed! But, what do you need to do all of that (except maybe the last part)? You need energy. And that's exactly what Green Crack will provide. This uplifting, energizing sativa will have you going and going for hours, all while feeling euphoric and completely satisfied with life.

10. Modified Mints
This may be a strain you've likely not heard of, but it's one of the best spring strains of 2021, and one that you need in your stash. Chemdawg and Girl Scout Cookies came together to create this indica hybrid. It smells and tastes of earthy gasoline with a bit of an acrid bite. It's a unique taste, one that you'll instantly recognize when you come across it again. Modified Mints is one indica hybrid that will give you plenty of rest and relaxation, but won't make you feel groggy and disoriented.

Shop the Modified Mints strain
What spring strains will you be smoking this year? Let us know down in the comments!
---
Disclaimer: Marijuana has intoxicating effects and may be habit-forming. Smoking is hazardous to your health. There may be health risks associated with consumption of Marijuana. Marijuana, in any form, should not be used by individuals that are pregnant or breastfeeding. Marijuana is intended for use only by adults 21 and older. Keep out of reach of children. Marijuana can impair concentration, coordination, and judgment. Do not operate a vehicle or machinery under the influence of this drug. This product may be unlawful outside of Washington State.