The Beginner's Guide to Edibles
Edibles have come a LONG way since the first days of crumbly "pot brownies" that didn't taste all that great and didn't do all that much.
Cannabis-infused foods and beverages have fueled a multi-million-dollar industry within the legal states, with edibles being enjoyed at weddings, as gourmet meals, during recreational activities, at the gym, and even on T.V..
While smoking still reigns king when it comes to the consumption of cannabis, more and more people are opting for edibles. In fact, many people who never had any interest in smoking weed are now trying edibles and enjoying marijuana for the first time.
But, edibles can be tricky things, even for the most experienced cannabis users.
You've probably heard at least one story of someone eating a pot cookie and having a horrible time.
The thing is, because of how edibles work, it's pretty tough to control and plan the dosing and effects.
While nobody has ever died from cannabis, those bad experiences from others tend to steer people away from trying edibles. Or, people had their own bad experiences in college and never wanted to try it again after that.
But, there are some things about edibles that are swaying those wary people and getting them to reconsider.
For one thing, there's the health benefit of eating cannabis versus smoking it. Smoking isn't something that comes naturally to people. It's not a natural thing to inhale smoke into your lungs.
While smoking weed isn't nearly as harmful as smoking cigarettes, breathing anything into your lungs still isn't the best thing to do for a long period of time. And not everyone can handle smoking, which makes edibles a much better option.
Plus, they're a far more discreet way to stay medicated without drawing attention and drawing complaints from people.
And, if people understand how edibles work, and are mindful about their consumption, then edibles are a highly viable option for both recreational and medical cannabis consumers who would rather get their weed through something tasty, rather than smoke it.
To help with that, here's a handy beginner's guide to edibles: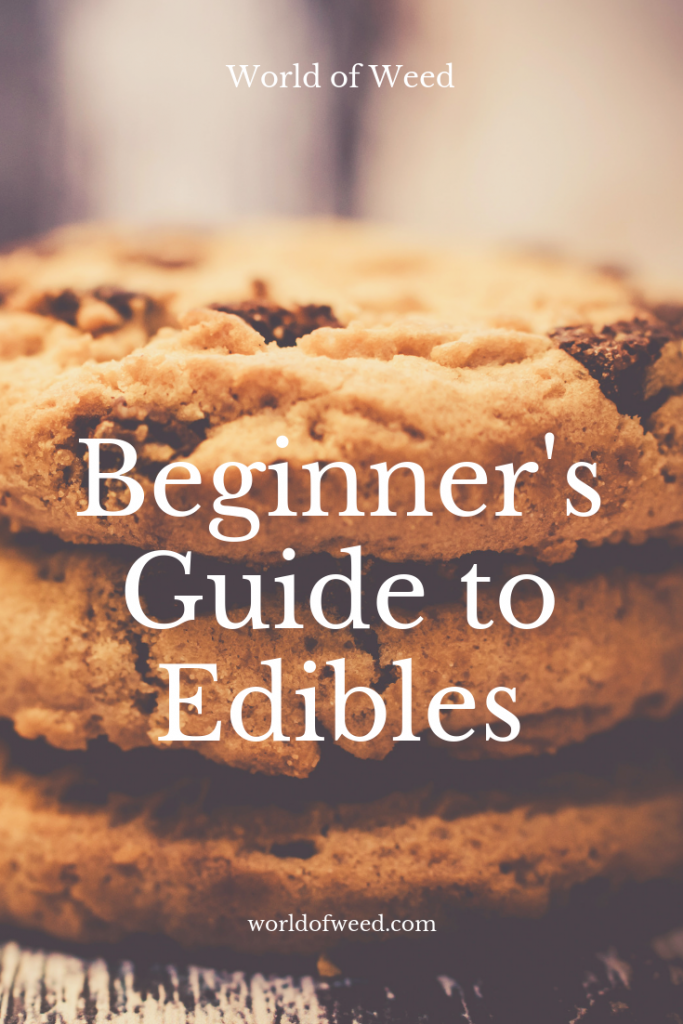 Edibles for Beginners
How Edibles Work
The high / stoned effects from edibles are pretty much the same as from smoking. The difference is in HOW the cannabis ingested. The way the body processes the THC affects every aspect, from how long it takes to feel the effects on up to how intense the high is going to be.
When you smoke or vape weed, all the THC and additional cannabinoids are absorbed almost immediately through your lungs. From there, those compounds head straight to your bloodstream, which means you get high much faster. Most smokers feel effects from smoking or vaping within three to 10 minutes.
Edibles are a whole different story.
Your body has to work hard to digest the edible, whether it's food or drink. Just like non-infused foods and drinks, the edibles get absorbed through the stomach, has to pass through the intestine, and then goes through the liver, where the THC gets broken down and filtered into the bloodstream.
And all of that means it can take anywhere from 30 minutes to two hours before you feel the full effects of the edibles.
Also, just as with most other things, the intensity of the edibles will largely vary from person to person. Someone who weighs 100 pounds and only had an apple for the whole day will likely feel the effect of the THC a lot more than someone who weighs more and who has had full meals throughout the day.
Tolerance levels and the metabolism of the person also play key roles in how the edibles affect them. But, even the most seasoned stoners can still get surprised by how hard the edibles hit.
The type of edibles also factors in. Because the body can break down the THC molecules in liquid faster than they can the sugars and other ingredients that are in a baked good or chocolates, beverages tend to hit faster. The THC in hard candies people suck on is also absorbed through the mouth, which means it starts hitting a lot more quickly.
The liver also processes the THC in a way that converts it into a totally different type of molecule than the THC absorbed through the lungs. This molecule is significantly stronger than the THC molecule consumed through smoking, which intensifies the high.
The Time Factor
Edibles produce a much longer high than smoking or vaping does. It's more intense, and it lasts for a lot longer.
The effects of THC last for around three hours when its absorbed through the lungs. When it's digested through edibles, however, it binds to the fat cells in your body and gives a high that lasts for anywhere from eight to 10 hours before it fully wears off.
This is why edibles are the popular choice for those using cannabis to help them sleep. But, it's also why you should take care to plan your schedule around the edible(s) you're going to be eating.
It can be tough to be out in public, and it's definitely not safe to be driving.
When you're eating edibles, it's best to make sure you don't have to go anywhere for the day.
Start Low. Go Slow.
Words of wisdom from experienced users to those new to edibles.
You're going to want to start off with an edible that has no more than 10 mg THC. Out of that, a dose of 2.5 mg to 5 mg is best for edibles for beginners.
Most of the bad experiences people have come from this rule of thumb not being followed. Instead of starting low and pacing themselves, they chow down on half a cookie right off the bat. They don't feel anything after about 15 minutes, they take another bite. Because it can take up to two hours before the high from the THC really kicks in, those two servings overlap and they wind up with a horrible experience.
What to do instead:
To prevent that from happening to you, wait AT LEAST two hours between servings.
Start off with a low dose (2.5mg to 5 mg). See how that sits with you.
Then, wait a day before eating another, higher dose. Increase your dose by 5mg each time until you reach a good level of high you like the best.
It's a lot better to pace yourself and find your balance after two or three times, rather than eating way too much and winding up having a panic attack.
It's very easy to do.
One of the biggest mistakes people make is trying to make edibles at home when they're totally new to it.
It may seem tempting – – it's fun, you'd save money, etc. – – but it's actually really difficult to get the precise amount of THC infused into your edibles. Most edibles for beginners that are made at home usually end up being WAY too strong, resulting in yet another bad edibles experience story.
That's why people who haven't had edibles before should get theirs from the professionals at a dispensary.
Buying Edibles From a Dispensary
The online menu of a dispensary's website will give you a good idea of what type of edibles they carry, including everything from a description to the potency and suggested serving size. The key is to search through the menu for something that sounds particularly delicious with a THC level at or below 10 mg.
Still not sure? The experienced budtenders are ready to help you out and can recommend the best edibles for beginners, suited to your preferences and needs.
What if You Get Too High?
Let's say bad luck strikes and you end up getting WAY too stoned.
What should do you do if you get too high?
If you get too high, go to sleep.
You can't overdose on weed. There is no level of THC that will be toxic to you. Which means you don't need to call 911 or head to the ER, UNLESS there are other factors like a heart condition or pregnancy.
Otherwise, it's not necessary and there isn't anything they can really do. They can hook you up to an IV to give you fluids, but there isn't anything that will just quickly get the cannabis out of your system.
So, save your wallet some strain and stay home. Take a nap. Drink lots of water. You can also balance the THC with CBD, reducing the intensity of the high.
Most importantly: Stay calm.
It can be scary to get too high, especially if it's the first time you've had that experience.
But:
You're safe. You cannot overdose. You're actually alright.
If you keep reminding yourself of this, you can likely talk yourself through the experience without it getting worse and causing a panic attack.
Pro Tip:
When you're just starting out with edibles, you may want to keep some CBD on-hand. 15mg or more of CBD will displace the THC in your system and reduce your high.
Ready to Try Some Edibles for Beginners?
Check out our online menu to browse through all of our delicious edibles, with everything from gummies to baked goods, to beverages.
Not sure which of them are the best edibles for beginners? Come on in, and we'll help you out!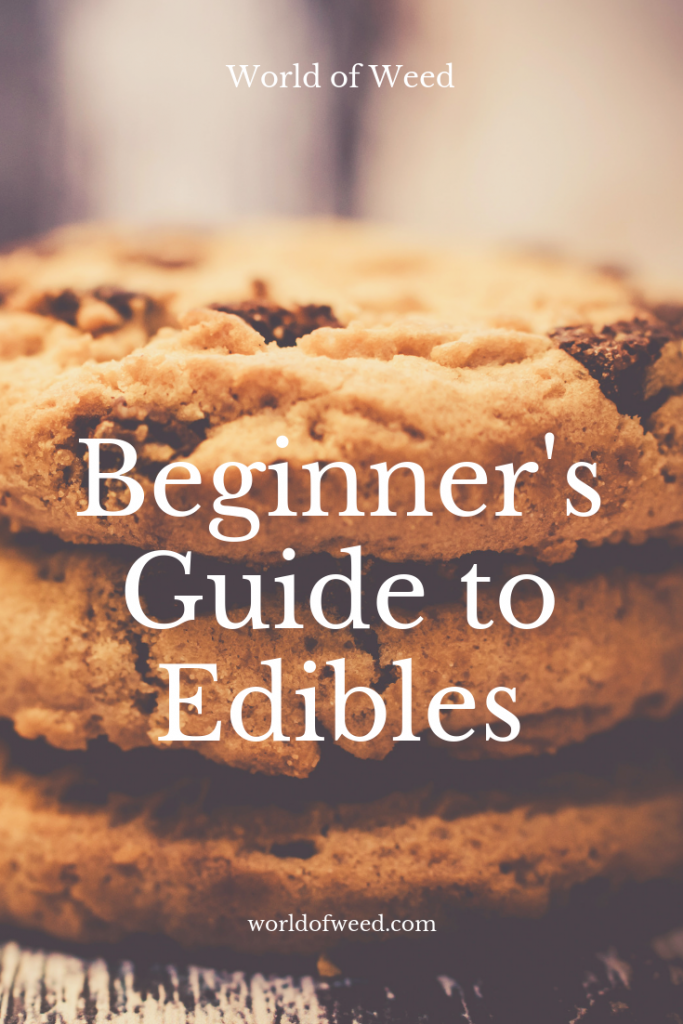 ---
Disclaimer: Marijuana has intoxicating effects and may be habit-forming. Smoking is hazardous to your health. There may be health risks associated with consumption of Marijuana. Marijuana, in any form, should not be used by individuals that are pregnant or breastfeeding. Marijuana is intended for use only by adults 21 and older. Keep out of reach of children. Marijuana can impair concentration, coordination, and judgment. Do not operate a vehicle or machinery under the influence of this drug. This product may be unlawful outside of Washington State.