Try something different with your next smoke sesh: Make it a fun weed tasting. It's the perfect way to discover a new favorite strain and organize a memorable night for a few friends. 

The perfect theme for any type of host, this weed-focused get-together has something for everyone and you can still work all the usual stoner party crowd-pleasers in, such as chips, candy, and other snacks. Most importantly, you don't have to be a cannabis expert to host a weed tasting.

Here's a guide to help you you host your own weed tasting at home.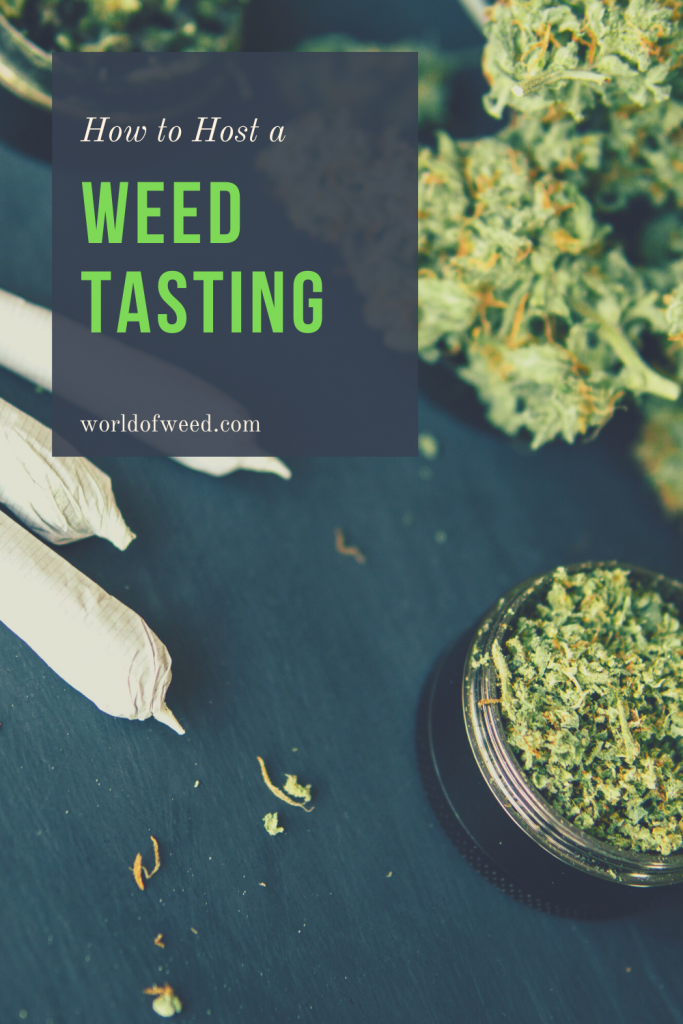 Hosting a Weed Tasting
1. Keep it small
We're in the middle of a pandemic, so be sure to keep your gathering to five people or fewer. Keeping your gathering small is also a benefit. As with any type of event, having a large group of people can make it hard for everyone to stay focused. However, not having enough people means running the risk of not having enough weed to go around.

For this gathering, we recommend a group of five people. For a group smaller than that, have each person bring two strains instead of just one.

2. Have a theme and structure
This is optional, but having a theme for your weed tasting will help you decide which strains to buy in preparation, and it will give a focus to your tasting. Get creative with your theme and consider choosing decorations around it.

You can start the weed tasting with a light bowl to set the vibe. A small bowl of a CBD-rich strain will relax your guests before the weed tasting starts.

Make sure everyone brings their own smoking device, whether it's a bong or pipe (or rig if you're serving dabs). Always have an extra bong at the ready in case of unexpected breakage.

Your weed tasting sesh is all about group participation and conversion, so make sure the seating layout lends itself well to this. You can have your guests sit in a specific area or let them sit wherever they choose – whatever works best for you and encourages involvement.

Here are some fun themes for weed tastings:

Same brand: This type of weed tasting gives an overview of strains from the same grower. You can choose to highlight their indicas, for example, or get a bunch of different strains.
Same type: This weed tasting focuses on strains of the same classification – hybrid, indica, or sativa.
Strains named after. . . : This type of tasting compares strains named after things, such as famous places or people.
Flavors: Lay out a spread of strains that have similar flavors, but different effects. Go for fruity strains, sour strains, floral strains, spicy strains, etc..
Blind tasting: This is a fun weed tasting theme that is sure to spark fun conversation. Everyone tastes a strain without knowing what it is, and then they try to guess.
3. Providing the weed
Once you've decided on a theme for your weed tasting, it's time to decide who is going to be providing the weed. Now, while you can provide the weed as the host of the weed tasting, that can get pretty expensive. There's nothing wrong with a potluck-style weed tasting sesh.

If everyone, including you, pitches in a strain or two, you will acquire a diverse array of strains to try. A typical weed tasting of five people will have five to ten strains. Work out the price range of the strains you want to taste and how much each guest should bring. Check in with your favorite Tacoma dispensary, and ask for help with this.

4. Do your homework
The idea for a weed tasting is that everyone gets to try new-to-them strains, learn something about weed, have fun. When it comes to knowing where to start, we recommend checking out strain reviews or product-focused blog posts (check out the rest of our blog!) to read, study, and refer back to.

Let everyone know the theme, and have them pick a strain they haven't yet tried that fits the theme. Make a list of the strains everyone is bringing, and give everyone a copy so nobody brings the same strain.
5. Set everything up
Having a table fully equipped with all of the weed tasting necessities will make things go much smoother. Use a light-colored tablecloth so things will stand out better and people have a solid backdrop for taking pictures of the nugs. Keep a water pitcher and plastic cups in the center of the table, as well as a few bowls of some crackers. Save the real snacks for after the weed tasting, when everyone has the munchies. The flavors of foods can greatly affect a strain's taste.

Ideally, each guest should have a place for their bong / rig and a tray or plate on which to put their different strains. This way, they can visually compare and contrast the appearances, and can compare the aromas and flavors more easily. Set each place with a cup of water and a small notepad and pen for taking notes.

Set out rubbing alcohol and cotton swabs, so people can clean their bowl between strains.

To avoid a teacher-classroom situation, complete the setup with labels for each strain. Make sure to note the brand, the type, flavor profile, and effects. This way, everyone can focus on the weed tasting experience and discuss things together as a group.

Getting Your Weed Tasting Started
While weed and food tend to go hand-in-hand, when it comes to a weed tasting, avoid serving heavy foods at the start. Instead, serve plain crackers and water in between strains to cleanse the palate and keep cottonmouth at bay.

Elect a server and prepare a list of questions for everyone to discuss after each strain is tasted. As mentioned, make sure everyone has their own smoking device – ideally, each guest will be able to clean their bowl piece after each strain.

Once everyone has a packed bowl of the first strain in their bong, you can begin with the weed tasting and your questions. The right amount of weed in each bowl is important. Too little weed, and they don't get enough of the flavor. Too much weed, and they're going to be coughing up a lung. Let everyone grind and pack their own weed.

Starting Your Weed Tasting Correctly
The order in which you smoke the strains is important. Typically, you should work your way from less potent to most potent, so your guests don't end up getting couchlocked on the second strain.

Each strain of the tasting should have about five minutes of evaluation and note-taking time, with about seven minutes of contemplation and discussion after. But, don't be too strict about the time. This is a sesh – keep things fun and lively. Avoid any long lectures about the strains, and keep things focused on group involvement.

Evaluating each strain
Assess each strain's appearance, aroma, flavors, and effects. Is it sweet or maybe sour? What about the high? Is it uplifting or calming?

Discuss the abundance of the trichomes, the stickiness of the bud, the intensity of the aromas, and the overall impression of the strain. How intense was the high and how long did the effects last?

What were the favorite strains of the group?

Finish With Food
After such a heavy smoke sesh, your guests are bound to have the munchies. Place all the strains on the table and let everyone smoke their favorites. Serve up a small meal or some basic appetizers and chat about your weed observations.
Don't Forget the Party Favors
We suggest encouraging guests to bring an extra jar of weed, a favorite that's not too expensive. At the end of the weed tasting, announce a jar swap so each person goes home with a new strain to enjoy. Add your own host(ess) touch by including a grinder with each jar. It's the perfect party favor that your friends can use when they try their new strain.

Have you ever attended or hosted a weed tasting? Tell us about it in the comments.
---
Disclaimer: Marijuana has intoxicating effects and may be habit-forming. Smoking is hazardous to your health. There may be health risks associated with consumption of Marijuana. Marijuana, in any form, should not be used by individuals that are pregnant or breastfeeding. Marijuana is intended for use only by adults 21 and older. Keep out of reach of children. Marijuana can impair concentration, coordination, and judgment. Do not operate a vehicle or machinery under the influence of this drug. This product may be unlawful outside of Washington State.