If you're someone who loves weed, there are a few things you should know for the next time you blaze. Like, how there's an easy way to seal your joint and make it burn slower (because no, you don't have to buy joint glue) and how to easily stop your bowl from burning after you take a hit. Here are 17 weed hacks that will completely up your smoke game.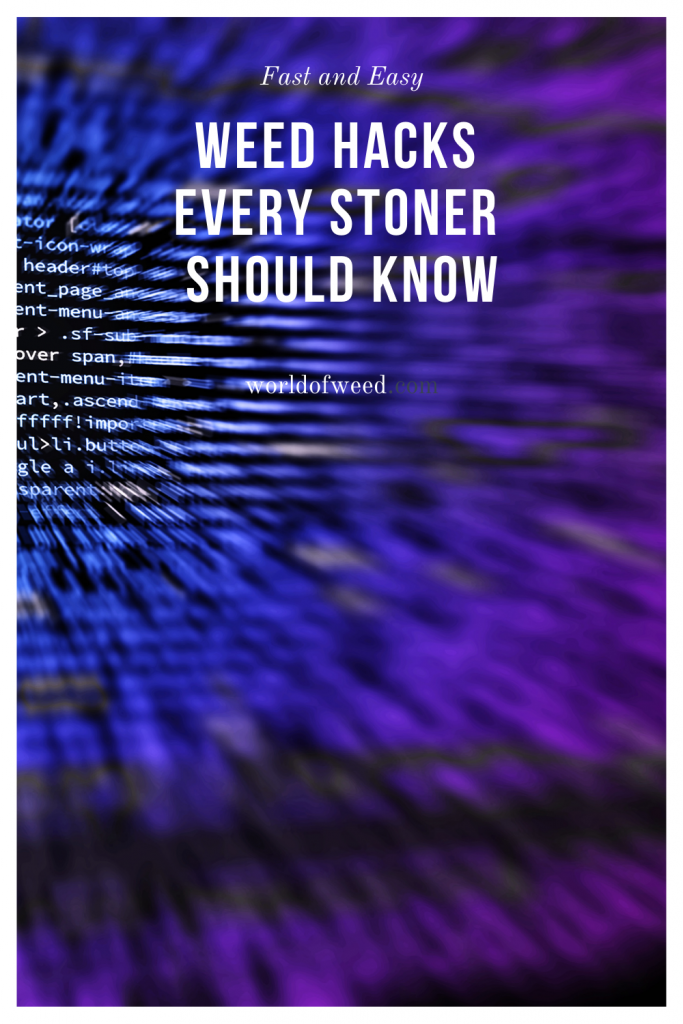 17 Weed Hacks for Stoners
1. Use a nickel to stop the bowl from burning after you take a hit.

A coin that will fully cover your bowl to stop the flow of oxygen and prevent your weed from burning is a thing to always have on-hand. This is a great trick for preserving weed, especially if you're getting low on your stash. All you need is 5 cents!

2. Use honey to seal a blunt.

A little bit of honey will act as glue for a blunt or joint, and it will also make it burn more slowly and evenly.

3. Suck on sour candy to stop cottonmouth.

Sour candy will get your saliva production going again, ending the uncomfortable dry mouth. Suck on candy while smoking to prevent it.

4. Increase your high with mango.

Mangoes get their delicious smell from Myrcene, a terpene. Some strains produce more of this terpene than others, and mangoes help bring it out in weaker strains. Myrcene is what allows THC to work its way through the blood brain barrier at a faster rate, as opposed to the rate it would normally travel without that terpene. This is also what gives indica strains the "couch lock" effect. Eat some mangoes 45 minutes prior to smoking and you'll notice your high comes on faster and stronger.

5. Use Isopropyl Alcohol and coarse salt to clean your bong.

Check out this post for a guide on how to clean your bong with rubbing alcohol and salt.

6. Use a hairpin as a roach clip.

Use a bobby pin to hold the joint or blunt, so you don't burn your fingers when you reach the end.

7. Clean your bowls with bamboo skewers.

Pick up a pack of cheap bamboo skewers at the grocery store and keep them on-hand for cleaning cached bowls. They fit right in, and are pointed enough to scrape and poke out ash and resin.

8. Wrap your weed jar in black paper.

This will prevent exposure to light and keep your bud fresher for longer.

9. Store your weed with a slice of dried orange peel. 

This will add flavor and prevent your weed from drying out.

10. Use a pencil grip to prevent vape carts from breaking.

Put a rubber pencil grip over your vape cartridge to prevent cracking if the vape battery is dropped.

11. Make a "spoof" to mask the smell of weed.

One of the most classic weed hacks of all time. All you need is a toilet paper or paper towel roll and some dryer sheets. Stuff the dryer sheets into one end of the paper roll. Blow the smoke through the roll and out through the dryer sheets. The scent of the dryer sheets will mask the smell of the weed.

Read this post on other ways to hide the smell of weed in your house, and this post on how to mask the smell with incense.

12. Use vinegar to remove hard water stains.

After cleaning your bong with rubbing alcohol and salt, rinse it well and then clean it out with vinegar. This will remove the hard water stains and make your glass sparkle. Make sure to rinse well after!

13. Ride with the windows down after smoking.

This seems like an obvious one, but it's easy to forget after a heavy sesh. Riding with the windows down will air out your clothes, so you will smell less like weed before you reach your destination.

14. Never grocery shop while high.

This will just lead to a whole lot of unnecessary spending, and you may end up buying things you don't even really want.
15. Glue a magnet to your bong.

And then stick a lighter to it. You'll never lose your lighter again.

16. Save the bubble wrap from glass shops and dispensaries.

Save the bubble wrap your pieces come in, and use them again later when transporting pipes, rigs, or bongs.

17. Store all of your lighters in an extra makeup bag.

These are zippered and the perfect size for holding numerous lighters.

If you smoke weed, you will undoubtedly need these weed hacks at some point. There is hardly a stoner out there, no matter if you're an all-day toker or occasional smoker type, who hasn't found themselves in a weed struggle. From masking the smell of weed to keeping your stash fresh, these seventeen weed hacks are sure to save the day.

---
Disclaimer: Marijuana has intoxicating effects and may be habit-forming. Smoking is hazardous to your health. There may be health risks associated with consumption of Marijuana. Marijuana, in any form, should not be used by individuals that are pregnant or breastfeeding. Marijuana is intended for use only by adults 21 and older. Keep out of reach of children. Marijuana can impair concentration, coordination, and judgment. Do not operate a vehicle or machinery under the influence of this drug. This product may be unlawful outside of Washington State.