The Best Cannabis Beverages for New Year's Eve
Many believe that the way you spend New Year's Eve sets the tone for the entire year ahead of you. If that's true, then what's in your glass at midnight could have lasting implications. Choose wisely – swap the champagne for cannabis beverages. 

Champagne is among the most traditional of New Year's beverages, and for a valid reason. 

The drink has a celebratory history that dates all the way back to 1789, where the beverage was viewed as a status symbol. As time passed, champagne was synonymous with merriment and celebration. The bubbles, the exciting "pop" of the cork, and the liquid gold as it pours into the glass make it the choice of the holidays, birthdays, weddings, and graduations. 

However, despite this enduring legacy, many cannabis enthusiasts eschew champagne (or other alcoholic beverages) on New Year's Eve, choosing cannabis beverages instead. 

Whether you are raging for the holiday, flying solo, or clinking glasses with your partner at home, grab these cannabis drinks at your favorite Tacoma dispensary, and have a memorable and happy New Year's Eve.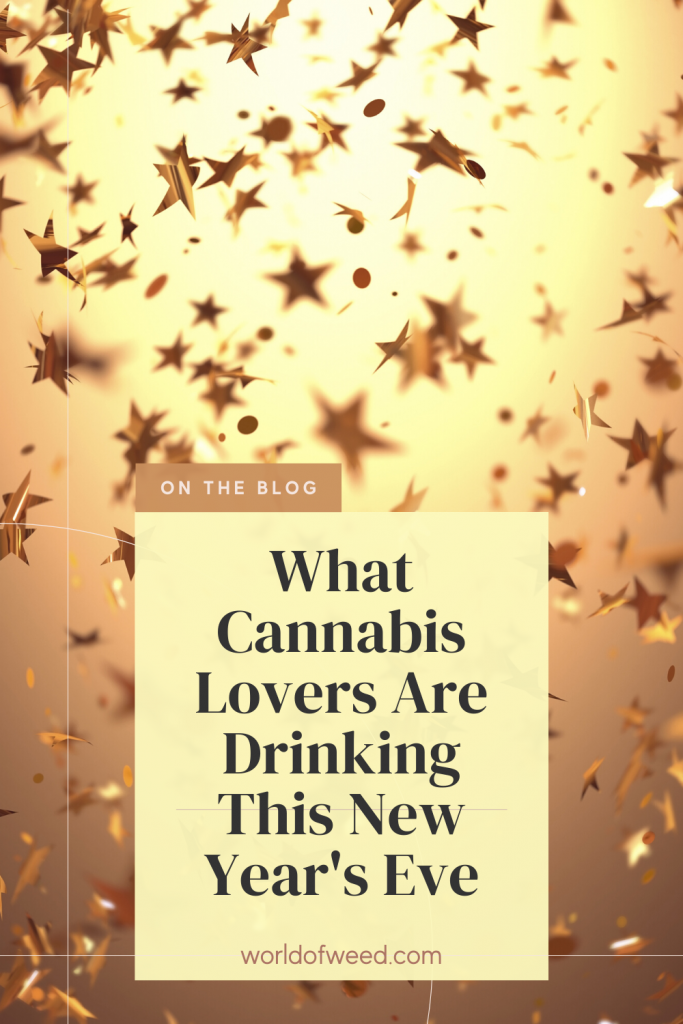 Best Cannabis Beverages For New Year's Eve 
Cannabis beverages offer a delicious and convenient way to experience cannabis. Very similar to traditional cannabis edibles, these drinks are typically felt within 30-45 minutes but can take up to 2 hours depending on the person (everyone is different). 

This list includes a variety of sparkling beverages, tropical punches, infused smoothies, and more. 

1. Happy Apple Sparkling Beverage
What list of New Year's Eve beverages would be complete without something bubbly? This delicious, amber cannabis beverage is made from truly happy apples that were grown in the cleanest and clearest of air and watered by Cascades. Take a sip and enjoy the sweet apple flavors. Drink the entire bottle, and hop on the road to a blissfully relaxing New Year's Eve.

Contains 100mg THC

Shop Happy Apple Sparkling Beverage
2. Mango Tropical Storm 1:2
Sip your way to paradise with this cannabis beverage. A tropical vacation in a bottle (minus the bug bites and sand in your clothes), this drink holds exotic flavors of the tropics and carries you away on the waves of euphoric bliss with its indica terpene profile.

More than just a cannabis-infused drink, this beverage offers maximum hydration. Made with full-spectrum cannabis oil, this drink has a full cannabis terpene profile and a strong boost of antioxidants and electrolytes. 

Contains:

Per 17oz Bottle: 10mg CBD + 100mg THC + 5mg CBG
Per 12oz Bottle: 3mg CBD + 30mg THC + 3mg CBG
Per Serving: 1mg CBD + 10mg THC + 1mg CBG

3. Old School Grape Soda
Pour this into your fanciest glass and sip away as this cannabis beverage takes you on a bliss-filled journey. Old School Grape is a Blaze special edition flavor that holds a delicious and refreshing fruity taste that will make you feel like you've just eaten fistfuls of sweet grapes. This drink comes with a measured dosing ladder, so you can enjoy as much or as little of this bottled wellness as you would like.

Contains 100mg THC per bottle, hybrid.

4. Orange Creampie Soda
Want to get caught up in a case of the giggles? Try this cannabis beverage for New Year's Eve. A brand new line of cannabis-infused beverages from Evergreen Herbal, these Orange Creampie sodas are crafted with pure THC distillate and organic cane sugar for the best possible flavor and maximum potency. 

Contains 100mg THC, hybrid

5. Dreamin' of Passionfruit
This Dreamin' of Passion Fruit flavored cannabis beverage is a fast and enjoyable way to consume your daily dose of THC. With hybrid effects, this drink will help you ring in the new year with mental euphoria and blissful, full-body relaxation.

Contains 100mg THC, hybrid
6. Pink Lemonade
You don't need to reserve pink lemonade for summer – and it looks pretty in a fancy celebration glass. Cool, crisp, and sweet, this cannabis beverage is highly refreshing and invigorating – not to mention delicious enough to make your taste buds start dancing. With hybrid effects, this drink provides mental uplift and energy paired with physical relaxation.

Contains 100mg THC, hybrid

7. Canna Shots – Fruit Punch
Sometimes, you just want to medicate in the most convenient way possible. That's why Sinners & Saints extended their Canna Shot product line. This is just one of their many flavors, with 100mg THC packed into 2oz portable, plastic bottles. These are the best cannabis beverages for New Year's Eve, containing no sugar, calories, or caffeine – which means no crashing down before the clock strikes midnight.

Contains 100mg THC, hybrid

Shop Canna Shots – Fruit Punch

8. Energy Shot – Island Time Lemonade
Lemonade that's just like mom used to make – except with 100mg of THC added! This beverage, with 200mg of caffeine, is one of the best ways to ensure you stay awake through midnight.

Contains 100mg THC, hybrid

Shop Energy Shot – Island Time Lemonade
9. Lemon Berry Energy Shot 1:1
If you know you tend to fall asleep before midnight hits, try downing a couple of these Lemon Berry Energy Shots 1:1, potent cannabis beverages from Wild Side. This drink provides a delicious boost of energy in combination with a balanced ratio of 1:1 CBD: THC. These shots are quick, easy, and convenient for getting stoney anywhere you happen to be. Energize your mind and body with 40mg of caffeine, 5mg of CBD, and 5mg THC per serving.

Contains 100mg THC, hybrid

Shop Lemon Berry Energy Shot 1:1

Which cannabis beverages are you enjoying this New Year's Eve? Share with us in the comments.
---
Disclaimer: Marijuana has intoxicating effects and may be habit-forming. Smoking is hazardous to your health. There may be health risks associated with consumption of Marijuana. Marijuana, in any form, should not be used by individuals that are pregnant or breastfeeding. Marijuana is intended for use only by adults 21 and older. Keep out of reach of children. Marijuana can impair concentration, coordination, and judgment. Do not operate a vehicle or machinery under the influence of this drug. This product may be unlawful outside of Washington State.