We all reach that point in the long, cold, dark season of winter when it feels as though the warmth of spring may never come. Winter days make it hard to stay motivated, as all you want to do is curl up under a blanket with your bong and eat edibles instead of going to your morning meeting or making it to that afternoon gym session.

But, guess what? Wellness can't afford to hibernate. It's not a bear.

If you're into cannabis, then you already know there are plenty of strains available for each type of effect you're looking for, so it's little wonder that there are certain cannabis strains that are especially useful at different times of the year as well.

When it comes to winter, you can probably guess the type of benefits you'll want in a cannabis strain. Considering the cold chaos of the holiday season, and the dark and snowy months that follow, you could certainly use some winter cannabis strains that help boost relaxation, focus, and positivity.

Here, we highlight five winter cannabis strains that are perfectly suited to ease your seasonal woes.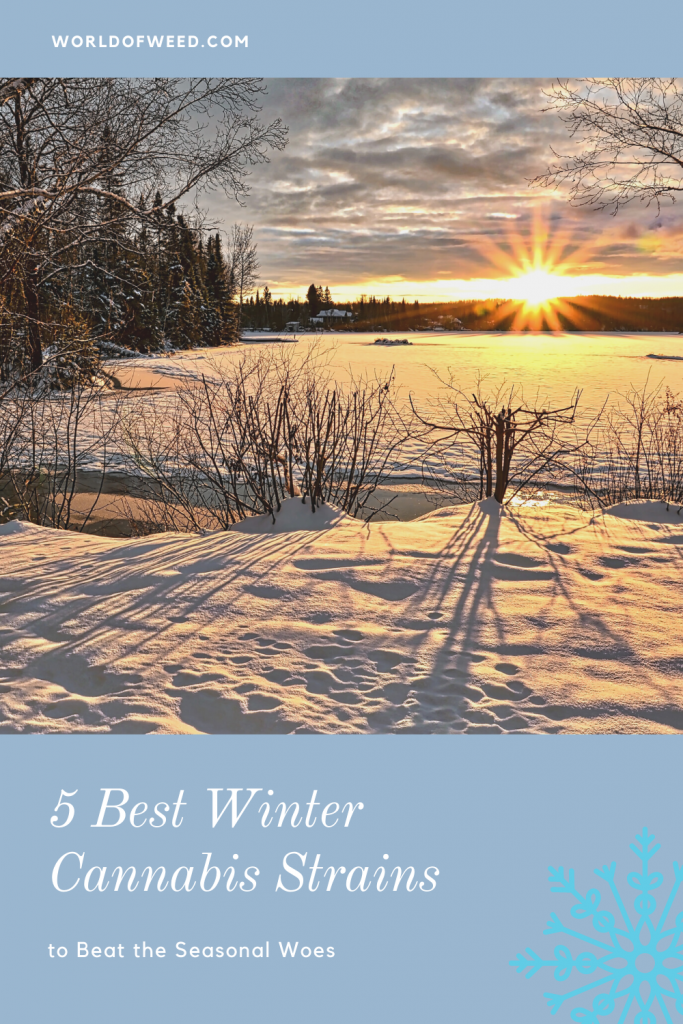 5 Best Winter Cannabis Strains for Seasonal Wellness 
Blue Lights
For rest and tranquility

Considering how long the winter nights are, it's often surprisingly difficult to feel truly well-rested during these dark and stormy months. If you wake up wishing for just a few more hours of precious slumber, consider adding a bowl or two of Blue Lights to your bedtime routine. This indica winter cannabis strain comes from a powerful cross of Blue Dream and Northern Lights. Deeply relaxing, this strain also sparks some pretty heavy creativity. Due to its cerebral effects, Blue Lights is one of the best winter cannabis strains for a chill, late night followed by blissful slumber.
Rainbow Chip
For comfort and uplift

One of the best winter cannabis strains, Rainbow Chip does so much more than taste magical. A cross between Sunset Sherbet and Mint Chocolate Chip, this hybrid is perfectly split sativa-indica. This strain will lift you up, boost your mood, and fill you full of energy. Expect a blissful cerebral buzz that will eventually land you softly down in a cloud of comforting relaxation.
Jack Herer
For clarity and motivation

This famous strain is one of the best winter cannabis strains for seasonal wellness, and don't be surprised if smelling its terpenes instantly reminds you of a beloved holiday tree. Jack Herer is a three-way cross of Haze, Northern Lights #5, and Shiva Skunk. This sativa strain produces blissful, clear-headed, and creative effects with a full-body buzz from head to toe. This is a rare sativa hybrid, so get ready for that motivation you've been lacking. Expect earthy, woody, and pine flavors, combined with just a hint of lemony citrus. This winter cannabis strain is excellent when you need to clear your thoughts and concentrate on the task at hand. If you need more of something during this dreary season, it's definitely a toss-up between motivation and heart-warming nostalgia, so we'll certainly recommend a jar of Jack Herer ASAP. 

Do-Si-Dos
For relaxation and euphoria

If your anxiety goes into overdrive during the holiday season, then Do-Si-Dos should be on your list of essential winter cannabis strains. A cross between Girl Scout Cookies and Face Off OG, this indica hybrid produces strong euphoria and relaxation. It is ideal for alleviating worries, stress, and negative thinking, and it will even promote optimism. It may help you feel more grounded, which allows you to better organize your thoughts and emotions, rather than becoming overwhelmed.
Green Crack
For energy and productivity

Yes, Green Crack is apropos of the winter season because the nugs are a bit shaped like a Christmas tree, but that isn't why it made our list of the best winter cannabis strains. This strain can ease feelings of being trapped, stagnant, bored, or uninspired. In other words, it's the perfect remedy for those mid-winter slumps that hit in January and February. Expect intensely energetic and focused effects from this powerful sativa strain. For those looking to stimulate their mind and feel incredibly productive, this is the perfect winter cannabis strain for you.

Final Thoughts
Start with one of these best winter cannabis strains to reap the effects and benefits you're looking for, whether it's more sleep or increased energy. When dealing with seasonal woes, there's always so much to manage – something cannabis can help with. Have fun with your consumption and find joy in discovering a new cannabis strain that helps lift your spirits in these dreary winter months!

---
Disclaimer: Marijuana has intoxicating effects and may be habit-forming. Smoking is hazardous to your health. There may be health risks associated with consumption of Marijuana. Marijuana, in any form, should not be used by individuals that are pregnant or breastfeeding. Marijuana is intended for use only by adults 21 and older. Keep out of reach of children. Marijuana can impair concentration, coordination, and judgment. Do not operate a vehicle or machinery under the influence of this drug. This product may be unlawful outside of Washington State.