So often, people walk into a dispensary and pick their product based on just three things: The strain, the type of strain, and the THC content. Unfortunately, these people are missing a very important element: Terpenes.
Terpenes are organic plant compounds that give a plant its aroma and flavor. In cannabis plants, there are at least 100 identified terpenes, and they interact with the receptors in your body's endocannabinoid system to modify the effects of the cannabis consumed, regardless of whether it is flower or concentrate.
When buying weed, you should not be just looking at the THC content. Instead, you should also look for the terpene profile. The more terpenes, the better – to a certain extent. When it comes to flower, the higher the terpene count is, the better. Extracts with high terpene content are unpleasant to vaporize.
But, terpenes do more than just give cannabis its aroma and taste. They can also enhance your high.
If you're a stoner, you have likely seen a lot of cartridges, even those that boast 90%+ THC, that never quite seem to get you high. There are even memes about this!
This is because the majority of the cartridges available are filled with THC distillate, cannabis oil that has been concentrated to produce the highest possible THC content. While that sounds great, there is one problem – you don't get the Entourage Effect, so you're preventing yourself from getting the full cannabis experience. This is when all of the cannabinoids work together to modulate the psychoactive effects of the plant.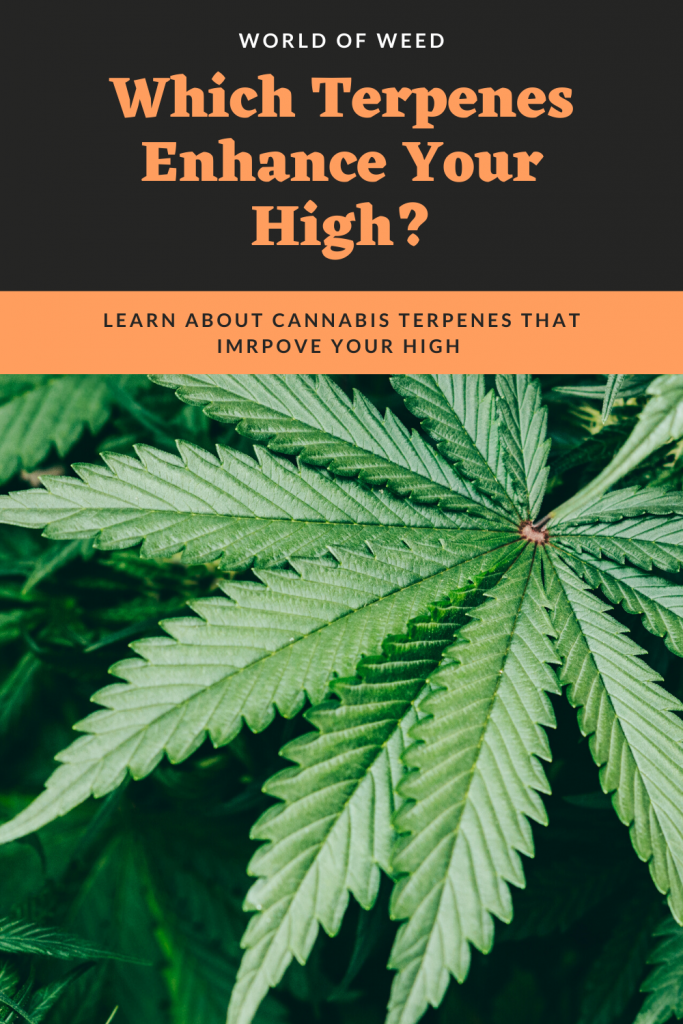 How Terpenes Affect Your High
While we certainly don't mind pointing you to the most potent products we have, you should be aware THC isn't the only thing to look for when you're trying to get high. Cannabis terpenes give strains their aromas and flavors, sure, but they also have a wide array of effects on their own that can modify and change your cannabis experience.
There have been numerous studies done that explore the relationship between cannabinoids and cannabis terpenes, and the results are positive. One of the most notable ways in which terpenes modulate the psychoactive effects of the strain is demonstrated by CBD counteracting the negative effects of THC. While some THC can be calming, a lot of THC can cause anxiety and paranoia for some individuals. A combination of THC with CBD and other terpenes will mellow out the effects of the THC and keep you feeling relaxed and comfortable.
Which Terpenes Enhance Your High?
Similar to cannabinoids, terpenes have shown to interact with cannabinoid receptors found within the brain and the central nervous system. There at least 100 identified terpenes in the cannabis plant, but there are five terpenes that can really enhance your high.
Myrcene
Myrcene is the most common terpene. In addition to cannabis, it is also found in eucalyptus, lemongrass, hops, and mangos. It is highly effective for pain and inflammation relief. Myrcene acts a regulator in that it can heighten or reduce the effects of other terpenes and cannabinoids in the strain. This terpene is common in indica strains.
Pinene
Pinene is why some strains smell like pine trees, and it is what gives pine trees their natural scent. This terpene is a bronchodilator and powerful anti-inflammatory. Strains with high concentrations of this terpene, such as Jack Herer, are usually more stimulating and enhance mental clarity and focus.
Linalool
Linalool is a very common terpene and, aside from cannabis, is found in over 200 plant species. It also has a wide range of uses. Linalool is present in lavender and gives strains a lovely floral scent. Linalool is an anti-inflammatory, sedative, painkiller, and reduces depression and anxiety. If you're looking for a strain that will help you unwind after a long day and bring on some couchlock, search for one with linalool, such as Do-Si-Dos.
Limonene
Limonene is a special terpene that comes in different forms, such as perillyl alcohol and a-limonene. This terpene is what gives citrus fruits their strong aromas. It's the second most common terpene in nature and the third most common in cannabis. If you're looking for an energizing buzz, look for strains with limonene. Indicas that are high in limonene counteract the potential for lowered mood that comes from sedative terpenes like myrcene. Look for strains like Super Lemon Haze and Wedding Cake.
Caryophyllene
Also known as beta-caryophyllene, Caryophyllene is a primary terpene that gives strains a spicy or peppery aroma and flavor. In nature, it is found in rosemary, black pepper, basil, cloves, and more.
This is a unique terpene that displays characteristics of a cannabinoid, as it directly interacts with the CB2 receptor of the endocannabinoid system. This makes it a powerful anti-inflammatory, as well as highly effective at treating anxiety and depression. Because it only binds with the CB2 receptor, caryophyllene prohibits added psychotropic activity.
Even though it lacks psychoactive effects, it enhances the effects of a strain by providing pain relief and digestive relief. This means strains rich in this terpene help produce a sense of calm and overall well-being.
Look for strains like GSC, Bubba Kush, and Chemdawg.
Shopping for Cannabis Terpenes
Next time you're in your favorite Tacoma dispensary looking for new cannabis products to try, remember to take the terpene profile into account in addition to the THC content and the type of strain. Cannabis terpenes and cannabinoids work together to enhance the effects of the strain in what is called the entourage effect. This will enhance your high and provide a more well-rounded cannabis experience that gets you higher and attends to your needs. Keep a weed journal and keep track of which strains you've tried and those you haven't. Keep track of the terpene profile for each strain you try.
We know this is a lot of information to take in all at once. Fortunately, our knowledgeable budtenders are ready to help you and to answer any questions you may have about strains, terpenes, and their effects.
---
Disclaimer: Marijuana has intoxicating effects and may be habit-forming. Smoking is hazardous to your health. There may be health risks associated with consumption of Marijuana. Marijuana, in any form, should not be used by individuals that are pregnant or breastfeeding. Marijuana is intended for use only by adults 21 and older. Keep out of reach of children. Marijuana can impair concentration, coordination, and judgment. Do not operate a vehicle or machinery under the influence of this drug. This product may be unlawful outside of Washington State.