There are so many dads that have been smoking weed for longer than you've even been a thought in their mind. Encountering families with two or even three generations of stoner living isn't uncommon here in Washington, and the legal cannabis market allows for stoner Father's Day celebrations and new ways to connect with Dad.

Perhaps your dad used to be a big stoner and misses puffing away, or maybe he's just recently started to wonder about the therapeutic benefits as he's gotten older. As an adult wanting to bond with Dad over a smoke sesh, it can still feel a bit awkward to bring up smoking weed, but reintroducing your dad to the newest cannabis products and taking him on a trip to your favorite Tacoma dispensary will help with stay current with the times and learn something new (and fun) in the process. 

For those gadget-loving dads, there are some futuristic-looking vaporizers for discreet use when working in the garage. If your dad is into art, pick out an ornate glass bong. Suggest soothing topicals or high-CBD products for dads who aren't entirely sure about getting high…yet.

Most importantly, more than gifts, find a moment to spend time with your dad and share your appreciation for him in your life. Let him know you care about his health, and that cannabis may help prevent Alzheimer's disease and fight the body pains caused by inflammation, all while supplementing the body's endocannabinoid system. Cannabis can help people maintain an elevated quality of life as they age.

There's so much to the world of cannabis for you and Dad to explore together, so take your dad to a Tacoma dispensary to pick up some of the best weed, or delight him in a surprise Father's Day gift for stoner dads as you do one of these cannabis Father's Day activities to make his holiday a special one.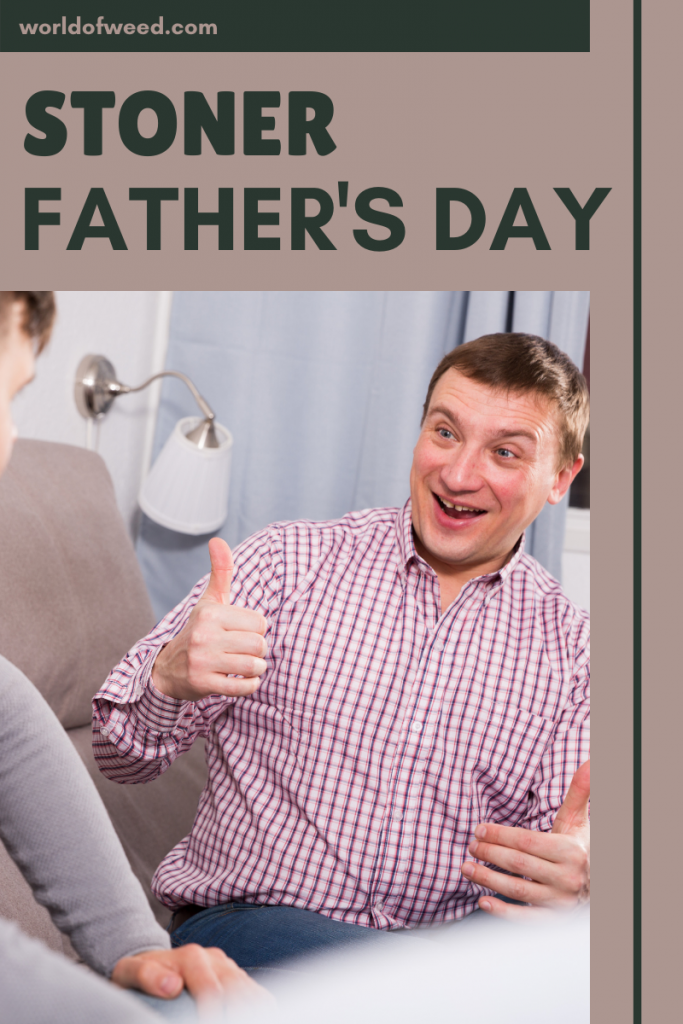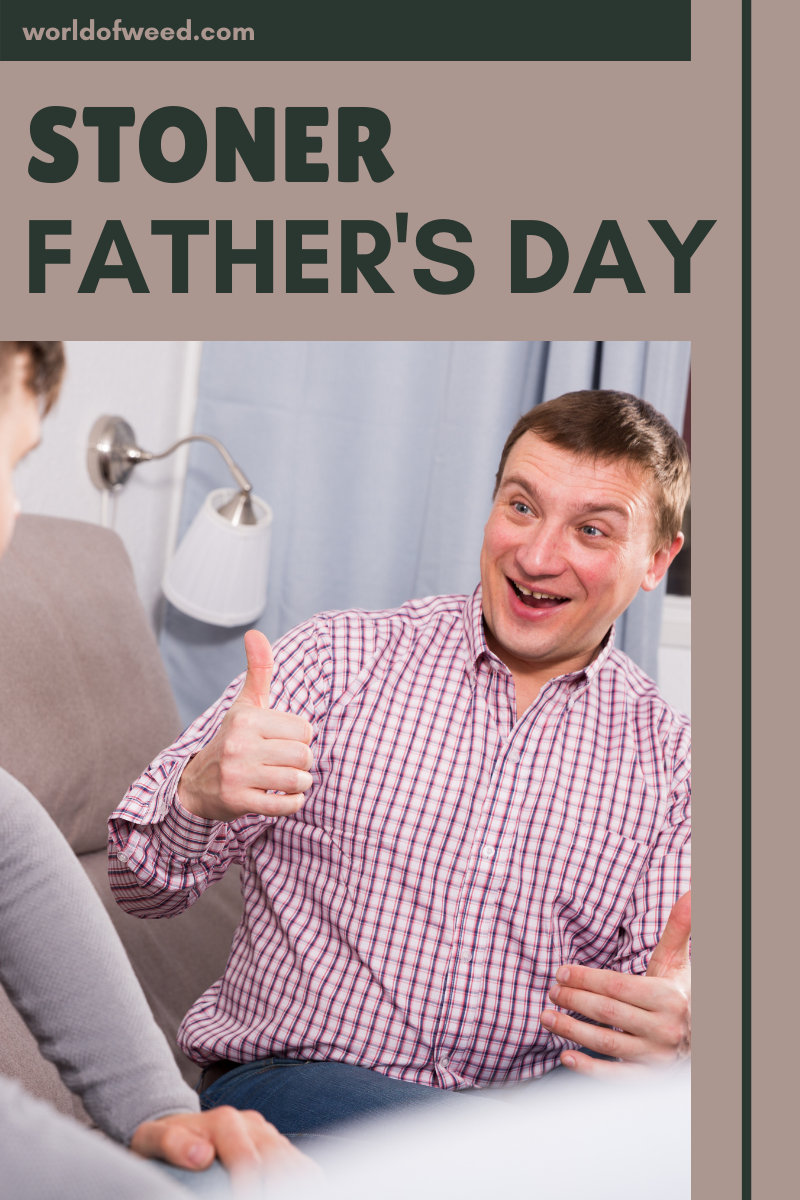 Stoner Father's Day Activities for Elevated Memories
Both Father's Day and Mother's Day are times to celebrate the individuals that brought you into the world, making it possible to live a stony life way down the line. We often get so caught up with our daily lives that it can be easy to forget to take a pause and give thought to what our parents would appreciate receiving the most from us on their annual holiday. We covered gifts for cannamoms on Mother's Day back in May, and now we're going to dive into what dads would love from you on Father's Day. 
And, you may be surprised.

It's most definitely NOT new socks and a Home Depot gift card. 

A Big, Juicy Steak & Your Company
In a recent Father's Day survey, four in ten (41%) said they would like a big, juicy steak, though six in ten of the dads feel as though there is no better cook than them – so let Dad do the work.

This would still make him happy, though, as 79% said they would like to simply bond with their children over a meal.

Give Dad an experience that is guaranteed to make his Father's Day a memorable one by cracking open some cold Blaze American Colas , made with THC distillate, as you cook your steaks and get to talking. Make some infused mashed potatoes or macaroni-and-cheese as a side dish using cannabutter.
BBQ & Bong Rips
You may be seeing a bit of a trend started to develop here – dads love to hang out with their favorite people while enjoying a hearty meal. For a stoner Father's Day, stock up on Dad's favorite meats to grill, confirming that you have plenty of coal or propane, whip up some infused side dishes, and get some bongs prepped and ready. Maybe select some topshelf flower for this very occasion. If you know he's the social type, and his friends are comfortable with the clouds, invite some of his friends over to join your family gathering. 
Time With Just You
Just as with moms, the biggest thing dads want from their adult children is simply time with them. If you can, go spend the day getting medicated with your dad for a stoner Father's Day. Do the things he likes, which is obviously going to be different for every dad. Maybe bring some infused pre-rolls, such as Hardcore Purple Infused pre-rolls, along for a day fishing out at the lake. Perhaps pull out the dab rig and a set of cards to get a game going. Whatever you decide on, your dad is sure to be stoked to have you spend some quality time with him.

Can't make it to smoke with Dad in person for a stoner Father's Day? Set up a time for a video cat and sesh virtually. 

Family Outing
It's hardly surprising, but many dads actually want to spend time with their entire family at once. With everyone's busy schedules, a lot of dads don't often get the chance to hang out with their adult children and spouse as much as they want to.

Give your dad the gift of family time by taking everyone out for a stoner Father's Day family outing. Perhaps pack everybody up for a picnic with the vape pens and edibles, and head out to the park, lake, beach, or another spot out in nature for a day in the outdoors. It will be fun and memorable for everyone – especially Dad. 

Relaxing Day to Himself
Many dads also enjoy having time to do the things they want to do, when they want to do it, by themselves. This is especially true if there are still young ones at home that make it difficult to find some quiet solo time.

For a me-time stoner Father's Day, your dad may want a day on the golf course (opt for the gift of an infused blunt) or an uninterrupted time to catch up on reading and taking a nap (gift some indica flower).

Every dad is unique in his preference of how to enjoy his special day. Make it happen for him.

Surprise Him With a Stoner Father's Day Gift Basket
Hopefully, you know what type of weed your dad likes. But, if you don't the dispensary budtenders can help you select some great selections for a variety of preferences. Put together a stoner Father's Day gift basket with some of his favorite munchies snacks, a bottle of cannabis sparkling beverage,  some infused Cannatela blunts, some books to read when smoking weed, and perhaps tickets to an upcoming game or event you know he would enjoy – even better if you can join him!

Don't forget the card! Many surveyed fathers want to receive Father's Day cards. Dads get a kick out of seeing their children's personalities come through in the card they choose. Make sure to fill out the inside with a special note that lets your dad know how much he means to you. If you can make him laugh in the process, then even better! 

Celebrating a Stoner Father's Day 2022
Make Father's Day 2022 all about dad. Don't think of it as something you have to do, but rather something you want to do in appreciation of the man that means so much to you. Adding some green and making it a stoner Father's Day just makes it that much better, and gives you an entirely new way to bond with your dad. 

World of Weed is an award-winning Tacoma recreational dispensary best known for its knowledgeable budtenders and wide selection of top-shelf cannabis products and cannabis accessories. You're guaranteed to find what you need to make Dad's day a HIGHly special one. 

---
Disclaimer: Marijuana has intoxicating effects and may be habit-forming. Smoking is hazardous to your health. There may be health risks associated with consumption of Marijuana. Marijuana, in any form, should not be used by individuals that are pregnant or breastfeeding. Marijuana is intended for use only by adults 21 and older. Keep out of reach of children. Marijuana can impair concentration, coordination, and judgment. Do not operate a vehicle or machinery under the influence of this drug. This product may be unlawful outside of Washington State.