Shopping for dads can be hard. It's even harder to find that perfect Father's Day gift for your stoner dad. And, with Father's Day just around the corner on June 16th, it's pretty much crunch time when it comes to gift shopping. Get something cooler than just a card this year. If your dad's a cool Stoner Dad, then he'll appreciate your thoughtfulness with the best Father's Day gifts to help him stay lifted. So, get to shopping with these 16 Father's Day gifts for your stoner dad. Throw in a card with a joint, too, and you'll be set.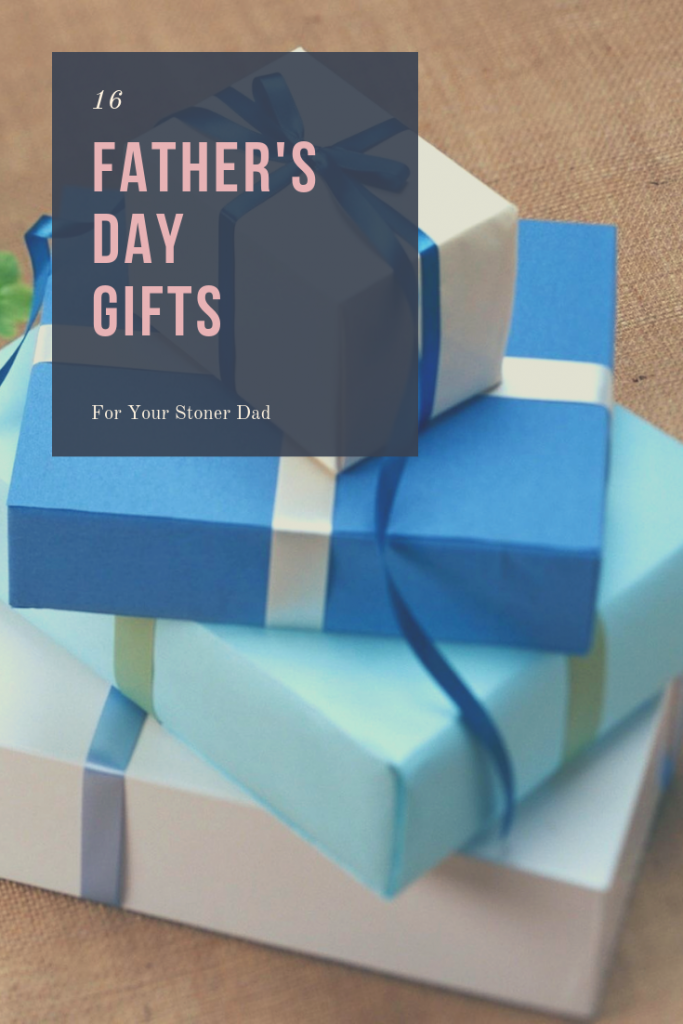 16 Father's Day Gifts for Stoner Dads
1. A New Grinder
Most of our dads are pretty old school, and grew up rolling joints more than smoking out of anything else. A good, ol' fashioned blunt is probably still your stoner dad's favorite way to smoke. Your dad may be used to grinding up weed by hand, but why not help your dad level up with a nice grinder for Father's Day? Help him say "goodbye" to sticky fingers and "hello" to that kief collector!
2. Infused Beverages
Crack open a different type of "cold one" with your stoner dad this Father's Day — try Orange Creampie sodas from Evergreen Herbal, crafted with pure THC distillate (100mg THC) and organic cane sugar for the greatest flavor and potency!
3. Pure Relaxation
Give your dad the best give of all — peace and relaxation. Green Revolution's Relief 1000 PM is prepared with the Chill TLC experience which gives maximum relaxation and comfort. It's perfect for unwinding after a long arduous day at the office. Holistically formulated to be quickly and effectively absorbed by the body faster than other alcohol or oil-based tinctures. These tinctures are water-based and water-soluble, so they dissolve instantly into any beverage or can be consumed sublingually. Your dad can also make his own Cannabis Cocktail by adding Relief 1000 PM to Tea, Coffee, or Water.
4. Relieving Topicals
After a hard day at work, and then doing more work around the house and yard, your dad is bound to have sore muscles and aching joints. This Father's Day, give your dad some relieving topicals.
Fairwinds Flow CBD Cream is a complex formula consisting of seven primary components; including an optimized blend of cannabis oil, essential oils and cannabis terpenes, herbal extracts, ceramides, hyaluronic acid, and Fairwinds' exclusive Canna Vera base. This cream applies and absorbs quickly, with a refreshing, non-overpowering aroma, to support skin structure and moisture with fortified ceramides and hyaluronic acid (naturally occurring in skin) that delivers the active ingredients where you need them, and provides the deep and long lasting relief that your dad needs.
5. Sativa Capsules
Dad may be in a rush in the morning, and may not always have time to enjoy a nice Wake and Bake before heading to work. Get your dad some Double Delicious Sativa Capsules . Like most edibles, these capsules take some time to kick in. But, when they do, the energizing, euphoric cerebral effects of the sativa will put your dad in the greatest of moods. What better way to start the day?
6. Journeyman Munchie Pack (100mg THC)
Get your dad something to satisfy his sweet tooth. Try this delicious combo of three crunchy cookies made with cannabis-infused butter for the strongest hit possible. Triple Chocolate, Snickerdoodle, and Peanut Butter cookies offer the perfect combination of effects on the entirety of the cannabis spectrum. Expect these cookies to provide your dad with mellow euphoria joined with full-body relaxation.
7. A New Bong
Your dad has probably had the same glass for ages. Isn't it time he got something new? This Father's Day, come on in and pick from our wide selection of glass bongs and pipes. With a huge range of colors, styles, and designs, you're bound to find the perfect Father's Day gifts for your stoner dad.
8. Nasty Jack's Malt Balls
Cannabis-infused, milk chocolate-covered malt balls. Chocolate snacks that get your dad high. What else could he need? These Nasty Jack's Malt Balls (100mg THC) are true hybrid edibles in every sense, offering both cheerful and rejuvenating mental effects, as well as soothing and blanketing body effects.
9. Pax Era Pods
With its sleek product and packaging design, Pax has been leading the way in the world of cannabis vape. It's even been referred to as the "Apple of cannabis." If you want to get some special Father's Day gifts for your stoner dad, you can't beat Avitas Pax Era Pods.
10. Blueberry Kush Nug Run
Give your dad some of the most fire dabs this year, starting with this dank nug run. The Blueberry Kush Nug Run from Regulator Xtracts is a powerful indica hybrid that holds a smooth, sweet blueberry flavor and aroma. Popular for its long-lasting, sedating body high and euphoric, yet sleepy head high, Blueberry Kush is one of the best dabs for unwinding and relaxing in the evening. This one comes with some strong munchies and equally strong couch-lock.
11. Animal Cookies
Give your dad Father's Day gifts as dope as he is — give him the best strains money can buy. With its legendary genetics, Animal Cookies by Black Cat Farms is a potent indica that came into this world through the crossing of Girl Scout Cookies x Fire OG. A definite favorite among cannabis enthusiasts everywhere, this colorful strain holds a sweet-sour herbal aroma that compliments the woodsy-citrus flavors that come through on the exhale.
This sweet strain has a THC content of 20.8%, and a weighty stoned feeling that will leave you dad couch-locked with all the stress melting away from his body, as he slips into a blissful relaxation. With such a heavy body high, Animal Cookies is a powerhouse of an indica, one that's perfect for a solo sesh on a quiet evening, or enjoying with you on Father's Day.
12. Pineapple Kush
What list of great Father's Day gifts for stoner dads would be complete without one of the strongest marijuana strains in Washington? Pineapple Kush is one of those rare strains that's hard to forget, boasting a THC level of 28% and sweet, tropical-pineapple flavors and aromas. Take a hit of this strain, and get an instant rush of euphoria and an uplifted mood, paired with mental relaxation. The body high is definitely one that will bring on some strong couch-lock and super powerful munchies that will demand to be satiated.
While this strongest of the marijuana strains in Washington is an indica dominant that's best enjoyed at night, this won't be one that will put your dad to sleep. Uplifting and relaxing, this is a great strain for unwinding at the end of the day or hanging out his buddies.
13. MFused CO2 Vape Cartridges
MFused's specialty concentrate, CO2 vapor oil, presents a whole-plant profile, enhancing the retention of cannabinoids and terpenes. Providing full-spectrum therapeutic effects, combined with a prolonged high, these CO2 vape cartridges hold premium, 100% pure cannabis oil with a clean, flavor-rich taste and long-lasting high. Basically, MFused CO2 vape cartridges are everything your dad could want in a vape cartridge. Available strains: Alaskan Thunder Fuck, Georgetown Cough, Grapefruit Kush, LA Soda, The White, True OG, and Wedding Cake Distillate.
14. Books About Marijuana
Is your dad a reader? Why not add some books about marijuana to your Father's Day gifts list? Your dad can spark up a joint, settle in with his book, and puff puff without having to pass to anyone. A joint, books, and relaxation — the perfect Father's Day for your book-loving, stoner dad.
15. Blue Dream
Your dad's a legend in his own right, so he needs a legendary strain to match. Get your dad some Blue Dream this year, a West Coast legend listed by Leafly as the most popular strain of all time. But, what makes the Blue Dream strain such a great one? Well, it's a potent sativa hybrid born from crossing Blueberry x Haze. It brings uplifting, euphoric, and energetic effects, paired with a relaxing body melt that eases tension and stress. Blue Dream is the epitome of a daytime strain, and is a great one for seshing with friends.
16. Lemon Cookies Caviar
Not every dad likes caviar, but we'd be willing to bet your dad will love this Lemon Cookies Caviar from Dank Czar Cannabis. Lemon Cookies is a cross of Lemon Haze and Girl Scout Cookies. This hybrid strain produces an uplifting euphoria and balanced by relaxing effects. Expect citrus flavors and aromas from this deliciousness.
Which of these Father's Day gifts are you picking up for your stoner dad this year?
---
Disclaimer: Marijuana has intoxicating effects and may be habit-forming. Smoking is hazardous to your health. There may be health risks associated with consumption of Marijuana. Marijuana, in any form, should not be used by individuals that are pregnant or breastfeeding. Marijuana is intended for use only by adults 21 and older. Keep out of reach of children. Marijuana can impair concentration, coordination, and judgment. Do not operate a vehicle or machinery under the influence of this drug. This product may be unlawful outside of Washington State.