Being famous is hard. You're under a lot of pressure. People have all these expectations of you. Everyone wants you around, and you have to live up to the hype.
But, somehow, these 10 most popular marijuana strains sure do make being famous seem super easy.
Some of the strains on this list are fairly new, and others have been around for ages. Most of them are available right here at World of Weed.
Here they are, laid out in no particular order.
10 Most Popular Marijuana Strains of All Time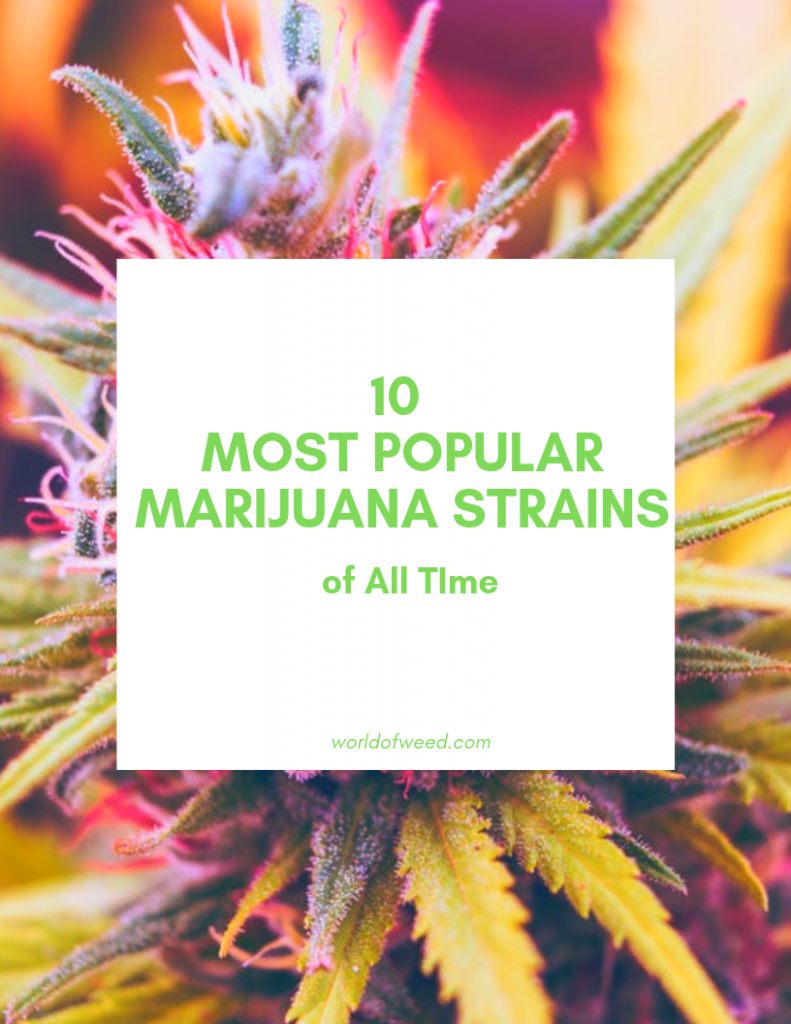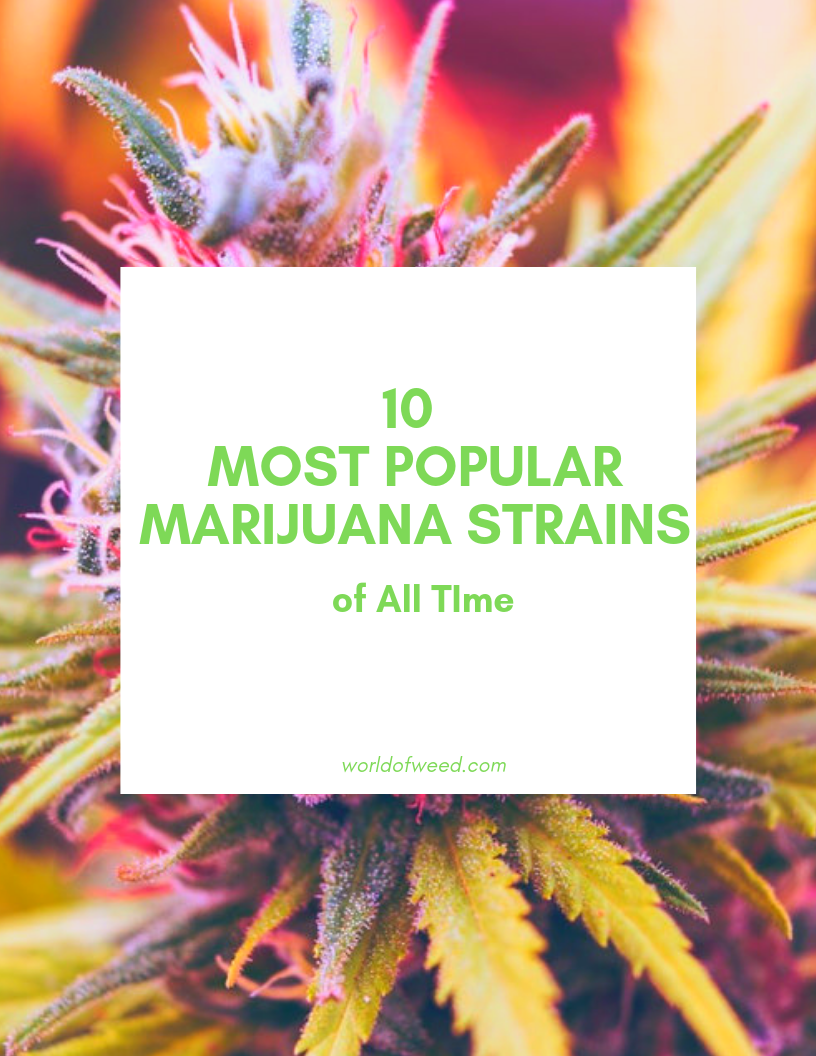 1. Blue Dream
Blue Dream is a West Coast legend, listed by Leafly as being the most popular strain ever.
But, what makes the Blue Dream strain such a great one? Well, it's a potent sativa hybrid born from crossing Blueberry x Haze. It brings uplifting, euphoric, and energetic effects, paired with a relaxing body melt that eases tension and stress.
Blue Dream is the epitome of a daytime strain, and is a great one for seshing with friends.
2. Gorilla Glue #4
Gorilla Glue #4 is not just one of the most popular marijuana strains of all time. It's also one of the most potent! And tastiest.
This sativa hybrid has a piney, fruity aroma and flavor, and provides heavy-handed effects. This is a great strain for relaxing at home or hanging out with friends. You'll be mentally uplifted and energized, while your body gets a deep relaxation.
3. OG Kush
There are more than 91 OG Kush strains out there, making OG Kush the genetic foundation for a vast array of West Coast strains. This piney, earthy strain will melt away your stress and leave you feeling blissfully relaxed.
4. Jack Herer
Named after the renowned cannabis activist and writer, the famous Jack Herer strain originated way over in the Netherlands back in the 1990s. Since that time, it's spread in massive popularity, covering the West Coast in a dank haze.
5. Pineapple Express
The Pineapple Express strain has always had a sort of "chicken or egg" sort of hype surrounding it. But, Seth Rogan says the movie was the Pineapple Express that came first, so we're going with that.
A beautiful flower, it's a fluffy bud with soft crystals and solid filament. Break it open, and you'll savor the slightly sweet aroma of mango with earthy notes.
That strong aroma carries through the creamy smoke, presenting with minimal expansion and a sweet taste with some spicy undertones. It has a delicious after taste, full of citrus notes – but not exactly fruity – that produce a minty-pine feeling on your tongue. It's definitely delicious!
With its stony high and nearly immediate buzz, this one is great for chilling with friends on a relaxing day off after a long week at work.
6. Girl Scout Cookies
Those delectable, little cookies are so hard to resist! Fortunately, you can still treat yourself to a little dank – – without all the calories. A perfectly balanced hybrid, the Girl Scout Cookies strain has won itself countless awards for it versatility and powerful effects. Expect a happy, relaxing, and seriously stress-relieving experience.
7. Chemdawg
Not only is Chemdawg one of the most potent strains around, but it's also one of the most popular marijuana strains of all time. It's also the parent strain that gave the world OG Kush and its phenotypes, Sour Diesel, Stardawg, and many more popular cannabis strains. Without Chemdawg, none of those would exist. Crazy to think about, right?
8. Super Lemon Haze
Super Lemon Haze is a legend in its own right, and has held its place on the list of most popular marijuana strains for decades. It's also one of only two strains that have ever one back-to-back Cannabis Cups, with the other winner being its own parent strain: Super Silver Haze. This sweet, lemony strain is just like eating a delicious lemon bar – – but way healthier!
9. Green Crack
It may sound a bit…different….but Green Crack is one of the most energizing and uplifting sativas around. The perfect Wake and Bake strain, Green Crack will keep you going at full-speed all day long.
10. Dutch Treat
Hardly surprising, Dutch Treat is a favorite strain over in Amsterdam. This indica dominant hybrid has limited sativa genetics that offer a nearly instantaneous head high, followed by a full-body high that is somewhere between comfortable sedation and strong couch-lock. It's a potent strain, with a THC level of 20.95%, but it's not overly aggressive about it.
Outside of Amsterdam, Dutch Treat is super popular in the Pacific Northwest, especially with this Creekside Cannabis Dutch Treat being such a beloved favorite throughout Washington. The strain is a descendant of the classic Northern Lights and Haze, one of the most popular sativas to ever exist. Combine these powerful genetics, and you've got the Dutch Treat strain with a nicely balanced mental and physical high. As a heavy indica, it can be hard to find it at times, but we've got Creekside Cannabis Dutch Treat right here waiting for you!
Okay, your turn!
What do YOU think are the most popular marijuana strains of all time?
Share them with us down in the comments.
---
Disclaimer: Marijuana has intoxicating effects and may be habit-forming. Smoking is hazardous to your health. There may be health risks associated with consumption of Marijuana. Marijuana, in any form, should not be used by individuals that are pregnant or breastfeeding. Marijuana is intended for use only by adults 21 and older. Keep out of reach of children. Marijuana can impair concentration, coordination, and judgment. Do not operate a vehicle or machinery under the influence of this drug. This product may be unlawful outside of Washington State.