Green Crack (Flower)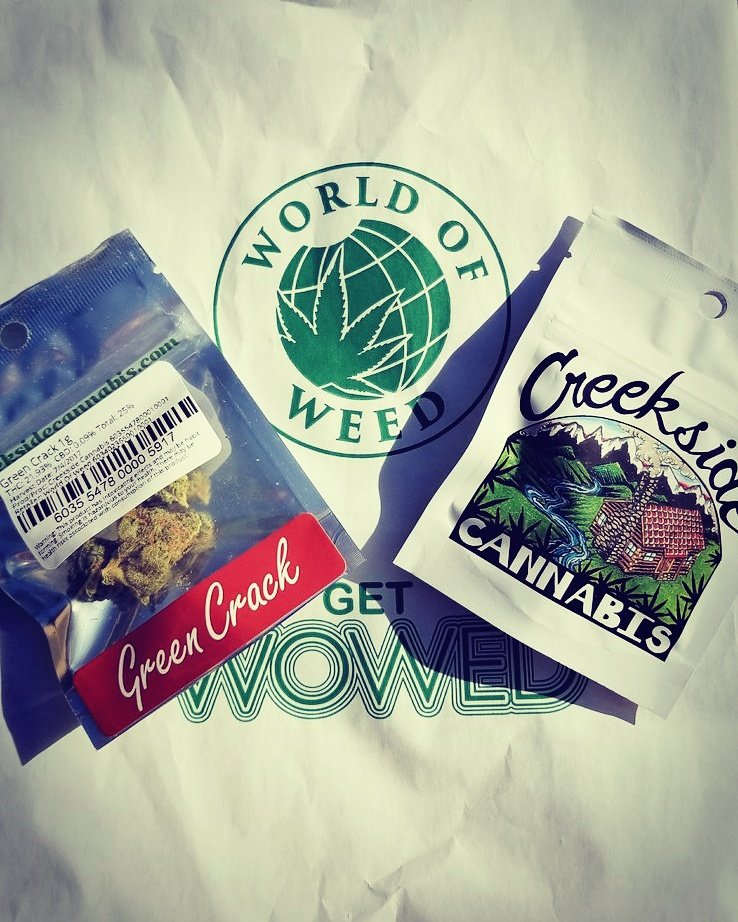 Green Crack is a sativa-dominant hybrid that is known for packing quite the punch, having been bred by inbreeding Skunk #1. This legendary strain earned its name from Snoop Dogg, but also has a few other nicknames (such as Green Cush) by those who would rather not make a reference to cocaine.
Creekside Cannabis was specifically designer to be higher-end in terms of quality, and has most definitely achieved that with unwavering consistency. They take great pride in their brand, something their Green Crack strain upholds and is a prime example of.
In terms of appearance, Green Crack by Creekside Cannabis has a distinctly indica bud structure, with its buds being dense, small, and clustered together. The leaves are pale green, with some yellow peeking through rust-colored pistils that are a stunning contrast to the vibrant flowers. The buds are also coated in a thick dusting of milky trichomes, giving the whole bud an almost shimmery appearance.
In addition to being beautiful in appearance, the buds hold a strong aroma of bright citrus with more subtle undertones of wood and damp earth. The smoke is smooth and full, carrying a mango flavor that settles on the back of the tongue and leaves a slightly spicy aftertaste.
Effects of Green Crack by Creekside Cannabis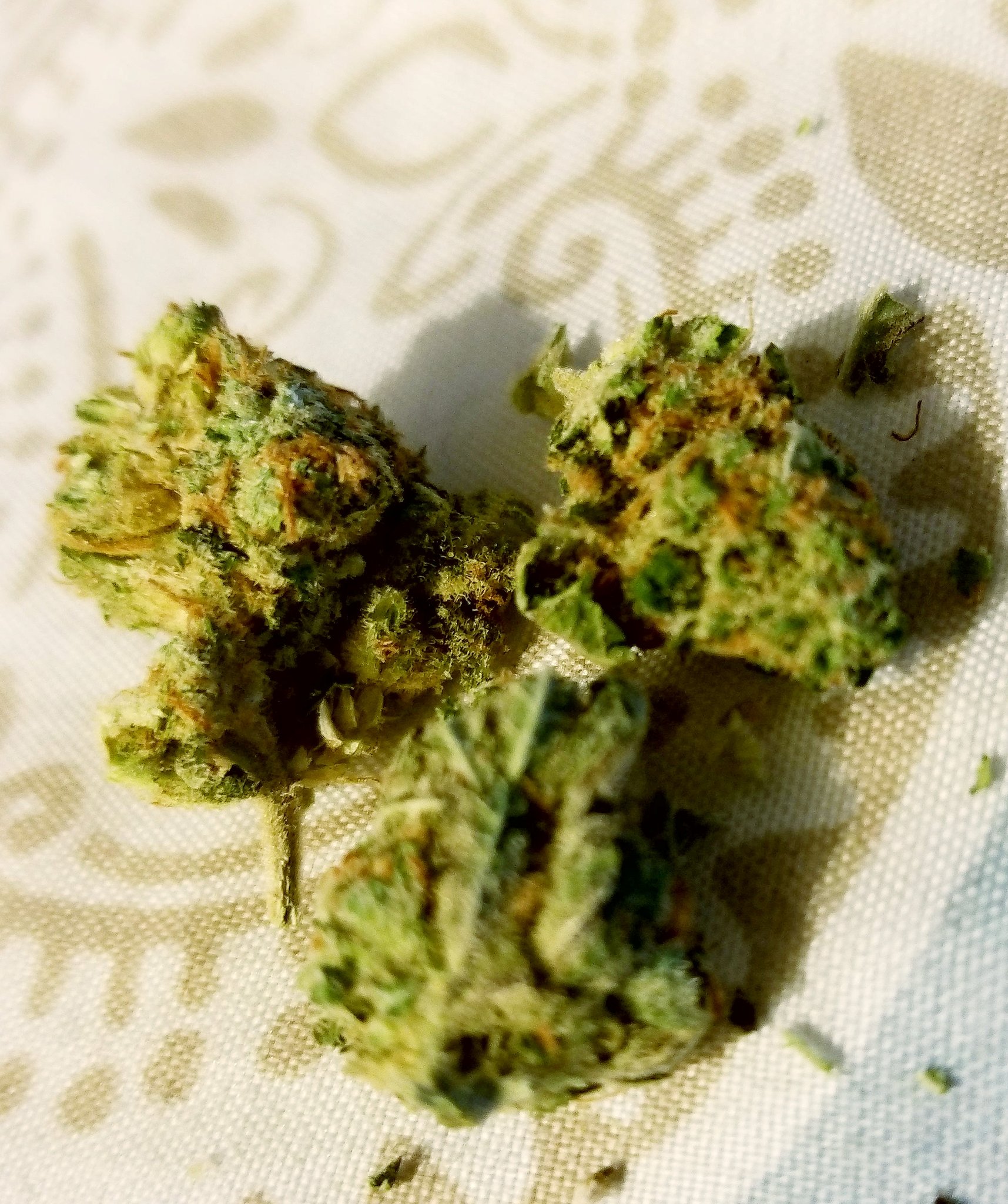 Green Crack has a THC level of 21.93% and a CBD level of 0.09% and, despite its indica-esque appearance, packs a strong sativa high users never forget. This is a highly energizing strain that brings on a sharp mental focus and increased clarity, making this a perfect choice for waking and baking, or to make household tasks a bit more exciting.
For the creative types out there, Green Crack is an inspiring strain that helps your art pieces, photography, or writing come to life. It has also been known to have some mild psychedelic effects, including losing sense of time and having some (slight) visual distortions.
This is a very energetic strain, so it's not recommended for those smoking at night or for those who have insomnia.
With that in mind, it should also be noted that smoking too much at once can cause paranoia or increased anxiety. This is a very powerful strain – as the name suggests – and is best enjoyed in moderation.
Green Crack Strain Reviews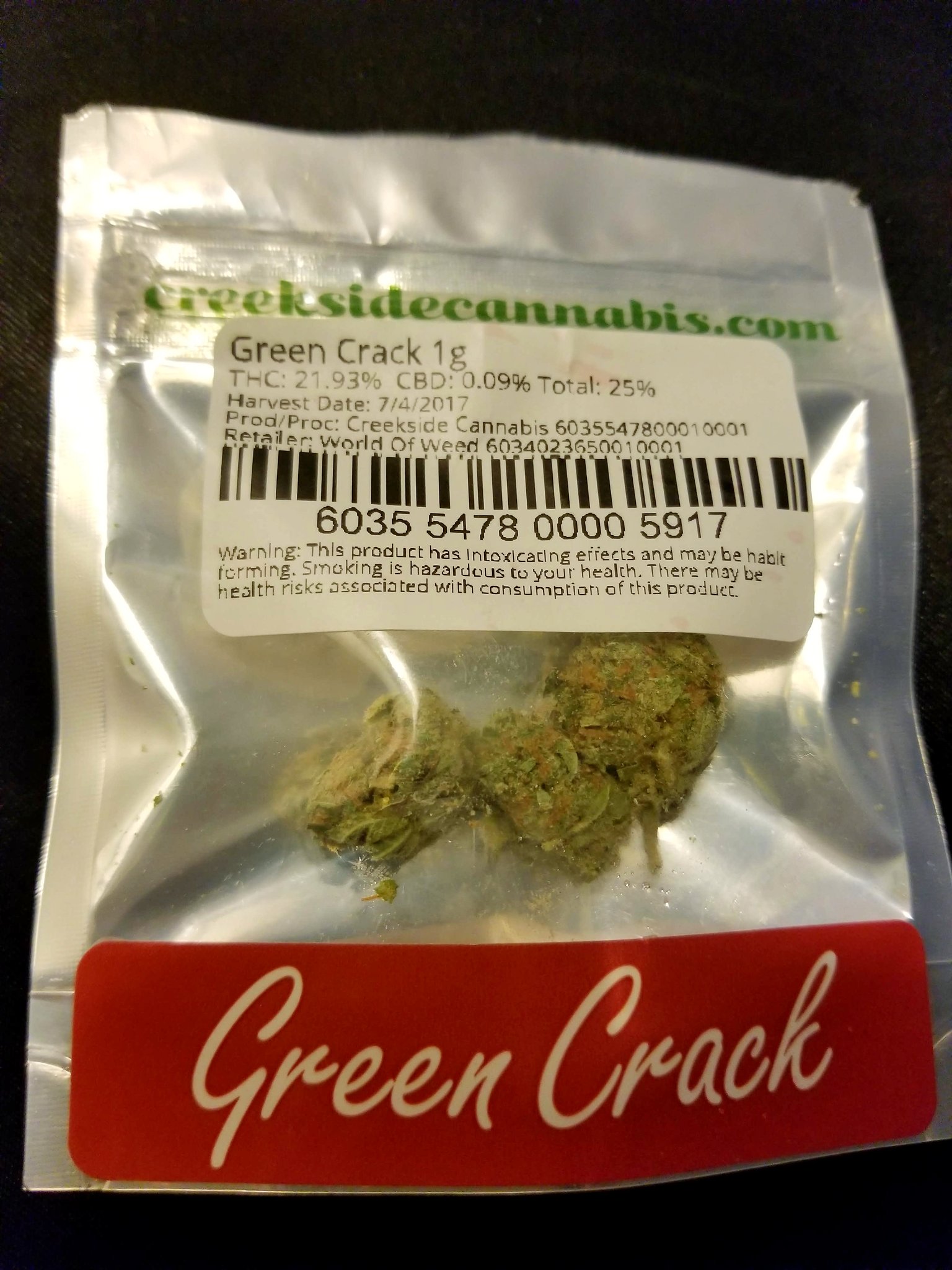 Considering how well-known and adored the Green Crack strain is, it's hardly surprising that so many of our customers love it!
Check out some of the things they had to say about it:
"This is quickly becoming one of my ultimate favorite cannabis strains. It's delicious, and slightly fruity in both smell and taste. It also perks me RIGHT up, and is perfect for those mornings when I'm running late and forget to brew a pot of coffee." – Dylan G.
"I've been a fan of Green Crack for years now, but this strain by Creekside Cannabis blows all of the others right out of the water. This is, hands-down, the BEST Green Crack strain I've ever had." – George B.
"My only problem with it is that I run out too quickly. It's just THAT good!" – Katelyn L.
"I seriously can't get enough of this strain. And it's so beautiful, too! I really am in love with it. It's delicious. It smells amazing, and it's just sticky as can be. LOVE." – Brittany R.
"These are the best prices around for this Green Crack strain. I can't believe it, and I certainly can't believe how good this is." – Ashley T.
"I'm not big on talking. I like to use as few words as possible. I'll just say this: Buy Green Crack. It's the best strain you'll ever find, and Creekside did it right." – Walter H.
Price of Green Crack by Creekside Cannabis
This inspirational smoke is available in our store for:
$14 1g
$40 3.5g
$150 4g
Come on in and try some for yourself!
Have you given the legendary Green Crack by Creekside Cannabis a try? Let us know what you thought down in the comments below.
Disclaimer: Marijuana has intoxicating effects and may be habit-forming. Smoking is hazardous to your health. There may be health risks associated with consumption of Marijuana. Marijuana, in any form, should not be used by individuals that are pregnant or breastfeeding. Marijuana is intended for use only by adults 21 and older. Keep out of reach of children. Marijuana can impair concentration, coordination, and judgment. Do not operate a vehicle or machinery under the influence of this drug. This product may be unlawful outside of Washington State.