Books and bud go together like chocolate and cheesecake. Without cannabis, many of the greatest and most profound novels to have ever been written would never have existed; book signings wouldn't be quite as fun; and you wouldn't currently be searching for books to read when smoking weed.

But, weed isn't just important for the creation of works of literature and non-fiction; it can also enhance the reader's experience. Now, we're not saying you go take a huge dab and then try plowing through Infinite Jest; but sometimes, settling in for some reading on a cozy couch, bong at the ready, can take your entire mental escape to a whole new level. 

But, picking out the perfect books to read when smoking weed can be a complicated process. Taking that into consideration, we've highlighted a few strains below and the books they pair best with. So, getting to blazing and reading. As Carl Sagan once said, cannabis "helps produce the serenity and insight, sensitivity and fellowship so desperately needed in this increasingly mad and dangerous world."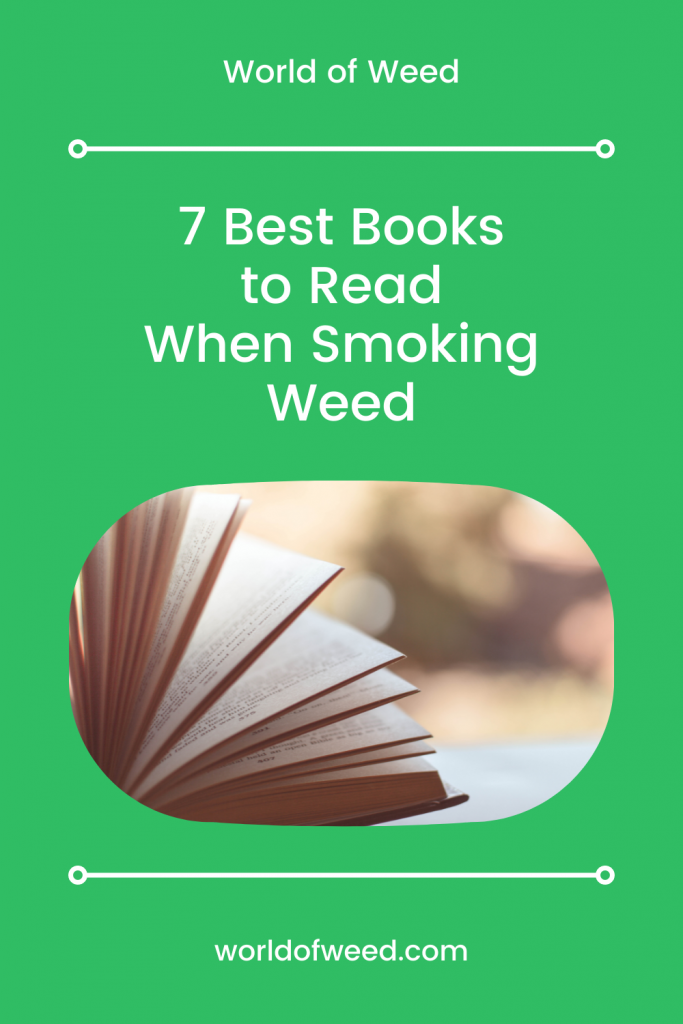 7 Best Books to Read When Smoking Weed
1. Fear and Loathing in Las Vegas: A Savage Journey to the Heart of the American Dream, by Hunter S. Thompson
This book is perhaps the most famous account of drug-fueled, trippy-brained, momentous good times ever documented. It's the chronicle of a weekend-long road trip that has got to be one of the strangest journeys anyone has ever taken. Pair this book with some Green Crack, an intensely energetic and focused sativa that will stimulate your mind and make you feel ready to take on the world. Pack the bong with this and enter your own journey as you follow along while Thompson recalls one of his own.

2. Cosmos, by Carl Sagan
What better time to explore the mysteries of space than when you're feeling out-of-this-world and spacey? This book is nonfiction for those of you who are able to maintain clear focus when reading and smoking. Try pairing this guide to the cosmos with some Miracle Alien Cookies. A cross between Alien Cookies, Colombian, and Starfighter, Miracle Alien Cookies is an indica-dominant strain that comes from the Girl Scout Cookie lineage. Expect cerebral uplift and enhanced focus, paired with deep physical relaxation. It's time to feel a little alien!

3. Cell, by Stephen King
This book follows a New England artist who wants to reunite with his son from whom he was separated after a mysterious electrical pulse sent via cell phone turns everyone into zombie-esque killing machines. This is some intense reading, as is usually the case with Stephen King. Put down your phone, but pick up the bong and this book, and pack that bong with some Gorilla Zkittlez. While things may not be going so well for the characters in the book, things will go great for you with this mix of Gorilla Glue and Zkittlez. The creation is a delicious, euphoric strain that makes you feel completely relaxed and at ease with everything around you.

4. Once Upon a Time in Hollywood, by Quentin Tarantino
This book is expected to be available on June 29, 2021. This book is described as being a detailed exploration of the movies of the 1970s and is a combination of essays, reviews, personal narratives, and speculations. It will follow the life of two characters both forward and backward in time. Considering Tarantino is open about using cannabis to write, this book must be one of the best books to read when smoking weed. Try pairing this with some Sundae Driver. This indica-dominant cross of Fruity Pebbles and Grape Pie provides relaxing body effects, a highly uplifting euphoria, and an overall sense of complete calm. This is perfect for getting lost in Tarantino's story.

5. Dracula, by Bram Stoker
This classic Gothic horror novel is famous for its vampire character Count Dracula. The novel tells the story of Dracula trying to move from his castle in Transylvania to a place in England with the intention of finding new blood and creating new vampires, and the ongoing battle between Dracula, Professor Abraham Van Helsing, and Helsing's followers. Pair this haunting novel with some Blue Dream. This must all be a dream, right? This West Coast favorite is a strong sativa that offers happy, uplifting, and euphoric effects without any sedation or couch-lock. After all, you can't get too sleepy around Dracula!

6. Desolation Angels, by Jack Kerouac
Kerouac hints at smoking weed in this book and then later talks about rolling a joint. The entire book is about his life just before he published the famous On the Road novel. For this one, puff on some classic OG Kush. Like this semi-autobiographical novel, OG Kush is a classic. It's one that offers both heightened euphoria and intense relaxation.

7. Gather Together In My Name, by Maya Angelou
This autobiography covers, in great detail, Angelou's experiences smoking weed. What better title to include on a list of books to read when smoking weed? Pack your bongs with some Blueberry Muffins. This delicious indica hybrid offers euphoria and uplift followed closely by the sweet release of all stress and tension. This strain carries berry aromas and tastes just like blueberry muffins.
What are your favorite books to read when smoking weed? Share with us down in the comments! 

---
Disclaimer: Marijuana has intoxicating effects and may be habit-forming. Smoking is hazardous to your health. There may be health risks associated with consumption of Marijuana. Marijuana, in any form, should not be used by individuals that are pregnant or breastfeeding. Marijuana is intended for use only by adults 21 and older. Keep out of reach of children. Marijuana can impair concentration, coordination, and judgment. Do not operate a vehicle or machinery under the influence of this drug. This product may be unlawful outside of Washington State.