When it comes to seasons, fall has it all — and there are seemingly endless fun activities to make it romantic. Whether you're trying to put some spice into a long-term relationship, or you need some tried and true advice for sweeping a blind date off their feet, your favorite Tacoma dispensary is here to help.

We've created a step-by-step guide to planning the perfect fall date as a stoner. Learn how to overcome some of the common obstacles that tend to get in the way of an otherwise magical night, and get ready to truly impress your partner.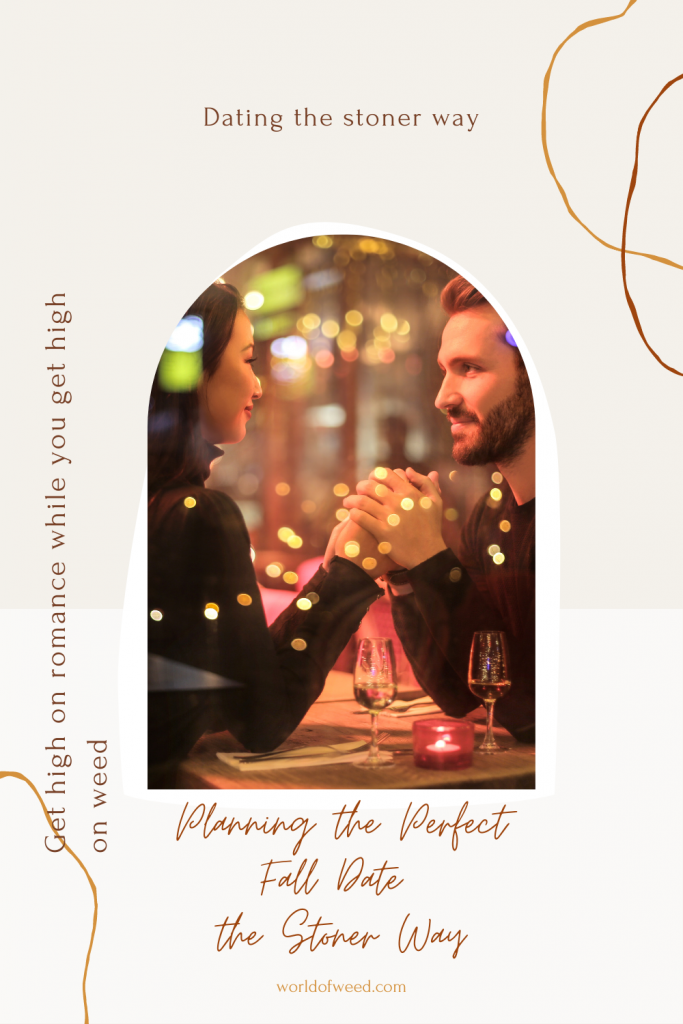 Planning a Fall Date the Stoner Way
Impress your date by planning an unforgettable fall date — the stoner way.

1. Brainstorm, coming up with a knock-your-socks-off date idea
First things first: You need to come up with a truly awesome fall date idea that will help you win the affections of your date.

Funny: This is usually the hardest part.

How many times have you gone round in circles with your partner, asking one another, "I don't know, where do YOU want to go?"

Sometimes, trying to find something to do for a romantic fall date can seem a bit tricky, but try to not overthink it. Remember: The factors that make up a perfect date are quality time, discovering new things about your partner, connection, and spontaneity. If you can incorporate all of those aspects into your date, then it will be a success regardless of what activity you choose.

That being said, if you need a bit of help in this department, we've got some great fall date ideas to help get you feeling inspired. Check out the following links!
No matter what you decide to do on your date, remember that this is your chance to either get to know a new potential partner or to rekindle the flames with your long-term significant other. When it comes down to it, the connection is the most important thing.
2. Schedule the fall date
Now that you've chosen a fun fall date idea, it's time to mark the date on your calendar.

Discuss with your date the availability window, so you know when you will both be free and able to go out. Ideally, you want to plan for a whole day so there is no rushing (and you can continue the date if it's going well), but only making room for a few hours works well too.

For established couples

When you're in an established relationship, it's important to still have date nights — and to stay committed to having date nights. Far too often, couples let date night just pass by until there becomes a dire need to have that time together. But, the truth is, going on regular dates with your partner is a vital part of building a solid relationship.

How do you have regularly scheduled date nights when life gets so hectic? We all have a long list of tasks and obligations that require our energy and attention, so it can be difficult. We absolutely understand. That's why it's essential that you plan your date nights ahead of time.

Choose a date on the calendar, even a month or two in advance if necessary. Stick to having your planned fall date that day, no matter what else pops up!
3. Plan out the itinerary for your fall stoner date
If you're one to plan a very involved date, one with multiple activities, then it can be helpful to create an itinerary of everything you will need to take into account in order for the date to be successful. This is the time to double (hell, maybe even triple) check the hours of the establishment you are going to, the movie times, the distances, the Uber fares, and other details that are of a time-sensitive nature.

Spontaneity is important on a date, but you do also want to cut down on the stress. Your planned fall date doesn't have to go perfectly, like in a movie, but showing up late because you were taking dabs or realizing the dispensary you were going to stop in isn't open that day can really be a downer. It's always better to be prepared!

Make sure to schedule a time to sesh with your date before you go out on the town. If you're going to be toking during your date, bring plenty of pre-rolls or vape carts. 
4. Check the weather report and gather all of the supplies you'll need
Just like the last step states, being prepared for your fall date can help you skip over any stressful obstacles that can arise.

Check the weather of the area in which you will be during your date, especially if you're planning an outdoor cannabis activity. It may not seem like it now, but being stuck in the cold air without a coat can be a real mood killer. Or, conversely, sweltering in a long-sleeve shirt when it's ridiculously hot out? Awful!

You also want to ensure you have everything you need for your romantic fall date. For example, are you going to a museum? Make sure you have comfortable shoes and edibles or tinctures — because smoking is certainly not allowed inside of such a place.

Putting together a checklist for your fall date, and then going back over it again the day of the date, is an excellent way to ensure you are adequately prepared. You want to make very sure nothing can distract from your time with your date. Your focus should not be on how uncomfortable you are because you didn't check to know it would be a hot day, but rather on blazing and having a fun time with your partner. Preparation will indeed help with that. 

5. Plan out the logistics of your fall date
It's just as important to plan the logistics of your fall date as it is to check the weather and gather supplies. Will you be driving or Ubering so you can be stoned with your date? Do you need to hire a babysitter? When should you be leaving? When will you expect to be home?

Answering these questions well before your date will help the whole experience stay romantic instead of stressful.

6. Remember to remain spontaneous
Just because you have your fall date planned, it doesn't mean you can't have some flexibility for spontaneity. It's great to have things planned, to avoid those possible hiccups, but moments of spontaneity can deepen a connection and create some of the best memories with your partner.

While you're out on your fall date, look for moments to be spontaneous. Do you see a caricature artist? Grab your date and sit for a portrait! Notice a flower vendor? Go grab a bouquet!

Those unplanned moments lead to the discovery of new things about your partner, as well as create a new experience that bonds you together. It doesn't matter if you're on your first or 100th date, there will always be something new to learn about your partner. Moments like these also help break up the routine of a long-term relationship and can reignite passion. 

7. Stay engaged with your date
When you are on your date, make sure you stay actively engaged with your partner. Probably one of the worst things you can do is put all of this effort into planning a perfect fall date for your stoner love, only to spend all of your time looking at your phone or making stilted small talk that teaches you nothing about the other person.

Always look for ways to engage with your partner. For instance, if you are heading out to a dispensary, try coming up with unique questions or conversation starters to get your partner talking about themselves.

As we've mentioned, one of the most important parts of a date is the connection you create with your partner. With that in mind, planning a fall date that doesn't have any genuine engagement kind of defeats the entire purpose.
8. Document your memories to look upon later
Don't forget to document your adventure and collect memories of your stoner fall date! Whether it's a photo of the two of you, a souvenir, or a seashell from the beach you smoked on, having something to reminisce upon and remind you of the emotions you felt during your date will bring you closer to your partner — and maybe even inspire your next date!

Far too often, we let life become routine and forget to take time to remember the precious moments we've shared with our partners. Collecting and documenting those memories throughout your relationship can help bring you closer together. For couples, keep the passion burning! For those in a new relationship, start creating unforgettable memories now — years from now, you'll be glad to have them.

Need some extra help with your fall date?
One of the must-haves for any fall date for stoners is to have plenty of cannabis at the ready. We encourage you to check out our menu. With lots of varying price points for a wide variety of products, you'll be able to find everything you need to get your high on with your partner without breaking the bank.

Read through our date blog posts to find some activities to help you laugh together and grow closer as a couple.

Now that we've laid out your guide to the perfect fall date for stoners, it's time to go on that romantic adventure!

---
Disclaimer: Marijuana has intoxicating effects and may be habit-forming. Smoking is hazardous to your health. There may be health risks associated with consumption of Marijuana. Marijuana, in any form, should not be used by individuals that are pregnant or breastfeeding. Marijuana is intended for use only by adults 21 and older. Keep out of reach of children. Marijuana can impair concentration, coordination, and judgment. Do not operate a vehicle or machinery under the influence of this drug. This product may be unlawful outside of Washington State.