When you're in love, every season seems romantic. But, there's nothing quite like fall, because these months are full of fun activities and date ideas for stoners. From traditional fall date ideas like apple picking and corn mazes to just staying inside and watching horror movies while you get stoned, there are tons of things you can do with your boo during the fall months. Interested? Try one of these 13 fall date ideas for stoners and make lasting memories you'll want to recreate year after year.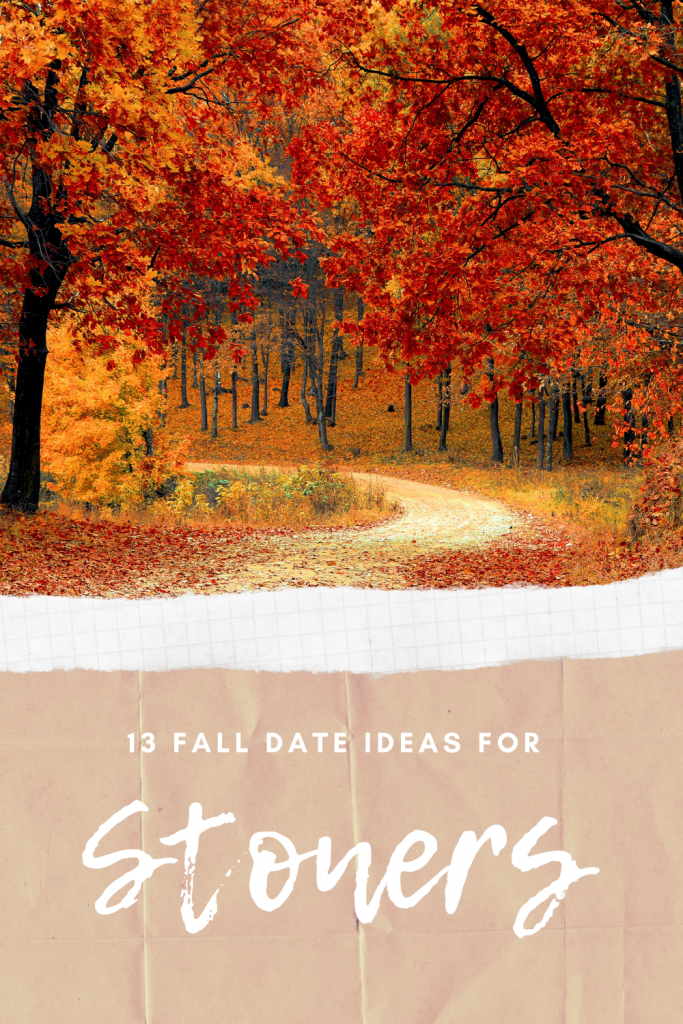 13 Fall Date Ideas for Stoners
Go camping
Head out into nature and take in the beautiful fall foliage with your sweetie. Whether you spend your time fishing, hiking, or simply smoking bowls outside, the quality time outdoors can bring you two closer together. For extra fun, hotbox your tent.
Pick apples in an orchard
One of the best fall date ideas for stoners is to go apple picking. Eat some edibles, or sip on a cannabis soda, and pick apples with your boo. Pick a whole bushel or just a few apples, and you can bake something tasty with your partner. Check out the apple orchards in your area for an old fashioned, sweet date.
Go costume shopping
Take some fat dabs with your partner and then head out to your local Halloween store for some stoned costume shopping. Browse the Halloween décor, check out the costumes, and have fun celebrating the spookiest time of the year. For even more fun, pick each other's costumes.
Carve pumpkins
What better way to get ready for Halloween than by carving pumpkins with your partner? For some great stoner pumpkin ideas, check out this post.
Watch a scary movie outdoors
Take your laptop and your smoke, and head outdoors to watch a scary movie with your other half. Cemeteries, haunted spots, and abandoned locations are great places to go. Set out a blanket and cuddle up together as you watch.
Have a horror movie marathon
A horror movie marathon is one of the best fall date ideas for stoners. Get cozy under a blanket and snuggle up as you make your way through the Halloween or Friday the 13th series. Not a fan of those? Netflix has a huge selection of horror movies that are sure to get you into the spirit of the spooky season. The best part? You're at home, so you can smoke as much as you want. Pick up some of this year's best fall strains and get lit as you watch.
Get lost in a corn maze
What would fall be without a corn maze or two? Corn mazes are the epitome of fall, and make for a fantastic date idea. If you can visit a haunted corn maze, that's even better. This is one of the best fall date ideas for stoners, because you can munch on edibles and get super stoney as you try to find your way out of the maze together.
Pick pumpkins at the pumpkin patch
Carving up pumpkins you bought at the store is fun – especially with your partner – but it's even more fun to visit a local pumpkin patch and pick your own pumpkins while stoned. When you get home from the pumpkin patch, carve a pumpkin together and create a joint Jack-o-Lantern. If you're both competitive, make it into a contest and see who can carve the best design. Take turns taking dabs to make the contest even more interesting.
Go on a hike
Roll up a couple blunts / joints, or pick up some pre-rolls, and head out for a fall hike with your partner. Take in the natural surroundings, the sounds of the wild, and the serenity of it being just the two of you.
Get through a haunted house together
While you can't smoke in a haunted house, you can get super stoney beforehand and then go in lit. Shared fear brings people closer together, and what better way to do that than by visiting a haunted house? On this fall date, you can hold hands and get scared together. What a great way to make lasting memories you're sure to talk about for years to come.
Bake a pie together
One of the best fall date ideas for stoners involves staying inside. Browse through a recipe book, or find a recipe online, and bake something sweet with your significant other. It's hard to beat talking, laughing, and getting cozy in the kitchen. The best part? You get to enjoy something you created together.
Take a road trip
Pack a cooler with munchies, weed, and drinks, and then head out on a fall road trip. Take the scenic routes, so you can look at all the beautiful trees changing colors and dropping leaves.
Go stargazing
This fall date idea for stoners is especially great if you have a truck. Take some thick comforters or other blankets, some pillows, your bong, and some fire weed, and make a cozy nest in the bed of the truck. Lay on your backs, play some ambience music off your phone, and look up at the stars. If you see a shooting star, don't forget to make a wish!
P.S.
Make sure to wear your mask when in public and around others, maintain social distancing, and wash your hands!
Ready to stock up? Shop our store here!
What fun fall date idea would you add to this list?
---
Disclaimer: Marijuana has intoxicating effects and may be habit-forming. Smoking is hazardous to your health. There may be health risks associated with consumption of Marijuana. Marijuana, in any form, should not be used by individuals that are pregnant or breastfeeding. Marijuana is intended for use only by adults 21 and older. Keep out of reach of children. Marijuana can impair concentration, coordination, and judgment. Do not operate a vehicle or machinery under the influence of this drug. This product may be unlawful outside of Washington State.