Fall is here. And if you're like the team here at World of Weed, you'll agree there are few things better than a delicious meal that features bowls upon bowls of indica and sativa weed pairings.
While we've hand-selected complementary strains for the savory flavors of fall, there are countless other strains that could work. Feel free to explore your favorite strains, keeping in mind one important tip: Compare the main ingredients and flavors of the dish with primary aspects of the strain, including its flavors, aromas, and effects. These elements should work in harmony with one another to create the perfect fall food and weed pairings.
Just want to know the best fall strains? Read this list.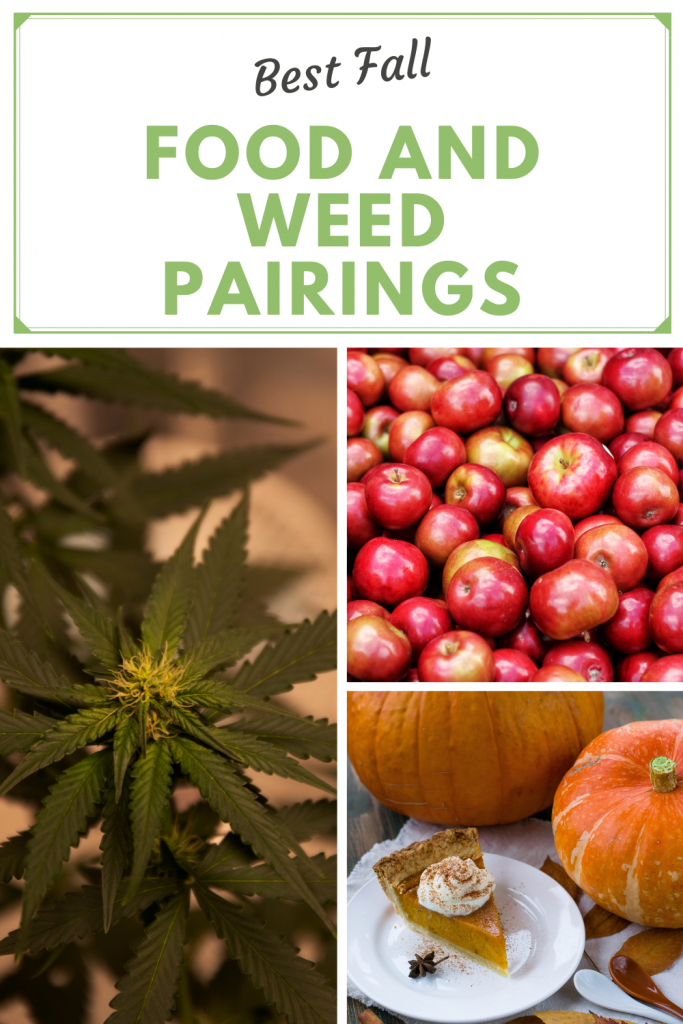 Fall Food and Weed Pairings
Here are some of the best fall flavors and the best strains to pair with them.
Pumpkin
No fall food and weed pairings list would be complete without pumpkin. From pumpkin spice lattes to pumpkin pie, there are many pumpkin-flavored foods to be found this season. For anything pumpkin, you want an aromatic strain. Go for one on the funky side, like Breathwork. This cross of Mendo Breath and Grateful Breath has a funky aroma and brings on a spacey, relaxed euphoria that will melt away the stresses of the season. This strain is great anytime of the day, whether you're going for a calm morning, chill afternoon, or relaxing night in.
Apple
Before fall became synonymous with pumpkin, apple was the flavor of fall. Apples are available year-round, but they are tastiest in late summer and early fall, and there are several varieties only around during this time of the year. Pair some raw apple slices with cheese and enjoy it with a fruity Dutchberry. This euphoric sativa hybrid holds a rich berry taste and is sure to bring on a case of the giggles.
Butternut Squash
Just like CBD is the cousin to THC, so is butternut squash the cousin of pumpkin. It may be less popular, but it is full of robust flavor that makes for a great soup. Try pairing this fall flavor with a lemony strain like Super Lemon Haze. This sativa is well-known for its energizing and euphoric effects and is popular for its zesty lemon aroma and flavor. This strain will give you all the energy you need to cook up a delicious fall meal.
Pear
Pear is a popular fall fruit that can be enjoyed raw or made into a dessert. This flavor is another one that pairs well with lemon and sweetness. Pair this one with Super Lemon Haze for the perfect balance of sweet and sour. This sativa will give you plenty of energy to get everything done this busy season.
Sweet Potato
From mashed sweet potatoes with marshmallows to sweet potato fries dipped in Ranch, sweet potato is pretty much everywhere come fall. Pair this fall food with a sweet strain like Dutch Treat. This sticky strain holds a strong aroma of sweet fruit and pine, with notes of eucalyptus. A true hybrid, this strain offers both indica and sativa effects. Take a few hits, and you'll experience an immediate cerebral rush that will have you uplifted and euphoric in no time, all while physically feeling relaxed and at ease. Need to relax before having the family over Thanksgiving dinner? This is your strain.
Carrot
Carrots are available year-round, but they are at their best during the fall season. If you're munching on some raw carrots, or serving carrots steamed with butter, go for a light flavored strain, like Colonel Crunch. As an indica hybrid, this strain offers the best of the indica effects but without the couchlock that comes from a pure indica strain. You can expect mental uplift and clarity, coupled with a relaxing body high that melts away the stress from your body. If you're more into carrot cake than raw carrots, you can't go wrong with a fruity strain like Moonbow. This strain tastes and smells like flowers and fruit candy, which would complement the flavors of the carrot cake.
Brussel Sprout
While Brussel sprouts may be the bane of many people's taste buds, it's a classic fall staple. Brussel sprouts have a nutty flavor to them that pairs well with a particularly herbal flavor, such as that from Supermax OG. This cross of OG Kush and Superman OG is a fast-acting, potent indica hybrid that boosts your mood while relaxing your body.
Chocolate
Just like we couldn't leave out pumpkin on a fall food and weed pairings list, we can't leave out chocolate. Chocolate is a staple of fall, with a big thanks to Trick-or-Treating for that. Pair chocolate and chocolate desserts with a strain like Chocolate Marshmallows or Gushers. Chocolate Marshmallows is a balanced hybrid that delivers both sativa and indica effects. Expect uplifting euphoria followed by a sedating body melt. Gushers, another sweet strain, is an indica hybrid that tastes like sour tropical fruit and fresh baked cookies. This strain won't necessarily put you to sleep, but you will be relaxed and euphoric enough to be content with everything going on around you.
The Best Fall Food and Weed Pairings
Here at World of Weed, one of our favorite parts of fall is enjoying all of the delicious fall food and weed pairings this unique season has to offer. These were some of our favorites, but you can mix and match strains and foods to come up with your own flavor pairings.
Ready to try these fall food and weed pairings?
---
Disclaimer: Marijuana has intoxicating effects and may be habit-forming. Smoking is hazardous to your health. There may be health risks associated with consumption of Marijuana. Marijuana, in any form, should not be used by individuals that are pregnant or breastfeeding. Marijuana is intended for use only by adults 21 and older. Keep out of reach of children. Marijuana can impair concentration, coordination, and judgment. Do not operate a vehicle or machinery under the influence of this drug. This product may be unlawful outside of Washington State.