The weather is cooler, and the days have grown shorter; fall is here. And while the summer was all about hustle and bustle, getting in that perfect dose of sun, it's time to let things slow down a bit and embrace cozy sweaters, pumpkin-flavored everything and, of course, the best fall strains. However, with fall comes a busy holiday season and crazy deadlines. This is why it's important to take some time for yourself to relax and pamper yourself this fall. Here are some simple ways to show yourself some TLC the stoner way.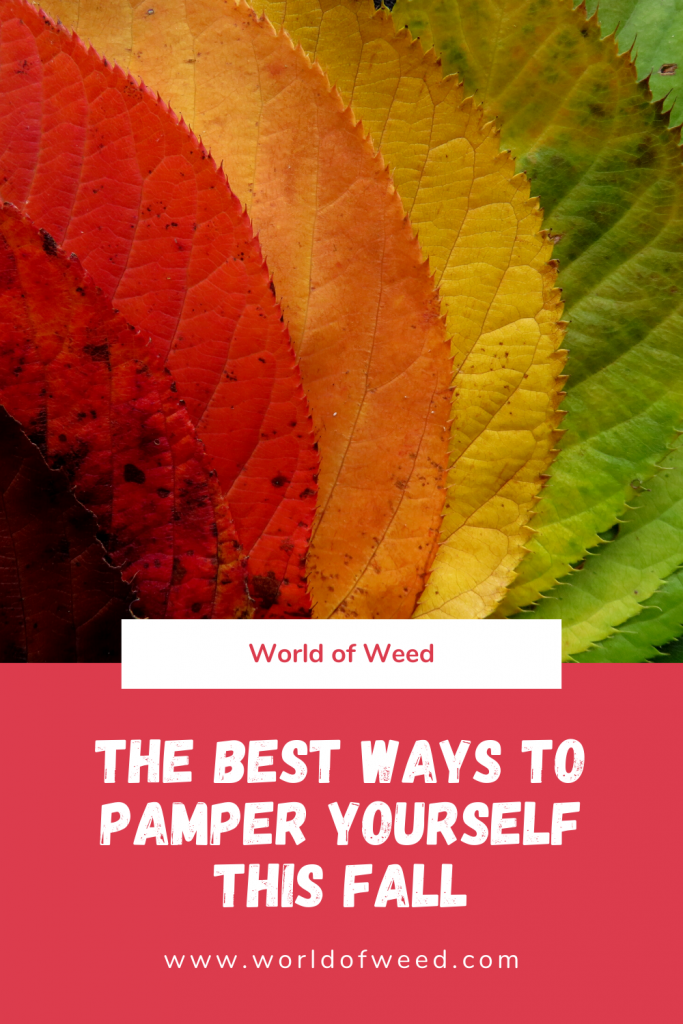 The Best Stoner Ways to Pamper Yourself This Fall
Stock up on that top shelf dank
To really treat yourself well this fall season, stock up on top shelf cannabis and give yourself a luxurious smoking experience.
We recommend:
Flower
Breathwork
Breathwork is a slightly indica hybrid that brings on the munchies and a spacey, relaxed euphoria. It holds a funky aroma, being a cross of Mendo Breath and Grateful Breath. This strain is perfect for either daytime relaxation or when you're just having a chill night in.
Concentrates
Maui Terp Sugar
This sativa hybrid gets the creative juices flowing and brings on waves of euphoria. Take a few dabs of this, and you can expect a powerful and buzzing uplifting that brings on hazy focus, imaginative thoughts, and plenty of laughs. This is a feel-good strain, one that will keep you coming back again and again.
Edibles
Caramel Honey Bon Bombs
You can't celebrate the fall season without something sweet! Well, you can, but it's just not as fun. Pamper yourself this fall with some Caramel Honey Bon Bombs. These are made with a decadent blend of brown sugar, butter, honey, and cream reduced over a low heat to perfection before being dipped in dark chocolate and topped with Kosher salt. These luxurious caramels are perfect for the fall season.
Scent your home like fall
One of the easiest ways to pamper yourself this fall and get into the spirit of the season is to make your home smell festive. It's also a great way to mask the smell of weed. Pick up some scented candles or incense that are Autumn-themed, or that hold notes of cranberry, cinnamon, orange, or nutmeg. Remember to be careful with open flames and not leave burning things unattended. It is so relaxing to be in a warm, ambrosially scented environment. Sit back, smoke a bowl of your new flower, and enjoy the scents of the season.
Pretend it's 4/20
Really, every day is 4/20 to most of us stoners. But, take a day this fall to really go all out and smoke all day long. Set aside a day when you don't have to do anything, set out all of your smokables and / or edibles, and get to blazing. For extra fun, watch some stoner movies and smoke out of a pumpkin!
Buy fresh flowers for your home
Even though the changing fall foliage is beautiful, it can be a bit on the depressing side for some seeing the trees losing their leaves. However, you can bring some of the rainbow into your home during fall by keeping fresh flowers in vases in various rooms of your home. For an extra treat, look for cannabis bouquet services in your area. You can also keep live plants nearly anywhere in your home, provided the plant's individual needs are met. Caring for plants and watching them flourish is so satisfying, especially as the plants outside begin to lose their leaves.
Break out the fall wardrobe
This may not sound all that much like pampering yourself now, but it will make a big difference later. Go through your closet and pack away the summer clothes and bring out the fall wardrobe. Make sure everything from sweaters to jeans are easily accessible.
Take a vacation in your own city
Spend a weekend being a tourist in your own city. Find a cannabis-friendly Airbnb to book for the weekend, and bring along the top shelf weed you picked up from your favorite Tacoma dispensary. Take the weekend to relax and see the sights of your city. Check out a museum, head to a park, or try a new restaurant. Just remember to wear your mask, practice social distancing, and wash your hands!
Go for a nature walk
Fall is a beautiful time of year, where the leaves turn vibrant shades of orange, red, and gold. There's a crisp chill in the air that reminds you winter isn't too far away. Leaves line the pathways, making each step you take look like an Instagram shot. Take some time to get outdoors and go for a nature walk. Walk through nature, taking in the brilliant fall foliage and the chirping of the birds in the trees. Find a good spot and smoke one out in nature. For extra convenience, pick up some pre-rolls from your local Tacoma dispensary.
Fall is the favorite season of many, and with good reason. Amazing flavors come back, and the long days of feeling like you live in an oven are over. But all of the fall activities can really exhaust you. So, pick a day (or a few) and go through this list of some stoner ways to pamper yourself this fall.
---
Disclaimer: Marijuana has intoxicating effects and may be habit-forming. Smoking is hazardous to your health. There may be health risks associated with consumption of Marijuana. Marijuana, in any form, should not be used by individuals that are pregnant or breastfeeding. Marijuana is intended for use only by adults 21 and older. Keep out of reach of children. Marijuana can impair concentration, coordination, and judgment. Do not operate a vehicle or machinery under the influence of this drug. This product may be unlawful outside of Washington State.