You're vaxxed, you're waxed, and you're ready to surprise your partner with a fun, outdoor stoner date idea. Unfortunately, you can't seem to think of anything to do. (We get it, it's been a minute.) That's why it's time to take the fun outside.

Besides providing an uplifting boost of Vitamin D from the good ol' sun, going on a date outside can actually bring you and your partner closer together. Being outdoors encourages conversation and being more present and attuned with one another. You're away from the distracting television, Netflix, and phones, leaving you to focus on your partner.

Outdoor stoner date ideas are the perfect excuse to unplug and just live in the now. Just imagine holding your partner's hand as you walk down a hill, the shared moment of experiencing incredible nature scenes, or the giddy excitement of kissing at the top of a mountain with a great view. Sharing these adventurous moments with your partner brings you closer together and creates lasting memories that make you more emotionally intimate with one another.

There are tons of great outdoor stoner date ideas for those who want to work up a sweat. But, if you're not exactly the athletic type, there are still plenty of options for you out there. Think low-key adventures like browsing a farmer's market or walking along the beach.

Here are 15 of the best outdoor stoner date ideas to enjoy with your partner this summer. Don't forget the weed and water!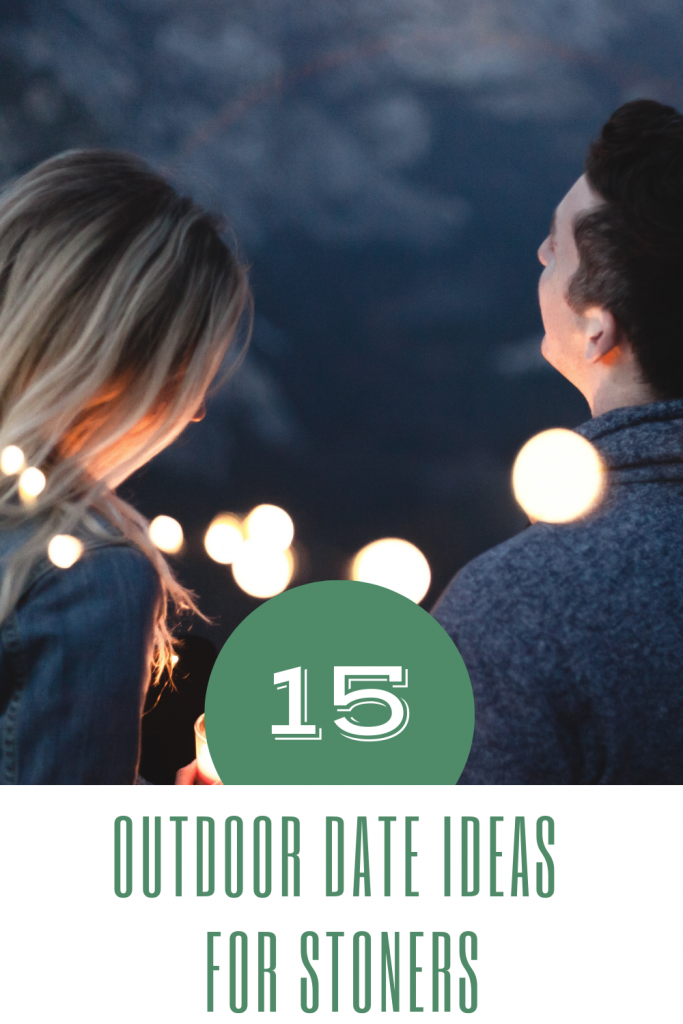 15 Outdoor Stoner Date Ideas
1. Pack a picnic
Gather up your biggest blankets and find a nice, shady spot out in nature to spend an afternoon with your partner. This is a low-pressure setting that makes it easier to converse on a deeper level over delicious food and good bud. Try sharing some cannabis sodas for an extra treat.

2. Take a walk around the neighborhood
Chances are, you and your sweetie have been cooped up during quarantine. But, now it's time to get outside once again. Stroll through the neighborhood, holding hands and falling into natural conversation. Pro tip: Leave the phones at home and share a joint as you walk.

3. Climb some rocks
Gather up your climbing gear and your partner and head out for some rock climbing. Not only is this a great way to work out with your partner, but it also releases endorphins that leave you feeling good. Taking a dab on top of a boulder, looking out over the horizon with your partner? Perfect vibes.

4. Sesh on a rooftop
Whether you're smoking bowls, taking dabs, or passing a joint back and forth, smoking on a rooftop is the perfect outdoor date idea for stoners. Add in a beautiful view (your partner included, of course) and you've got the best vibe through sunset.

5. Go swimming — in the nude
When the temperatures start to rise and it's time to cool off — and show off your new bathing suit — find a pool to go swimming in. Even better? If you have your own pool, go skinny dipping with your partner in the privacy of your backyard. Don't forget the cannabis sodas to sip poolside!

6. Check out a local farmer's market
Decide on a morning outdoor stoner date idea and stroll through a local farmer's market for smoothies, flowers, and tasty pastries. Maybe even get something to cook for dinner that night with your sweetie. Eat some edibles prior to your little excursion to make the outing even more enjoyable.

7. Have a BBQ
Grilling something with your partner is not only a delicious way to satisfy those munchies, but it's also a fun thing you can do together. Work in tandem to prepare something tasty and, even if it didn't turn out perfectly, you still created a memory together.

8. Go for a hike
Get those feel-good endorphins flowing, explore your city, and share in the feeling of accomplishment with your partner when you reach the end of the trail. And, of course, reward yourselves with a joint or two out in nature. It doesn't get better than that.

9. Catch a game
Is your partner the sporty type? Pack up the edibles and the cannabis sodas, and head out to catch a game. Share in the moment and the excitement of the game in one of the best outdoor stoner date ideas for the sports-loving couple.

10. Take in an outdoor concert
Spend the evening out with your boo, listening to live music in a park, attending a festival, or visiting another fun outdoor event. Pack a picnic with edibles for discreet medicating while you're out.

11. Go stargazing
Honestly, what better vibe is there than getting lost in profound conversation and sharing a joint with your partner while gazing up at the glistening stars?

12. Rent a boat
Spend the day out in a boat on the lake, seshing and talking about life with your partner. See this outdoor stoner date idea as an adventure that brings you closer to nature and to each other.

13. Go birdwatching
Sometimes, you need to completely unplug and just pause for a moment. Birdwatching is one way to do exactly that. Take quiet comfort in the presence of your significant other as you both observe the wildlife flitting about around you. This outdoor date idea is like watching a nature documentary, only it's real life. Pack some cannabis sodas and edibles for the field and you'll stay nice and relaxed, like a mini nature vacation.

14. Go camping together
Sharing a new experience with your partner creates a bonded memory, helping you to better connect with bae. After spending a whole night outside, alone in the middle of the wilderness is definitely one of the best ways to go about it.

15. Chill on the beach
During summer, we live for beach days. Whether you spend it sunbathing with your vape pen in hand or eating edibles before taking a swim, a beach day is an outdoor stoner date idea you're both sure to remember. Just don't forget the sunscreen!
Ready to try one of these outdoor stoner date ideas? Browse our menu for some killer weed to take with you!
---
Disclaimer: Marijuana has intoxicating effects and may be habit-forming. Smoking is hazardous to your health. There may be health risks associated with consumption of Marijuana. Marijuana, in any form, should not be used by individuals that are pregnant or breastfeeding. Marijuana is intended for use only by adults 21 and older. Keep out of reach of children. Marijuana can impair concentration, coordination, and judgment. Do not operate a vehicle or machinery under the influence of this drug. This product may be unlawful outside of Washington State.