Summer is the perfect season for backyard smoke seshes, barbecues, picnics, and just general basking in the sun with your favorite bong in your hand. Not just any old strain will do, however. The best summer strains pair nicely with grilled food, fresh fruit and veggies, and are as uplifting as a caressing breeze on a hot day.

Whether you're looking for a strain to fuel a picnic, social gathering, or fun solo summer activity, this list of summer strains will help you find the perfect smoke for the season. Best of all, these strains we selected come at a variety of price points. So, get ready to take your summertime seshing to the next level with these incredible summer strains.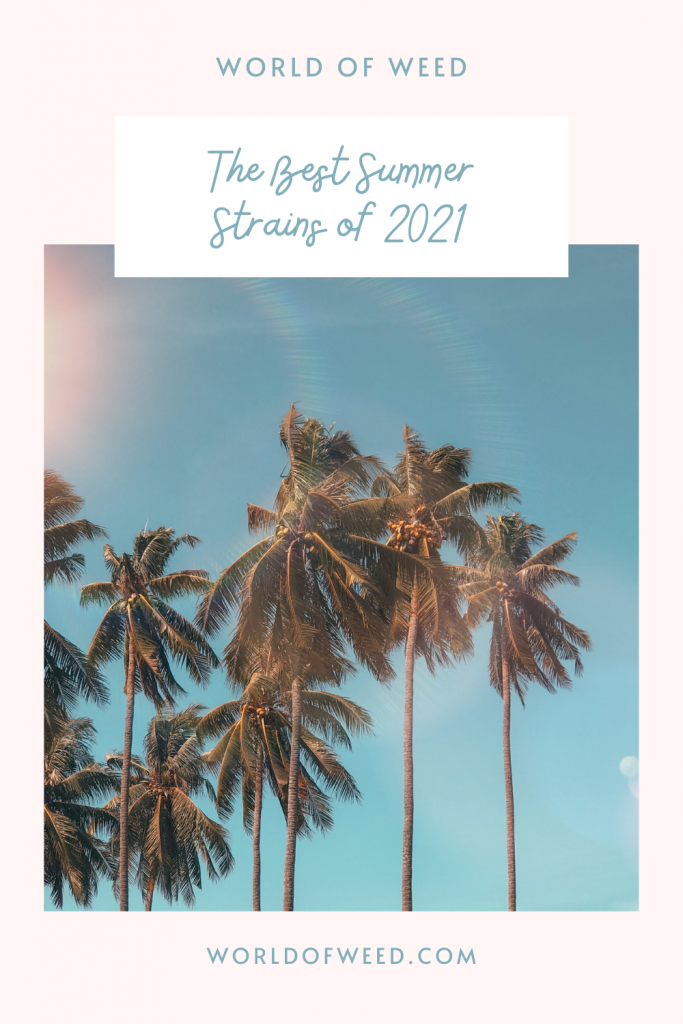 Summer Strains Guide 2021
Best Strains for a Picnic
Miracle Whip
Whether you're laying out a full spread of charcuterie, cheese, and fruit, or doing a bigger al fresco meal, nothing pairs better with the summer sun than a relaxing and uplifting hybrid. Miracle Whip is an especially ideal picnic strain. This rare hybrid is relatively new to the market and is a cross of Cookies & Cream x Starfighter x Colombian. Expect quick and powerful cerebral effects followed closely by feelings of calm, happiness, and deep relaxation. With this strain's high THC levels, it has been known to bring many stoners to their knees. So, make sure you're sitting down on your comfy blanket while you smoke this.

Jack Herer

Jack Herer is a three-way cross of Haze x Northern Lights #5 x Shiva Skunk. This sativa produces blissful, clear-headed, and creative effects with a full-body buzz. This is a rare hybrid, so get ready for some fire! Expect earthy, woody, and pine flavors mixed with a bit of citrus from this summer strain.
Best Strains for a Barbecue
Chem Dawg

Whether you're grilling steaks or giving some vegetables the flame treatment, you'll want a strain that pairs well with the smoky, sultry notes of the barbecue. Chem Dawg is a robust sativa hybrid that offers heady euphoria that boosts creativity and energy. The citrus, pine, and diesel flavors pair well with peppery notes found in BBQ rubs.

Oregon Silver Haze

Sativa hybrids, with their trademark euphoria and energy, are great summer strains for BBQs, pairing well with the vibe of the occasion. Oregon Silver Haze in particular, with its fragrance of incense and spice, pairs especially well with rubs and seasonings, but its flavor is not too heavy for sweltering summer days. Smoke this and indulge in a powerful sativa high that brings on an enhanced mood and lively energy.
Best Strains for Lounging Poolside
Super Lemon Smac

"Refreshing" is what you're looking for when it comes to poolside summer strains, and the perfect choice for lounging around is an indica hybrid. Super Lemon Smac is one that hits heavy on the euphoric mental effects and hazy relaxation, complete with pungent and savory citrus aromas and flavors. The crisp flavor and inherent euphoria make this a standout strain for any time, any place.

White Tahoe Cookies

Yet another indica hybrid that offers intense relaxation and mental euphoria is White Tahoe Cookies. A sweet flavor comes with every hit, so don't hesitate to pair this with your favorite summer snack.
Best Strains for Hiking
Super Silver Haze
Super Silver Haze is an energizing and lively sativa hybrid that is the perfect reward once you reach the summit — but if you decide to stop halfway through and bask in the beauty of the nature around you, you'll be happy you brought your pipe and this strain with you. This creative, energizing, and euphoric high will keep you moving and having fun, with all-day effects that are perfect for when you're on the go.

Dutch Treat

The mental effects of the giggly, energetic Dutch Treat hit hard and fast, leaving you feeling uplifted and euphoric while noticeably less stressed and far more relaxed. Expect a hazy, yet stimulated feeling of calm and a full body buzz that will keep you moving forward.
Best Strains for a Bonfire
Nilla Wafer

Nilla Wafer is a delightful sativa hybrid that is every bit as delicious as it is potent. This strain offers a creative and uplifting high coupled with a full-body buzz that's as cozy as the bonfire itself. This strain pairs well with food, but is also great on its own.

Black Cherry Soda

The Black Cherry Soda strain is named after its fruity, soda-like taste and unusually dark purple appearance. This is one of the best summer strains, offering balanced mental and physical effects and serving as a potent medicine without heavy sedation. If you're looking to unwind and chill out in front of a fire, toke on some of this.
Smoking the Best Summer Strains
This summer is unlike any other we've experienced. Not only are we seeing life through an entirely new perspective, but we're also making up for a less-than-stellar summer we had last year due to COVID-19.

As we bask in the warm weather and embrace its memory-making activities with open arms, here are five great ways to celebrate the season, and the ten summer strains that pair with each activity.

---
Disclaimer: Marijuana has intoxicating effects and may be habit-forming. Smoking is hazardous to your health. There may be health risks associated with consumption of Marijuana. Marijuana, in any form, should not be used by individuals that are pregnant or breastfeeding. Marijuana is intended for use only by adults 21 and older. Keep out of reach of children. Marijuana can impair concentration, coordination, and judgment. Do not operate a vehicle or machinery under the influence of this drug. This product may be unlawful outside of Washington State.