Buying a new bong, pipe, or rig is an exciting moment for most stoners, regardless of how many years they've been blazing. Because that piece will be there, waiting to help you decompress after a long day or catch your tears as you cry into your hit, not to mention amusing situations resulting from the use of said bong, many consumers develop a bond with their pieces.

After weeks, perhaps even months, of careful deliberation, making the final decision to go ahead and fork over the money for that new piece is a thrilling and memorable moment. Some people even name their bongs!

With the comforting feel, the smooth exterior, and the large amount of smoke being delivered, bongs remain the most popular way to smoke weed. While they may not hold the aesthetic appeal of the more "heady", expensive bongs, bongs for less than $100 have their own unique benefits. 

Continue reading to understand why a bong for less than $100 is just as good, if not better than a more expensive piece that will put a strain on your wallet.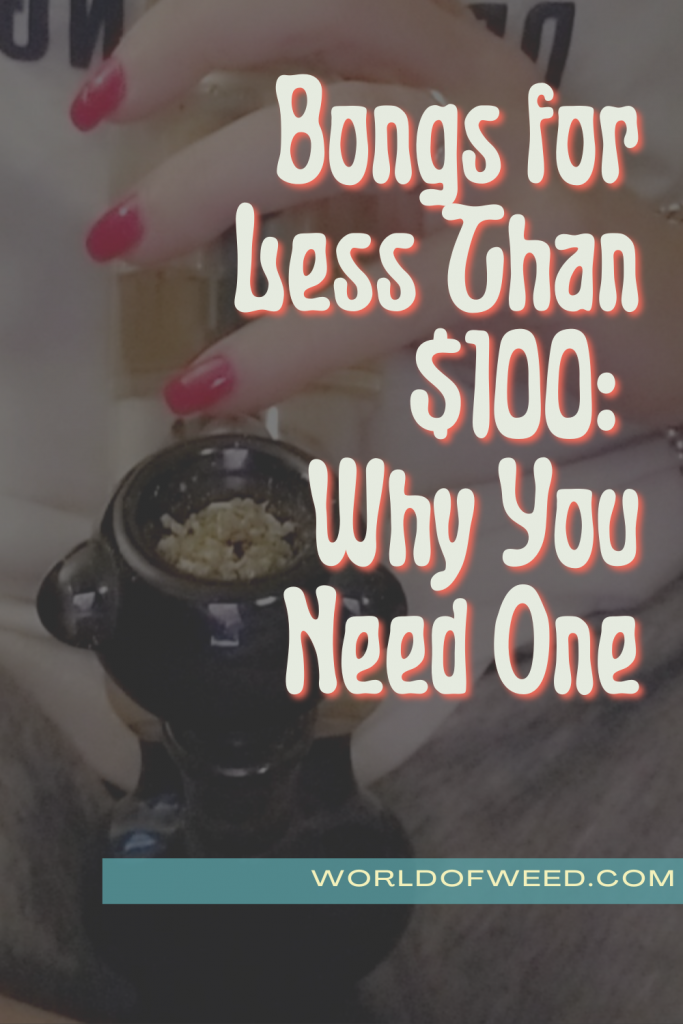 Bongs for Less Than $100 in Washington
Because of their seemingly endless reign of popularity, many dispensaries and smoke shops tend to sell bongs at high prices. It's very easy to take advantage of a newer consumer by exaggerating the quality of the glass, primarily by nothing other than a high price point.

Here at World of Weed, we have a variety of bongs for less than $100. Just as with cannabis strains, with the numerous options of bongs, there is a price for everyone's budget.

Reasons to Buy Bongs for Less Than $100
If you're still on the fence about bongs for less than $100, star-struck by the high price tag that oozes luxury, take a look at some of the reasons why the more cost-friendly bongs are a great addition to any glass collection.

1. Bongs under $100 are easy on the wallet
This may be the most obvious reason of all, but it is worth stating that bongs for less than $100 are within the affordability range for most stoners. After all, if you're able to regularly replenish your stash, you are likely able to afford a one-time price for a nice glass bong.

While some cannabis consumers may feel their tight budget will limit them to just a glass pipe or a simpler bubbler, they may be surprised. A bong could still potentially be within their price range. For example, here at World of Weed, we offer a little bong for just $25 and a medium-sized bong for only $49.

By buying bongs for less than $100, you can add some variety to your collection without having to spend a fortune.
2. More comfortable to travel with
Let's be real here: None of us are taking a road trip or going for any other type of long drive without toking.

For many stoners, a bong is just another trip essential right along with sunscreen and your suitcase. But, many people are (understandably) hesitant about bringing a fragile and expensive glass bong out of the house and into the unknown.

This is where the bongs under $100 come in.

Because these bongs are not as expensive, they make fantastic travel pieces. You can keep your main, daily drivers and your nicer pieces safe and sound in the house, while you head out on your adventure with the more affordable substitute.

Whether you're going over for a sesh at your buddy's house or booking it across the country, bongs for less than $100 make the perfect cannabis accessory to bring along on your trip.

Just don't forget your grinder and poker!
3. Deliver the same experience
Cannabis consumers don't pick their bongs solely for the visual appeal (although that's a big factor). The water filtration is taken into account, as this allows for smoother hits without effort. Even bongs for less than $100 can come with this benefit.
Bongs in this price point are still produced with the primary elements of any basic bong:

Bowl: Where the weed goes. The bowl is removable, so the smoke can flow through the body of the bong.
Base: This is the bottom of the bong, which can come in a range of shapes. The base is where the water goes, the chamber that filters the smoke.
Carb: The hole that allows smoke to rush from the base of the bong into the smoker's lungs. The carb is visible after the bowl is removed.
Downstem: The long, narrow tube that runs from the bowl to the base.
Body / Tube: The part connecting the base to the mouthpiece. More often than not, the downstem will have percolators and other additional filters.
Despite the less expensive price, bongs for less than $100 are still made of durable glass. While they certainly wouldn't survive a fall onto a tile floor, they will withstand the normal wear and tear that glass pipes do not.

4. Contain percolators of a wide variety
When choosing a bong, one of the most important components to consider is the percolator. After the water passes through the chamber, the smoke will also pass through the percolators. These play a key role in cooling down the smoking, leaving the user with a smooth hit that isn't too harsh on the throat.

Now, while it's true that the more expensive bongs tend to have more visually appealing percolators, the bongs for less than $100 still have percolators that effectively cool the smoke.
5. Make for the perfect "daily driver"
Just as wine enthusiasts have different views about imbibing, so do stoners have different views about smoking. Whereas some cannabis enthusiasts may prefer to use their headiest, most expensive pieces every day (especially if they are a cannabis influencer), other smothers prefer to reserve those pieces for special occasions.

With this mentality, bongs for less than $100 are important to have around. They're perfect for smoking the day away, without risk of damage to your more expensive pieces.
Buy Bongs for Less Than $100
Every stoner has their own individual experiences with cannabis. That being said, bongs for less than $100 are inherently invaluable, offering benefits you don't get with an expensive piece. From the budget-friendly price to the lack of major risk, these more affordable bongs deserve a place in your collection.

Contact us – or stop on by – for more information about our glass selection and our bongs for less than $100
---
Disclaimer: Marijuana has intoxicating effects and may be habit-forming. Smoking is hazardous to your health. There may be health risks associated with consumption of Marijuana. Marijuana, in any form, should not be used by individuals that are pregnant or breastfeeding. Marijuana is intended for use only by adults 21 and older. Keep out of reach of children. Marijuana can impair concentration, coordination, and judgment. Do not operate a vehicle or machinery under the influence of this drug. This product may be unlawful outside of Washington State..