From bangers to torches, we could all use that extra addition to our dab cart to make dabbing even more of an experience. Whether you're shopping for a collector with an enviable stash or someone who is just starting to explore concentrates, we've got you covered with this list of the Best Holiday Gifts for Dab Lovers.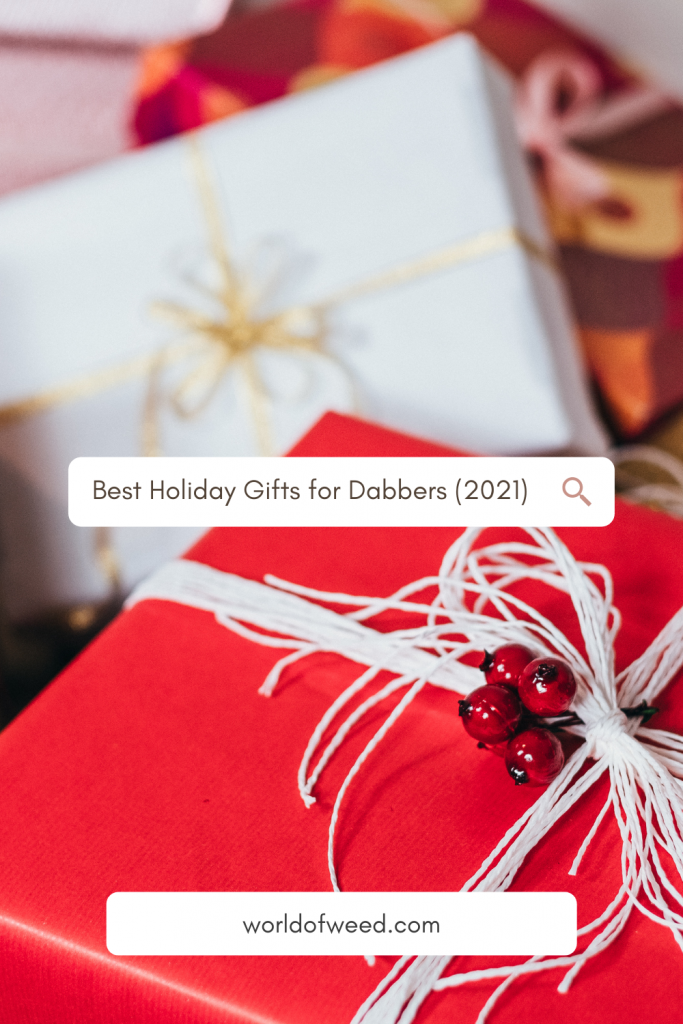 6 Best Gifts for Dab Lovers
1. For The Traveling Dab Enthusiast: The Vuber Dabber Kit
If you've ever been given the oh-so-very important task of bringing dabs to a sesh, you know exactly how anxiety-inducing it can be to make sure everything arrives in one pieces — and that you didn't forget anything, like the butane. That's where this portable vaporizer comes in.

The Vuber portable Dabber is designed to deliver powerful dabs, regardless of where you are. You don't any any torches, butane, or even coils to dab with this. Just fill up the glass with water, select one of the three provided attachments (titanium, ceramic, or quartz), choose your preferred temperature, and then take your dab.

2. For The Environmentally Conscious Dabber: The Pax Era Pro
This portable vaporizer from Pax is always on, discrete, and easy to use. It has dose control with predictable, full-flavored hits of cannabis that was hand-picked for purity and flavor. The best part for the earth-attentive stoner? This Pax Era Pro has a lower carbon footprint than other similar devices, as it has over 250 puffs in it per charge, meaning it has to be charged less often. The less electricity being used, the less of an impact the device and its use have on the environment. 

The environmentally conscious dabber on your list can get baked and rest easy knowing they are puffing on a device they can trust.
3. For The One Who Burns Their Dabs: The Pulse Touch
Do you have someone on your list that has a perpetually blackened banger when it's time to sesh? It's time to get them the Pulse Touch, the newest product in the Vuber Pulse line-up. What's extra special about this vaporizer is that it has a patent-pending "Never Burn" technology that tapers the heat as you draw in your hit, allowing you to attach any cartridge and be certain you will have best flavor to experience. The device reads the resistance of the cartridge and automatically adjusts the settings for optimal use. Boom. No more burned dabs for your friend.

4. For The Dabber Who Always Breaks Their Glass: Silicone Rig With Titanium Nail
If you know someone who loves to dab, but is prone to breaking their pieces, you may want to think about getting them a silicone rig with a titanium nail. This is one of the best holiday gifts for dab lovers who tend to break things.

Silicone rigs have several unique advantages:

They're easier to clean than glass, primarily because of the level of care that is needed. If a glass piece slips out of your wet hands, it will break. A silicone rig, on the other hand, will not. Silicone can also be run through a dishwasher, whereas a glass rig would be far more likely to break. Furthermore, silicone also does not seem to accumulate as much resin as glass.
Silicone is much lighter than glass, making it more comfortable to hold for long periods of time. You can also put it in a travel bag without worrying about the extra weight being a problem — or about breakage during your trip!
It's much easier to store a silicone rig, as they are not prone to breaking like glass pieces are. You can easily store several together, or even on top of one another, without issue.
Silicone pieces are easier and safer to carry around, whether it be in your hand, on your lap, or in your backpack or purse.
The grip is easier to hold on a silicone rig, leading to less breakage.
Shop Silicone Rig With Titanium Nail

5. For the Dabber You Want to Spoil: A Glass Dab Rig
Mary Janes Glass Productions glass pieces are an absolute must on any list of holiday gifts for dab lovers you want to spoil. These glass dab rigs are tailored to create the perfect smoking experience, and their various designs will bring a sense of elegance and style to any sesh.

6. For The Fancy Dabber: Blue Roots Cannabis MAC Sugar
This is the most expensive (per gram) concentrate we have, and it's tested at 80.19-84.19% THC for a true, knock-your-socks-off experience. MAC was created through the crossing of Alien Cookies x Colombian x Starfighter. This strain, also known as Miracle Alien Cookies, is a potent and euphoric, yet very well-balanced, heavy hitter. This sugar offers a sweet and spicy aroma, reminding one of diesel and fresh earth, with just a hint of citrus. The fancy dabber on your list can expect a dank and pungent flavor that is every bit as unique as it is delicious. A little bit goes a long way with this sugar, so you're giving a gift that keeps on giving. 

Shop Blue Roots Cannabis MAC Sugar

Which of these six best holiday gifts for dab lovers are you adding to your shopping list first?
BLACK FRIDAY DEAL: Select 8ths of flower from numerous vendors are 50% off
---
Disclaimer: Marijuana has intoxicating effects and may be habit-forming. Smoking is hazardous to your health. There may be health risks associated with consumption of Marijuana. Marijuana, in any form, should not be used by individuals that are pregnant or breastfeeding. Marijuana is intended for use only by adults 21 and older. Keep out of reach of children. Marijuana can impair concentration, coordination, and judgment. Do not operate a vehicle or machinery under the influence of this drug. This product may be unlawful outside of Washington State.