The holiday season is supposed to be one of merriment and wonder, but for many people, the holiday season can take a toll on mental health. The holidays can trigger depression in people for a long list of reasons. Perhaps you cannot see your family for the holidays or are in a tight financial situation. If you're fighting the holiday blues, it can be difficult to see others with extra joy and fun during this cold season. 

Seasonal depression is actually very common. In fact, in any given year, approximately 5% of the entire U.S. population experiences seasonal depression.

This sadness can be especially overwhelming during a time of great transition or change. Christmas and New Year's Eve often come with challenging obligations, from back-to-back parties and expensive gift lists to family demands. All of this tends to bring on high levels of stress for many people.

If you find yourself dealing with severe stress or depression, just know you are not alone in this. Also, know that there are effective ways to go about managing mental health during the holidays — and cannabis is a big part of them.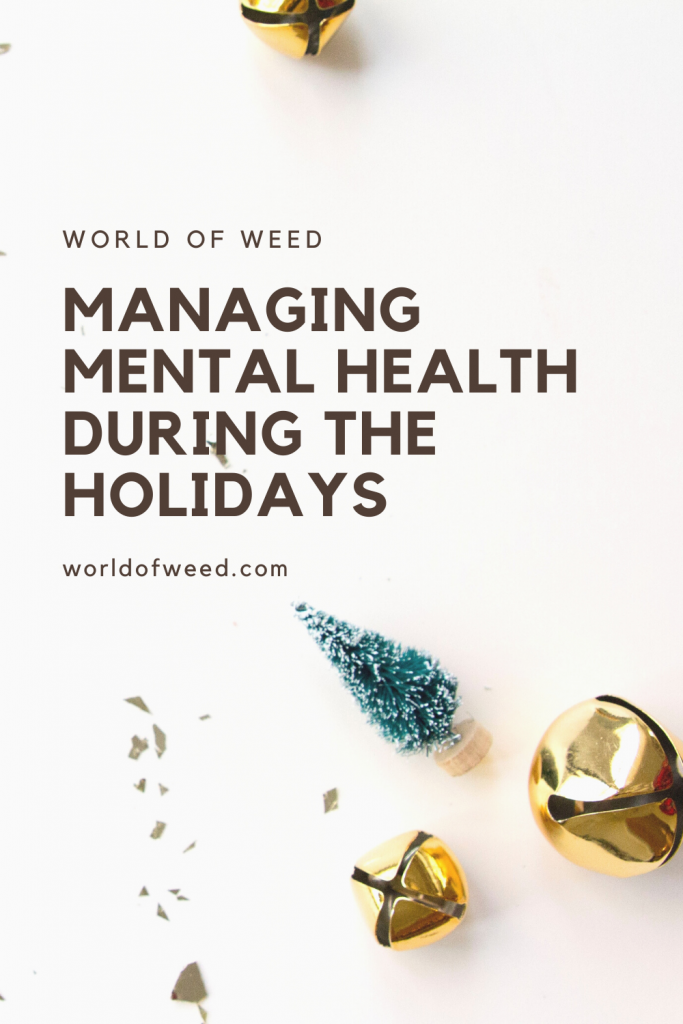 5 Ways to Manage Mental Health During the Holidays
With the unique challenges this year has presented (pandemic stress, isolation, and reruns on TV), it's more important than ever before to practice self-care throughout the colder holiday months.

The following are just a few ways to manage mental health during the holidays.

1. Take the time to rest
This seems like an obvious one, but it's one of the most important and often the hardest to accomplish.

Chances are, you have at least a couple days off work during the holidays, so take full advantage of that. Stock up on relaxing edibles from your favorite Tacoma dispensary, turn your phone on silent, and take some much-needed "just me" time. Munch away on your edibles as you get cozy in front of the television.

Remember, rest is not a privilege. It's a need. Your body literally needs to be able to rest like this, without worry or obligations. Take these opportunities when you can get them.

2. Managing seasonal blues
Seasonal Affective Disorder, or the "seasonal blues" is one of the biggest reasons behind increased levels of stress, anxiety, and depression symptoms during the holidays. For some people, it's nothing more than a minor irritation in their daily life, but it can be debilitating for others.

Regardless of how severely the seasonal blues affect you, managing them is the key to managing mental health during the holidays.

Exercise – Bundle up and go for a walk around your neighborhood, taking in the beautiful Christmas lights hung up. Sign up for a yoga class. Do a workout at home. Whichever method you choose, get your body up and moving around. 
Use light therapy – Bright light therapy is an effective method of treatment for seasonal affective disorder. The most common type of light therapy utilizes a special type of lightbox, one that is much brighter than a lamp or other bulbs in your home. 
Eat balanced meals – With the hectic nature of the season, it can be easy to let healthy eating go to the wayside. Smoke some munchies-inducing flower to increase your appetite, and make sure to be eating three healthy meals a day. 
3. Virtual smoke seshes with friends
For some of us, it can be difficult to make time to see friends and get your puff on with a good smoke sesh. Catching up and spending time with friends is important during stressful times, like the holiday season. There are ways to enjoy time together virtually, including a smoke sesh or movie night.

4. Get your puff on solo
There is substantial research in support of using cannabis for alleviating mental health issues, especially when those issues stem from stress and anxiety. The main cannabinoids, THC and CBD, significantly affect mood, concentration, sleep, appetite, and more.

Cannabis also contains terpenes, which are responsible for taste, smell, and some effects of cannabis. These terpenes include limonene and pinene, both of which are widely used in traditional medicine for their aromatherapeutic benefits. While cannabis can help support many facets of mental health and wellness, it's also important to speak to a mental health professional if needed.

Consider pairing your cannabis with a healthy wellness activity like meditation or exercising. Take note of when your best times to smoke are, and set limits on your consumption to fit those times.

5. Seek professional help if needed
Despite best efforts, sometimes depression or anxiety can persist, accompanied by physical health issues: gastrointestinal distress, insomnia, irritability or hopelessness, and executive dysfunction. If these feelings are consistent and lasting, talk to a mental health professional.

We at World of Weed wish you a safe, warm, and happy holiday season. We're here to help!

Browse our menu for some uplifting strains to help you boost your mood.
---
Disclaimer: Marijuana has intoxicating effects and may be habit-forming. Smoking is hazardous to your health. There may be health risks associated with consumption of Marijuana. Marijuana, in any form, should not be used by individuals that are pregnant or breastfeeding. Marijuana is intended for use only by adults 21 and older. Keep out of reach of children. Marijuana can impair concentration, coordination, and judgment. Do not operate a vehicle or machinery under the influence of this drug. This product may be unlawful outside of Washington State.