There are so many ways to celebrate Father's Day with a cannabis-loving dad. Sure, you can always pick out the perfect wax or get him a great card, but it's also important to remember to make his day special by spending quality time with him.

There are plenty of fun Father's Day activities you can do with a stoner dad. Whether you're celebrating in person or doing this virtually, there are bound to be a few things on this list that will put a grin on your father's face.

Now, before you put your planning hat on, determine what kind of celebration your dad would like: Does he prefer a full itinerary with lots of Father's Day activities, or does he want something more low-key and chill? Figure that out, and then work your way down this list to find the best ways to celebrate Father's Day with your stoner dad.

With activities ranging from free activities you can do at the house to all-day plans that will take you on a cannabis adventure, you're guaranteed to find something on this list that your stoner dad will love.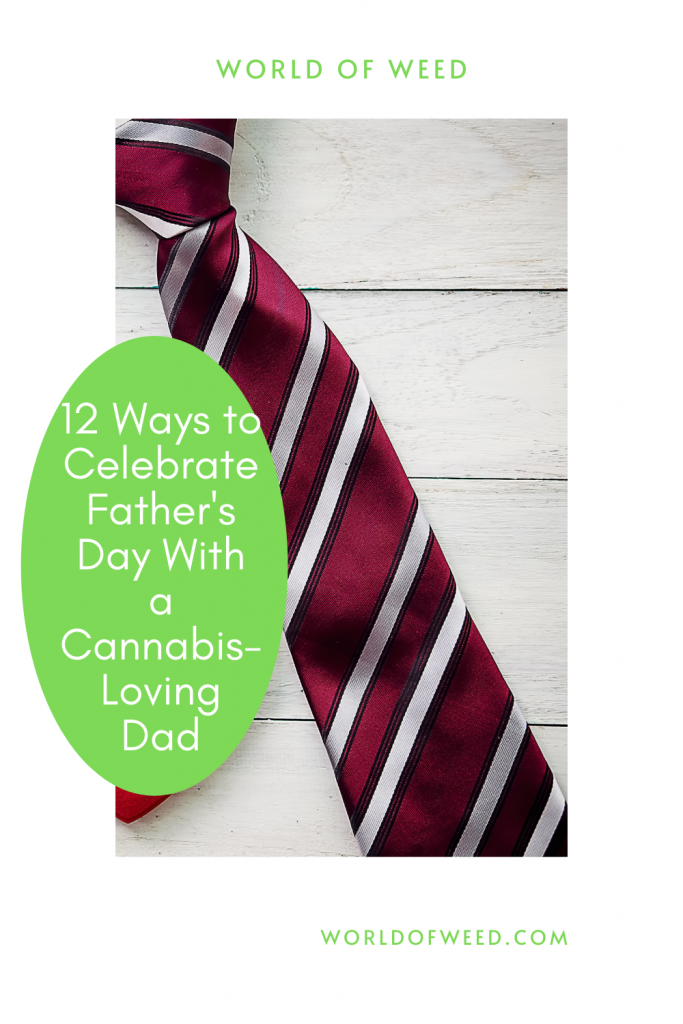 12 Ways to Celebrate Father's Day With a Stoner Dad
1. Use your fire pit
Take in the sunset with dad this Father's Day as you pass the bong and roast marshmallows for S'mores over the fire pit. As you two satisfy the inevitable munchies you get from blazing together, share your fondest memory with him. It'll make this moment even better for him.

2. Get in a workout
There's something to be said about smoking before exercising. It relaxes your muscles and enables you to perform better and for longer. If your cannabis-loving dad enjoys working out, it's time to skip the couch sesh and hit the trails or jog along the beach. Or, if he doesn't feel like going anywhere, let him design a home workout that you can do together in the comfort of your own home. 

3. Have an indoor picnic
Push the furniture to the side in your living room to create an outdoor picnic area, but indoors! Include your dad's favorite strains and favorite snacks. The plus side? No bugs or nosy park goers!
4. Enjoy a weed tasting
Is Dad a cannabis connoisseur? Have a weed tasting at home with several different strains. Try to guess what they are as you take into consideration the appearance, aroma, flavors, and effects.
Browse our menu for a wide variety of strains!

5. Cook a meal together
If your dad looks up to people like Gordan Ramsay, consider doing something in the kitchen as one of the ways to celebrate Father's Day. Have the bong handy on the counter as you cook a meal you wouldn't normally make, such as bison burgers. Tackling a difficult recipe may seem like a challenge, but the memories and outcome will be worth it.

6. Have a family game night
This year, visit the family for a fun game night by playing classics like Dominoes, Monopoly, or Jenga. Smoke on some sativa strains to stay lifted through the night and in a euphoric, social mood.

7. Smoke and paint
With a nod to wine and paint nights, have a smoke and paint night with your stoner dad. One of the best ways to celebrate Father's Day is to create something together. This year, get a couple of canvases and paint and some creative strains and get to painting while you blaze together. 

8. Take him shopping. . . at the dispensary
If Dad is overdue for a re-up on his stash, why not take advantage of this free time and get some cannabis shopping done at your favorite Tacoma dispensary. Check our menu and blog for the latest deals and products!

9. Hit up the golf course
If you ask Dad about ways to celebrate Father's Day, is golf at the top of his list? If so, make his wish come true with some time at the golf course. Take things a step further by getting his gear organized and stocked his bag with edibles and arranging transportation for him.

10. Go hiking
Take advantage of the day to have deep conversations with your dad while smoking in the great outdoors by going for a hike this Father's Day. Let your dad pick the spot and plan on taking some photos together.

11. Have a movie night
Put together a fun movie night featuring all of your dad's favorite movies. Be sure to include popcorn, beverages, and plenty of weed. Get extra lifted with dad with some cannabis sodas.

12. Go fishing
Fishing is one of the classic ways to celebrate Father's Day – and with good reason. When do you get another chance to stand together and wax philosophical about life while enjoying the serenity of the outdoors? Make him laugh and think with these stoner thoughts to ponder while high.

So, you've bought your stoner dad the perfect gifts for Father's Day, but what about finding ways to celebrate Father's Day itself? Generally, the weather is nice and there are plenty of chances for some bonding and fun. Whether you choose to spend quality time with your whole family or just your dad, these stonerific ways to celebrate Father's Day will help you create lasting memories you'll cherish forever. 

---
Disclaimer: Marijuana has intoxicating effects and may be habit-forming. Smoking is hazardous to your health. There may be health risks associated with consumption of Marijuana. Marijuana, in any form, should not be used by individuals that are pregnant or breastfeeding. Marijuana is intended for use only by adults 21 and older. Keep out of reach of children. Marijuana can impair concentration, coordination, and judgment. Do not operate a vehicle or machinery under the influence of this drug. This product may be unlawful outside of Washington State.