Part of the fun of seshing with friends is having deep conversations about things like which letter in "scent" is silent and whether or not aliens exist.

To give you some talking inspiration for your next sesh, we've compiled thirty of the best stoner thoughts and questions for you to ponder.

These are thoughts and questions we've thought of, heard, or read, and we're bringing them to you.

Spark up and keep reading. 
30 Best Stoner Thoughts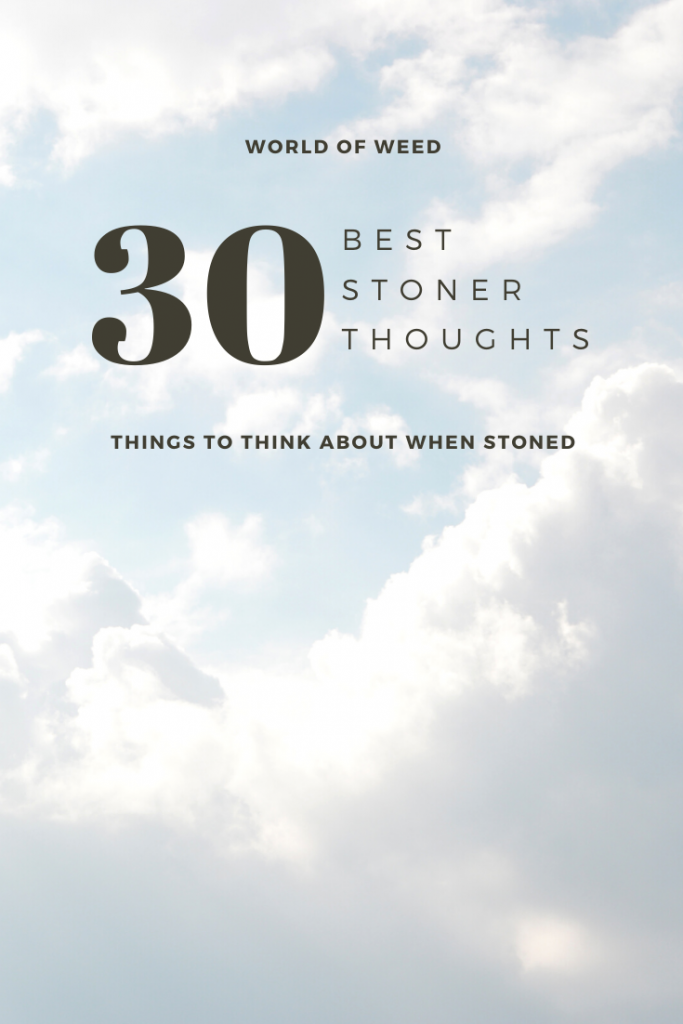 1. Who decided the alphabet was in alphabetical order?

2. If oranges are orange, why are limes not called "greens"?

3. What does water taste like?

4. If you drop soap on the floor, is the floor clean or is the soap dirty?

5. Can you daydream at night?

6. If someone dies in a living room, is it still a living room?

7. If you buy a bigger bed, you're left with more bed room but less bedroom.

8. If you smoke weed on a boat, does that make it seaweed?

9. If you're in a competition by yourself, do you come in first or last?

10. If life is unfair to everyone, does that mean life is actually fair?
11. Nothing is ever really on fire, but rather fire is on things.
12. Actions supposedly speak louder than words, but speaking is also an action.

13. Which came first, the plant or the seed?

14. Technically, the brain named itself.

15. If you get scared half to death twice, do you die?

16. At some point, your parents set you down and never picked you up again.

17. If you clean a vacuum, do you become the vacuum cleaner?

18. If tomatoes are a fruit, does that mean ketchup is a smoothie?

19. Being "up" for something means the same thing as being "down" for something.

20. What do teeth taste like? Does everyone's teeth taste differently?

21. Humans cut down trees for paper on which to draw trees.

22. How does a sponge hold water if it's full of holes?

23. An echo can't talk, but it can still reply.

24. Ice cubes float in a pool of their own blood.

25. If you try to fail, but end up succeeding, which did you actually do?

26. The word "bed" looks like a bed.

27. Is a gingerbread man made of house, or is his house made of flesh?

28. Belle and the Beast have to buy all new furniture for their castle — it all turned into people!

29. Do pets name their owners?

30. Right now, you are both the oldest you have ever been and the youngest you will ever be again.
What stoner thoughts would you add to this list? Share with us down in the comments.
---
---
Disclaimer: Marijuana has intoxicating effects and may be habit-forming. Smoking is hazardous to your health. There may be health risks associated with consumption of Marijuana. Marijuana, in any form, should not be used by individuals that are pregnant or breastfeeding. Marijuana is intended for use only by adults 21 and older. Keep out of reach of children. Marijuana can impair concentration, coordination, and judgment. Do not operate a vehicle or machinery under the influence of this drug. This product may be unlawful outside of Washington State.