Differences Between Bongs, Pipes, and Dab Rigs
If you're new to smoking, you may feel a bit overwhelmed at all the glass options available.

How do you know which one is best for you?

We go over the basics of what bongs, pipes, and dab rigs are, as well as the different types and functions.

If you have any questions, your budtender will be happy to help you find what you're looking for.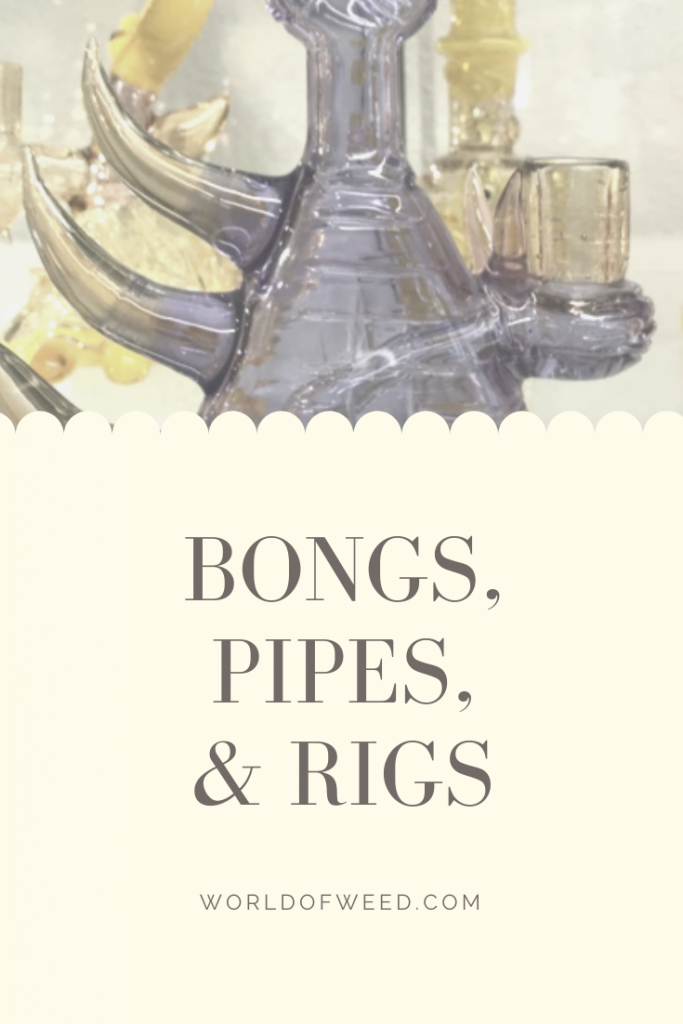 Bongs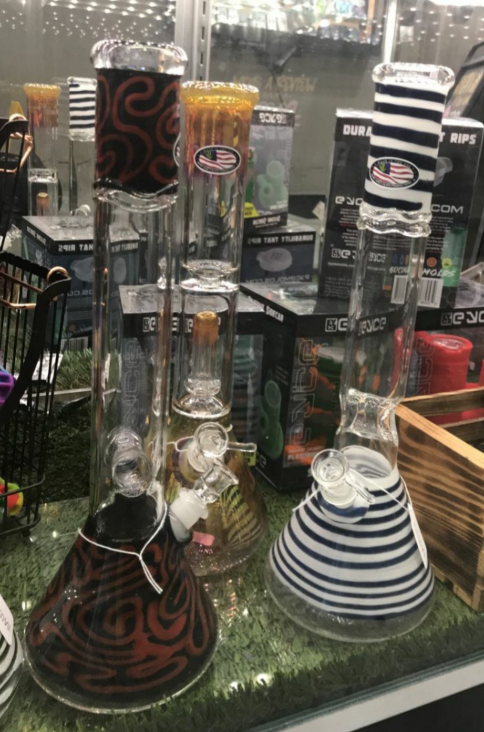 Bongs are for flower, whether it be ground or simply picked apart.

Parts
Bongs come with three parts: The bong itself, the downstem, and a bowl piece.

Types of Bongs
Bongs come in a vast variety of designs, but they follow the same basic types: Beaker (flared base), straight tube, round base, multi-chambered / recycler, and percolators.

Beaker and round bongs tend to have more stability to them and can hold more smoke. Straight tubes are exactly that – a tube.
The multi-chambered / recycler bongs have the same basic design as a straight tube bong, but with differently shaped chambers inside. This allows the smoke to cool before it reaches your mouth, giving you smoother hits. These tend to be more expensive and difficult to clean.

Finally, percolators allow the smoke to filter (and bubble) through the holes of the percolator before inhalation, providing cooler and smoother hits. These also tend to be more expensive and difficult to clean.
Pipes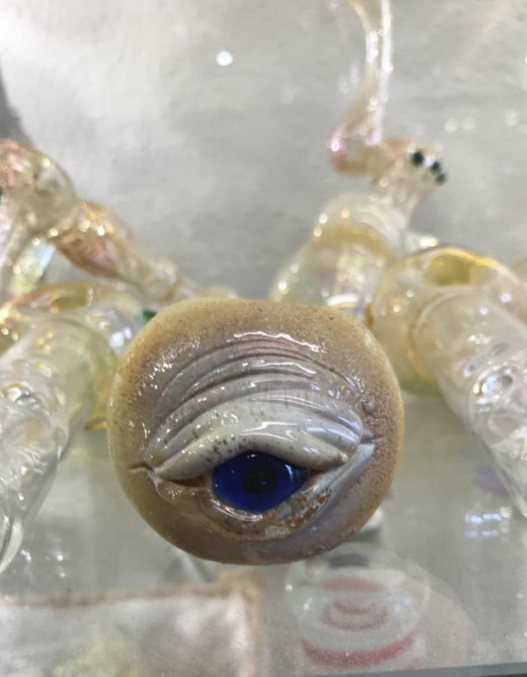 Pipes are for flower, ground or picked apart.

Types of Pipes
Just like bongs, pipes come in a wide variety of designs that follow the same basic structure. There are a few different types of pipes: Spoon, steamroller, and one-hitter / chillum.

The spoon pipes are the most common types of pipes, and are shaped like they're named. They're one piece of glass with a bowl for your flower, a carb hole, and the mouthpiece. These are good for multiple hits, and can be very discreet (depending on the pipe). They're easy to clean and easy to take with you on the go.

A steamroller is a long, straight tube with a bowl piece at the end and the mouthpiece on the other. These are great if you want to take long hits but don't want to hit a bong.

A one-hitter, or chillum, is a small pipe that only holds a single hit of flower. These pipes are shaped like a straight tube, with the bowl for the flower at one end and the mouthpiece at the other. These come in a variety of styles that range from intricate works of art to what looks like a cigarette for simple discretion.

Dab Rigs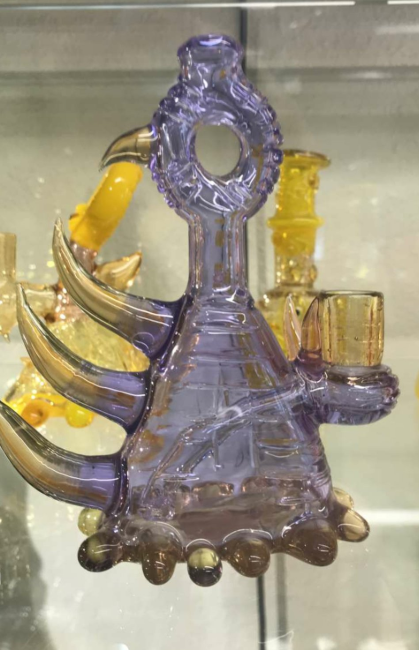 Dab rigs are used to smoke concentrates or extracts. However, it's worth noting the user is not actually smoking the product in the usual sense. Instead, dabbing is actually inhaling vapor from vaporized product rather than smoke from combusted product.
Parts
There are two parts to a dab rig: The rig itself and the nail.

Dab rigs resemble bongs, though are generally smaller. The method used for heating, transforming, and consuming the product ("taking a dab") is far different than the method for using a bong.
The key part of the dab rig is the "nail", so named because it looks like a carpenter's nail. This nail then wedges onto or within a glass joint on the rig.
The nail is heated up using a hand-torch until it reaches 315 – 450 degrees Fahrenheit. When the nail is heated, the product is dropped or placed onto the heated nail, where the product is flash-transformed into vapor the user inhales.

Types of Dab Rigs
Just as with bongs, there are several types of dab rigs – all of which come in a wide array of designs. The types of dab rigs are: Standard, mini, honey straws / nectar collectors, and recycler.

Mini rigs can fit in your hand and can be as simple or as intricately designed as you can imagine.

A honey straw / nectar collector is basically a straw for dabbing and is unlike any other type of dab rig. With other types, you place the concentrate (dab) on the nail. However, with a nectar collector, you place your concentrate on a glass dish. The end of the "straw" is heated with a hand-torch, and then placed directly over the concentrate to turn it into vapor – which you then inhale.

Recyclers are the least portable option, but probably the most aesthetically pleasing. Recycler dabs move the water through multiple chambers to filter the water and deliver the smoothest hits possible.
Finally, most bongs can be converted into a dab rig with the right nail.
Which Should You Pick?
Whether you choose a bong, pipe, or rig depends on what you're smoking, how you want to smoke, and what your budget is. Pipes are going to be the most affordable of the three options, whereas bongs and rigs can get up there in price. If you want a lot of smoke – and want to get really stoned – go for a bong or a dab rig.

If you're dabbing, you want a rig. Take into account size, aesthetics, and budget. We've got something for everyone here at World of Weed.

---
Disclaimer: Marijuana has intoxicating effects and may be habit-forming. Smoking is hazardous to your health. There may be health risks associated with consumption of Marijuana. Marijuana, in any form, should not be used by individuals that are pregnant or breastfeeding. Marijuana is intended for use only by adults 21 and older. Keep out of reach of children. Marijuana can impair concentration, coordination, and judgment. Do not operate a vehicle or machinery under the influence of this drug. This product may be unlawful outside of Washington State.