Looking for the best Valentine's Day chocolates? Over the years, chocolate has become more and more abundant. It's easy to find good quality chocolates these days.

But, it's much harder to find high-quality, cannabis-infused chocolates.

Here, we list a few of our recommendations for chocolate bars, malt balls, and bon bombs that will be sure to make your Valentine light up on February 14th.
The Best Valentine's Day Chocolates are Cannabis-Infused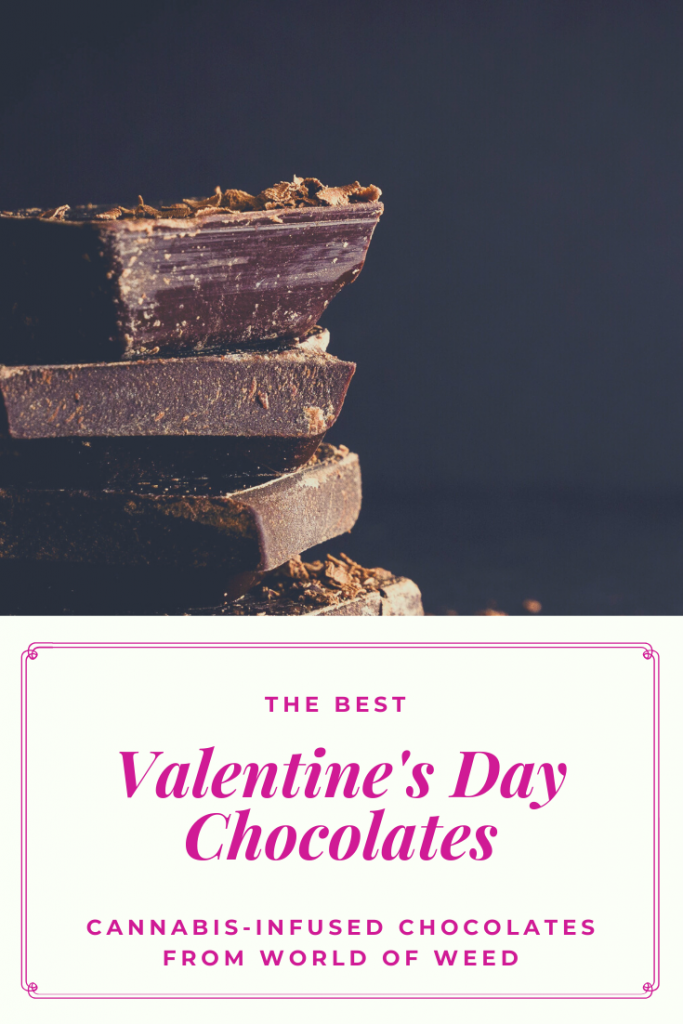 Spot Milk Chocolate Bars
Spot offers rich and luxurious, French Couverture milk chocolate bars in both indica (100mg THC, 100mg CBD) and sativa (30mg THC, 100mg CBD).

Delight the chocolate-loving stoner in your life with a 10-pack of sensational milk chocolate bars, infused with cannabis for a treat that gets them lifted.
The 4.20 Bar Mini Chocolate Bars
CBD 10:1 Milk Chocolate Bars
These smooth, creamy milk chocolate bars contain CBD and THC in a 10-to-1 ratio (THC 10mg, CBD 100mg per package of 10). These bite-sized treats are made with Fair Trade 38% Cacao. They're gluten-free and all-natural.

Dark Chocolate Hazelnut
These bite-sized bars of deliciousness are full of cannabis, dark chocolate, and lightly-toasted and locally grown hazelnuts. These bars are made with Fair Trade 72% Cacao, are gluten-free, and are all-natural.

Dark Chocolate Sea Salt
Savory meets sweet with these dark chocolate and sea salt chocolate bars. Infused with cannabis and decadent as can be, these bars are vegan, gluten-free, all-natural, and made with Fair Trade 72% Cacao.

Milk Chocolate
These milk chocolate mini bars bring on feelings of euphoria guaranteed to put a smile on your Valentine's face. These melt-in-your-mouth morsels are creamy and classic milk chocolate infused with cannabis. Made with Fair Trade 38% cacao, gluten-free, and all-natural.

Hemp Crunch
Creativity and chocolate come together to create these mini hemp crunch bars. These milk chocolate bars contain crisped rice and hemp hearts, which are excellent sources of heart-healthy omegas). Made with Fair Trade 38% Cacao. Gluten-free and all-natural.

Milk Chocolate Toffee
Indulgent milk chocolate blends with crunchy toffee bits and cannabis to bring you these mini, bite-sized bars of decadence. Made with Fair Trade 38% Cacao, gluten-free, and all-natural.

Nasty Jack's Malt Balls
Malt Balls
Malt balls covered in creamy, sweet milk chocolate infused with cannabis. What more could your sweets-loving Valentine want?

Milk Chocolate Malt Balls CBD
These milk chocolate malt balls come in a package of 10, and have 10mg CBD and 1mg THC per malt ball. These hybrid edibles bring on mellow euphoria paired with full-body relaxation. These are the gifts that keep giving.
Verdelux Caramel Honey Bon Bombs
Gift the chocolate-loving stoner in your life something a bit different this Valentine's Day. These bon bombs are made from a delicious blend of brown sugar, butter, honey, and cream reduced over a low heat to perfection, and then dipped in dark chocolate and topped with Kosher salt. They're as decadent as can be, and true hybrids in every sense. Expect uplifting euphoria, paired with physical relaxation.
A gift from World of Weed is always guaranteed to be a hit. But, if you want to really give your Valentine something special this year, opt for the decadent chocolate edibles. Don't just give them any chocolate for Valentine's Day, give them cannabis-infused chocolate.
---
---
Disclaimer: Marijuana has intoxicating effects and may be habit-forming. Smoking is hazardous to your health. There may be health risks associated with consumption of Marijuana. Marijuana, in any form, should not be used by individuals that are pregnant or breastfeeding. Marijuana is intended for use only by adults 21 and older. Keep out of reach of children. Marijuana can impair concentration, coordination, and judgment. Do not operate a vehicle or machinery under the influence of this drug. This product may be unlawful outside of Washington State.