Valentine's Day is just around the corner, and that means it's time to really step up the romance. Whether you're planning a quiet night in or a fun night out with your sweetie, you'll want to make sure your Valentine's Day is filled with things that inspire feelings of euphoria and love.

In other words, aphrodisiacs.

Certain romantic strains are said to enhance lust and intimacy, including deep conversations. And we've listed out eight of them to help set the mood this Valentine's Day.
8 Romantic Strains for V-Day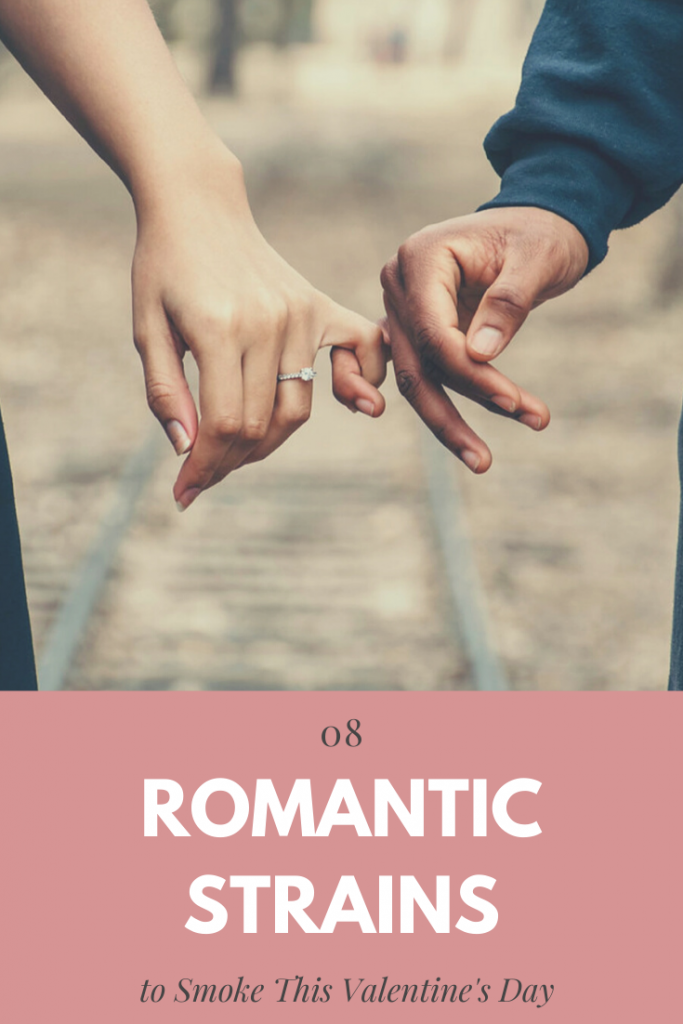 Grape Ape
Grape Ape is one of the most romantic strains to smoke on Valentine's Day. This indica initially brings on an uplifting, yet calming, euphoria that gives way to full-body relaxation. This is a great one to smoke while cuddling and watching a movie before bed. This powerful strain has a sweet berry aroma and leaves a grape taste upon exhalation.

Green Crack
Despite its intimidating name, Green Crack is a popular favorite — and with good reason. This sativa holds a sweet aroma and offers energizing hits. The strain's euphoric cerebral high and energizing body high makes this a great option for a night of conversation and romance. 

Northern Lights
Got the butterflies? Are you just a bundle of nerves before your date? Puff on some Northern Lights, and you'll be good to go. This indica hybrid is known to relieve stress and anxiety, replacing them with a euphoric head high and relaxed body high. Like many indicas, though, it can put you to sleep if you enjoy too much of it.

OG Kush
Body-stimulating indicas like OG Kush are great strains to smoke before a night of romance. Take a few puffs, and you'll get a sudden headrush that leads to enhanced focus and clarity; things seem brighter. This transformation of the senses leads to uplifting euphoria. The combination of mental stimulation and euphoria makes this the perfect strain for conversation and romance.

Chocolate Chunk
No Valentine's Day would be complete without chocolate — and that includes chocolate-y strains. Chocolate Chunk tastes and smells like mocha and, just like real chocolate, is sure to get both you and your partner in a romantic mood. Uplifting and relaxing, this strain is great for intimate conversation and romance.

Cookies & Cream
If you have a high THC tolerance and want to smoke one of the most romantic strains this Valentine's Day, then Cookies & Cream is a great choice. This hybrid is known for its high THC content (27.40-31.40%), which brings on a very uplifting and euphoric high that leaves you floating. This is perfect for a romantic night with Bae.
Trainwreck
Now, the name may not be romantic, but the strain itself sure is! This sativa hybrid hits quickly, offering a rush of euphoria and creativity, followed by physical relaxation. This is perfect for a Valentine's Day date.
CBD Critical Mass
If you don't want to consume much THC before you get romantic, CBD Critical Mass is the strain for you. This high CBD strain is a cross of Afghani x Skunk #1, and is great for relaxation and easing physical discomfort. Take a few puffs, and you'll get an uplifting sense of creative euphoria, but it won't bring on any strong couch-lock or put you to sleep. Because the THC levels are so much lower than the CBD levels (THC 7.60-11.60%, CBD 14.70-18.70%), this strain allows for more mental clarity while being romantic, but with the added bonus of relaxation.
WEED Be Good Together
Mixing weed and romance can lead to some beautiful results. Regardless of weed's ability to increase your lust on Valentine's Day, there are few things more romantic than sharing good bud with your other half. So, smoke away and enjoy one another's company.

Need romantic date ideas? Read this.
---
Disclaimer: Marijuana has intoxicating effects and may be habit-forming. Smoking is hazardous to your health. There may be health risks associated with consumption of Marijuana. Marijuana, in any form, should not be used by individuals that are pregnant or breastfeeding. Marijuana is intended for use only by adults 21 and older. Keep out of reach of children. Marijuana can impair concentration, coordination, and judgment. Do not operate a vehicle or machinery under the influence of this drug. This product may be unlawful outside of Washington State.