Valentine's Day is today and, if you're one of those people who waited until the last moment, you may be scrambling to find the perfect gift(s) for your stoner sweetie.

We've talked about romantic date ideas just for stoners, the best Valentine's Day chocolates, and the most romantic strains.

Now, it's time to give you some last-minute Valentine's Day gift ideas, all available right here at World of Weed.
Last-Minute Valentine's Day Gifts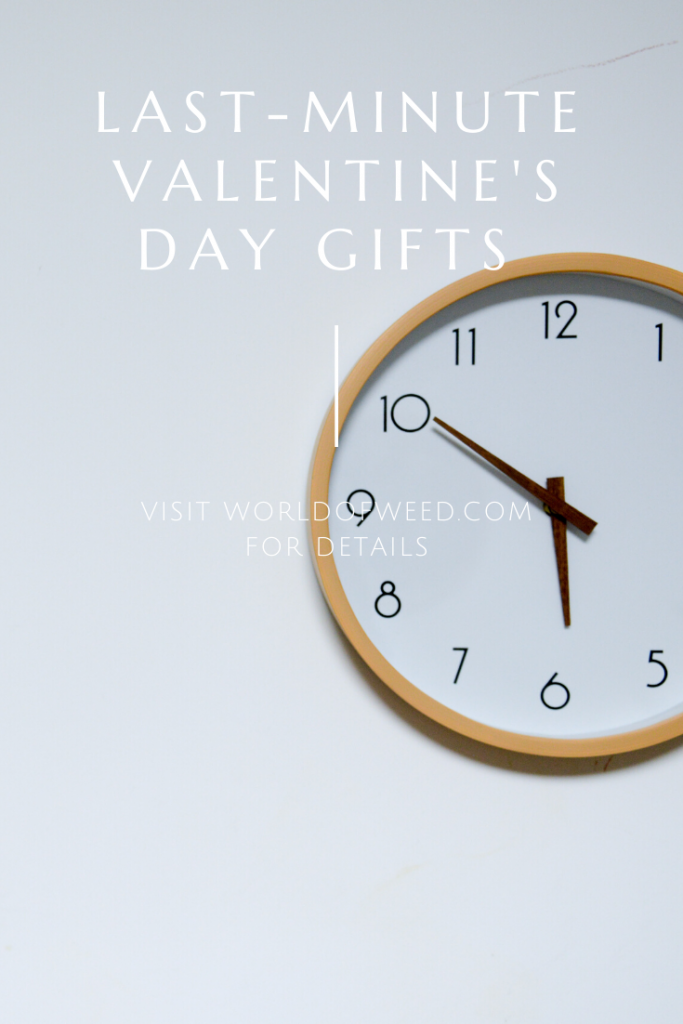 Flower
Wedding Cake
A strain with a super romantic name, Wedding Cake (aka Pink Cookies) is an indica hybrid that's perfect for a night with your Valentine. This cross of Triangle Kush and Animal Mints offers full-body relaxation, mental uplift and relaxation. You can expect a lovely euphoria and chill vibes. This strain is potent and its effects are long-lasting.

Dirty Girl
A cheeky strain for a sassy stoner Valentine, Dirty Girl is a great one to smoke before a fun date night. This potent sativa holds citrus and tropical flavors, paired with a pleasant, tangy pine aroma. Expect euphoric, energizing, and enhanced focus effects that make this perfect for a night of conversation, fun, and romance.

Glass
You can never go wrong with a bong, pipe, or rig. We've got plenty of options to choose from, and our budtenders will be happy to help you find the best one for your Valentine.

Plus, what better way to smoke those romantic strains than with a brand new piece?
Pre-Rolls
Grape Ape
One of the best strains to get into the mood for a night of romance, Grape Ape delivers on its name with a sweet grape flavor and aroma. This indica brings on a mellow, deeply relaxing experience. Vibe together by getting a pack of two.

Purple Punch
Looking for a night of dreamlike romance? Purple Punch can help with that. This indica was born through the crossing of Larry OG and Granddaddy Purple, and offers delicious grape aromas and flavors, with earthy undertones. Purple Punch delivers mental uplift, paired with physical and mental relaxation, for a hazy, dreamy high. These also come in a pack of two – perfect for sharing.

Concentrates
Obama Kush
Born through the crossing of Afghani and OG Kush, Obama Kush is a euphoric, yet relaxing strain that lends itself well to a night of getting cozy with your Valentine. The flavors of this wax are sweet and earthy, a true treat for the palette.

Candied Grapes Diamond Caviar
Really treat your Valentine to something extra special – diamond caviar. These premium dabs contain 69.90-73.90% THC and offer the euphoric, yet mellowing effects one would expect from a potent indica. These effects, paired with a romantic night, are sure to help create a memory you won't soon forget.

SHOP CANDIED GRAPES DIAMOND CAVIAR

If you're late buying gifts for the special stoner in your life this Valentine's Day, don't freak out. While we wouldn't recommend waiting all year to plan out your Valentine's Day, we understand things happen.

That's why we put together this list of the best last-minute Valentine's Day gifts. Shop from here, and your sweetie will never know you waited. 

We've laid everything out, but you've got to do the work. First, figure out what kind of present to get. Is it cannabis-infused chocolate? Or, perhaps they'd prefer a usable gift, like a new bong or pipe. Then, read this list, pick out a present – or a few – and come on in the shop to buy it, same day.

Here's to you finding the perfect last-minute Valentine's Day gift(s) for your stoner sweetheart!
---
Disclaimer: Marijuana has intoxicating effects and may be habit-forming. Smoking is hazardous to your health. There may be health risks associated with consumption of Marijuana. Marijuana, in any form, should not be used by individuals that are pregnant or breastfeeding. Marijuana is intended for use only by adults 21 and older. Keep out of reach of children. Marijuana can impair concentration, coordination, and judgment. Do not operate a vehicle or machinery under the influence of this drug. This product may be unlawful outside of Washington State.