A puff or two of the right strain can boost your confidence, put you in a romantic mood, or take you straight into an ocean of calm.

There are a lot of people who are loyal to the same strain day after day, month after month. Others are more likely to sample around. Relying on just one strain can be as limiting as owning one pair of shoes. Cannabis can be transformative, uplifting your mood and helping you to feel more euphoric or relaxed.

Whether you want to get in touch with your amorous side, start your day with a burst of energy, or escape into a sea of relaxation, you can harness the power of cannabis to enter the right state of mind. So, what are you in the mood for today?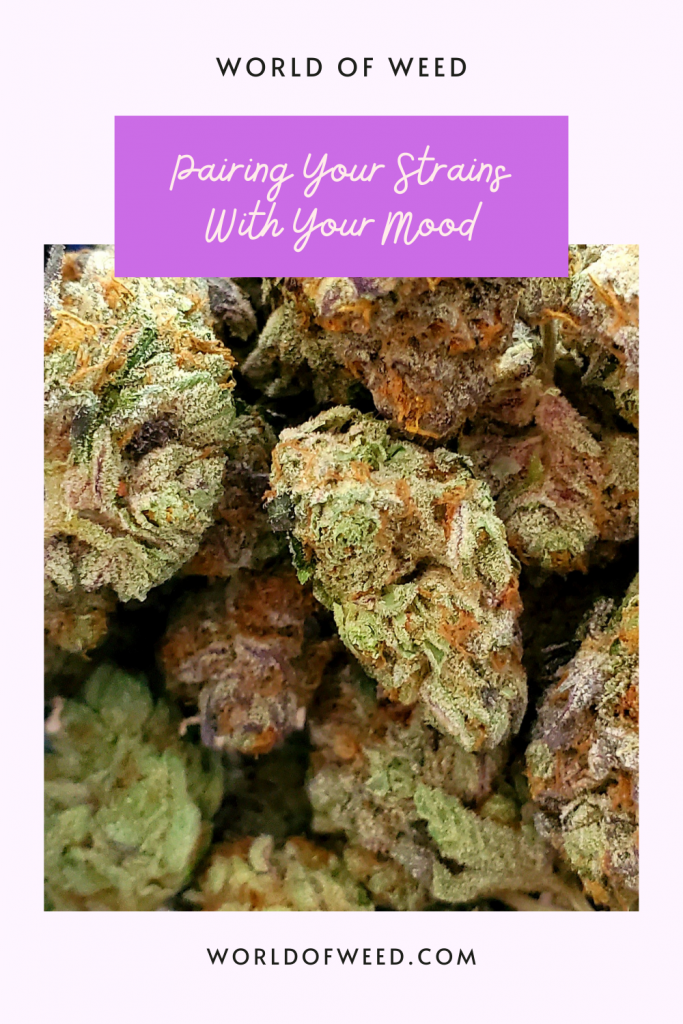 10 Cannabis Strains and Mood Pairings
1. You want to get a good night's rest
Need to take a sleeping pill? Smoke some Grape Ape. This potent indica tastes and smells of sweet grapes, with subtle berry notes. The high from this strain is incredibly relaxing, providing a full-body melt that can lead to some major couch-lock and a night of deep sleep. 

Another heavy indica that will promote sleep is Bubba Kush. This strain offers deep, heavy body effects that leave you feeling blissful and relaxed. You'll be mentally uplifted while your body stays calm and loose. Smoke enough and you'll fall into a deep slumber.
2. You want to feel at peace
If you want to feel content and at one with the universe, try some Wedding Cake. This indica hybrid is a cross of Triangle Kush and Animal Mints, and offers full-body effects of physical relaxation paired with mental calm. You can expect chill vibes and a pleasant mental euphoria that is long-lasting,

One of the most important factors in feeling zen is to take things as they come and look at the silver linings. A strain that helps with that is Do-Si-Dos. This indica hybrid is a cross of Girl Scout Cookies and Face Off OG. This strain produces strong mental and euphoric sensations that leave you feeling relaxed as can be, but also happy with the world around you.
3. You want to be social
When it comes to feeling uplifted, friendlier, and social, it's hard to beat Super Lemon Haze. This sativa-dominant hybrid is a Washington original and was created through the crossing of Lemon Skunk and Super Silver Haze, both of which are euphoric sativas on their own. This strain brings on intense happiness and the feeling of wanting to connect with others. It holds a tart, zesty lemon flavor and scent, with a strong sweetness to it that reminds one of lemon bars. 

Another social strain to try out is Green Crack, one of the most powerful strains around. This strain is a sativa, but presents some relaxing indica effects along with the sativa uplift, euphoria, creativity, and desire to socialize. The aroma and flavors are tropical, like mango and pineapple.
4. You want to start the day off right
With flavors of sweet tropical fruit and pungent earthiness, Pineapple Express is a delicious sativa hybrid that will have you feeling mentally uplifted, but also physically calm. Pineapple Express is the strain you want when you need to start the day off with a boost of euphoric energy.

The cerebral effects of the giggly, energetic Dutch Treat, a sativa hybrid, hit hard and fast, leaving you uplifted and euphoric. Your mind is stimulated and you're ready to start the day, but you're physically at ease and feel like you can take on the world.
5. You want to feel romantic
OG Kush is a body-stimulating indica that is sure to put you in a romantic mood. Smoke this, and you'll get a headrush that leads to enhanced focus and clarity; things seem brighter. This clarity is paired with massive euphoria, putting you in the mood for some conversation and a romantic night with your partner.

A cross of Sour Diesel and Aloha State, Hawaiian Diesel offers a delightfully sweet and tropical flavor profile. A fantastic strain for romance, this flower is uplifting and strongly euphoric.
If you're still unsure of which strains you want to pair with your mood, stop in and ask one of the budtenders. They'll help you find the best strains for your individual needs and preferences. 

---
Disclaimer: Marijuana has intoxicating effects and may be habit-forming. Smoking is hazardous to your health. There may be health risks associated with consumption of Marijuana. Marijuana, in any form, should not be used by individuals that are pregnant or breastfeeding. Marijuana is intended for use only by adults 21 and older. Keep out of reach of children. Marijuana can impair concentration, coordination, and judgment. Do not operate a vehicle or machinery under the influence of this drug. This product may be unlawful outside of Washington State.