If you've ever attempted to quit smoking cigarettes, then you know first-hand what an awful experience it can be. Nicotine withdrawal causes a long list of adverse effects that range from headaches and nausea to difficulty concentrating and insomnia. Because of these miserable symptoms of withdrawal, it's hardly any surprise that only about 6% of Americans successfully quit smoking cigarettes.

If you're trying to quit, but don't want nicotine supplements, you may find there are certain cannabis strains that are of great help when it comes to managing the symptoms of withdrawal that make quitting so difficult.

Below, we've listed a few of the most common effects of nicotine withdrawal and the cannabis strains that help users quit smoking cigarettes. All of these strains are available right here in our Tacoma dispensary.

Please be aware that none of the following should be considered medical advice. Consult with your doctor about your plan to quit smoking cigarettes.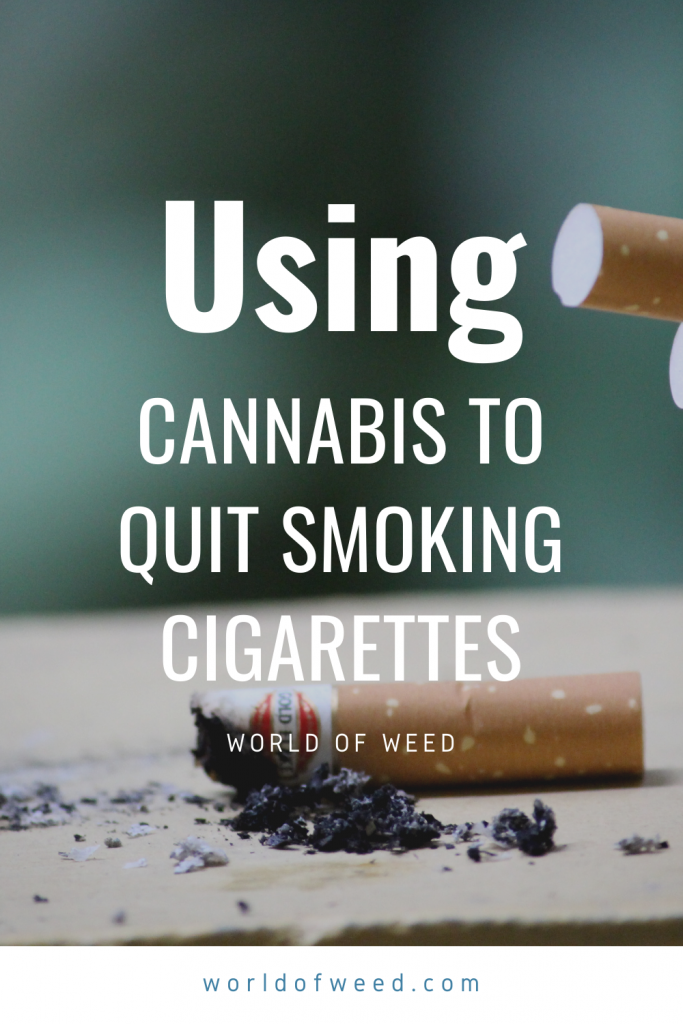 Symptoms of Nicotine Withdrawal and the Strains That Help
The symptoms of nicotine withdrawal are both physical and mental. The physical symptoms last a few days as nicotine exits the body, but the mental side effects can continue for a longer period of time.

While it may be miserable and unpleasant, nicotine withdrawal is not dangerous. It just feels like it.
Here are some common side effects of nicotine withdrawal and strains that help. 

Mood Swings
If you quit smoking cigarettes, you will likely experience some changes in your mood. You may feel irritable, restless, anxious, or even depressed. If you have these feelings, try some Dutch Treat.

The cerebral effects of this giggly, energetic sativa hybrid hit hard and fast, washing away those negative emotions and leaving you feeling uplifted and euphoric. At the same time, stress is reduced and your mind is relaxed. Expect a hazy, yet stimulated, feeling of calm and a full-body buzz. 
Headaches
The headaches that come on when you quit smoking cigarettes are no laughing matter; some can become migraines, constant reminders that make it hard to think of anything other than taking a drag. While it can be difficult to remain steadfast in these moments, there are some strains that can alleviate headaches and provide much-needed focus.

Granddaddy Purple is a potent indica that is commonly associated with headache treatment, and for good reason. This strain has been shown to reduce stress and anxiety that often comes with headaches, as well as promotes deep relaxation. It tastes and smells of sweet grapes, so it's a treat for both the taste buds and the body.

Perhaps less commonly suggested, Cherry Wine is a CBD-rich strain that will leave you feeling relaxed and content. It also alleviates headaches with just a bowl or two.
Trouble Sleeping
One of the most common symptoms of nicotine withdrawal is difficulty sleeping. You may either have trouble drifting off to sleep or find yourself constantly waking up during the night. Whatever the case may be, there are some potent indica strains that promote sleep. 

Grape Ape is a potent indica that delivers on its fruity name with delicious grape flavor and aroma. With a couple of bowls of this, you can expect a profoundly relaxing experience that's perfect for drifting off into a deep sleep. 

Bubba Kush is a pure indica that offers a deep, heavy body stone that will leave you blissful and sleepy. You'll be mentally uplifted while your body becomes sedated, allowing you to slip off into dreamland.
Nausea / Stomach Cramps
Nausea and stomach cramps can be particularly debilitating symptoms of nicotine withdrawal that happen when you quit smoking cigarettes. Both prevent you from getting the proper nutrients you need for recovery and overall health. This lack of appetite and therefore nutrients can make you feel irritable and lethargic, which can make your commitment to stop smoking cigarettes even more difficult. 

Fortunately, there are strains that address nausea and other digestive issues and work just as well when it comes to those caused by nicotine withdrawal. Blue Dream provides mental energy and creativity while relaxing the body and relieving pain. Excellent for relieving nausea, this strain also combats the stress and anxiety that arise when you quit smoking cigarettes.

Durban Poison is another energizing and euphoric strain but is also one that relieves stomach pain and increases the appetite. 
Inability to Concentrate or Focus
As previously mentioned, the headaches that come when you quit smoking cigarettes can make it supremely difficult to focus. There's more to it than just the headaches though, as nicotine dependence can lead to your brain not knowing what to do when nicotine is no longer being consumed.

Pineapple Express, a strong sativa hybrid, can be of great help in uplifting your mood and helping you focus while still feeling physically relaxed. This combination of effects goes a long way towards enabling you to concentrate and lessening the general irritability that comes from nicotine withdrawal. Likewise, Allen Wrench has been shown to enhance mental clarity and cause euphoria, while still relaxing you physically. This is the motivational speaker of the cannabis world.

Final Thoughts
We'd like to take a moment to congratulate you on your decision to quit smoking cigarettes. It's not an easy feat and there will be moments — even with the strains that help with withdrawal symptoms – when there's nothing you want more in the world than a cigarette. Stay strong and know that you can do this. You'll feel so much better, and your friends and family will be elated.

Want to browse more strains? Check out our menu! 

---
Disclaimer: Marijuana has intoxicating effects and may be habit-forming. Smoking is hazardous to your health. There may be health risks associated with consumption of Marijuana. Marijuana, in any form, should not be used by individuals that are pregnant or breastfeeding. Marijuana is intended for use only by adults 21 and older. Keep out of reach of children. Marijuana can impair concentration, coordination, and judgment. Do not operate a vehicle or machinery under the influence of this drug. This product may be unlawful outside of Washington State.