The stigma surrounding tattoos is easing up and tattoos are everywhere these days. After years of being hidden under long sleeves, it's now common to see tattoos on your budtender, cashier, doctor, or even your own mother. In fact, tattoos have been around since at least between 3370 BC and 3100 BC.

Cannabis – especially the non-intoxicating CBD – is also pushing through stigmas and having its time in the spotlight. Recent surveys show approx 12% of US adults smoke marijuana, and approximately 14% use CBD products. Just as with tattoos, people from all walks of life and all ages are getting in on the trend. Regardless of age, the most common reason people use CBD is to relieve pain and inflammation — which also happen to be two of the less-than-stellar side effects of getting that sweet pot leaf inked on your shoulder.

It's easy to understand, then, why so many people have turned to cannabis for tattoo preparation and aftercare. But, how do you use cannabis for tattoos?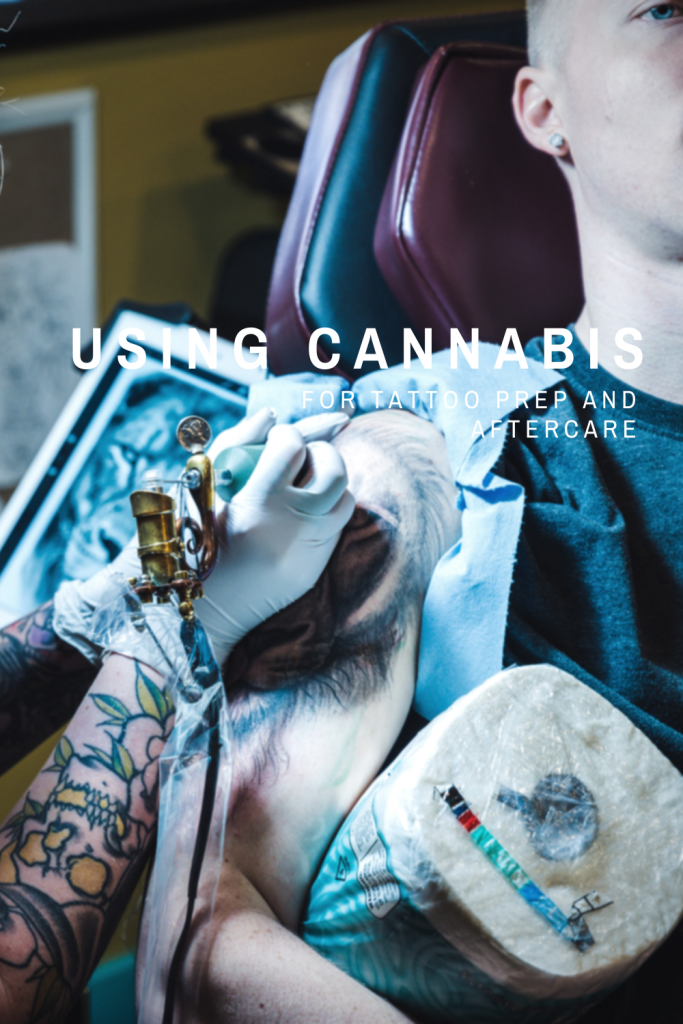 How Cannabis Helps With Tattoo Preparation and Aftercare
There is not much in the way of research on using cannabis for tattoo care (the scientists tend to focus more on the medical uses of cannabis, such as how it helps with depression, chronic pain, epilepsy, PTSD, IBS, anxiety, and other health conditions). That being said, there are some well-documented, proven benefits of using cannabis.

Here are some ways cannabis may help with tattoo preparation and aftercare:

Reduce pain and inflammation – This is one of the main reasons people turn to cannabis, especially CBD. There is plenty of evidence that shows CBD has anti-inflammatory properties. By reducing inflammation, CBD has shown to be an effective pain-reliever, which makes it a great option when using cannabis for tattoos.
Healing the skin – Cannabis, especially CBD, reduces redness and inflammation, but it also heals irritated skin and may help prevent infection. An Australian study found CBD to be effective against major bacteria, such as Staphylococcus aureus, the bacteria that causes staph infections.
Using Cannabis for Tattoos
Whether it's your first or twentieth tattoo, there are some ways you can better prepare for a tattoo session using cannabis.

Hydrate
You should stay hydrated for at least a week before your tattoo session. While it's important to stay hydrated all the time for overall health and proper bodily function, it's especially vital when you are getting inked. Staying hydrated makes your skin more resilient, better allowing it to withstand longer tattoo sessions and help you heal up faster once it's done.

Try some Happy Apple Sparkling Beverage after you drink water. This delicious beverage is made from apples, grown in the cleanest and clearest of air and water. Take a sip and enjoy the taste of truly happy apples, or drink the entire bottle and feel relaxed and healthy.
Moisturize
Just as it's important to hydrate the skin from the inside out by drinking water, so too should you hydrate the outside of your skin with a moisturizer. Use a cannabis topical, such as the Solace Topical CBD:THC. This is a deep-penetrating, feel-good topical. Topicals with full cannabinoid and terpene profiles are faster acting and more effective than CBD-only topicals. This topical is aloe vera-based, CBD dominant, and contains terpene-rich cannabis with additional nutritive and therapeutic ingredients. 

Moisturize your skin with the topical twice a day leading up to the tattoo session. This will make the skin take the ink better and make it easier for your artist to tattoo you. Just don't moisturize immediately before your tattoo session, because this can affect the function of the tattoo machine.

Relax
Get a good night's sleep before you have your tattoo session. Go to bed early, and try some tincture, such as the High Relief 20:1 tincture. This concentrated water tincture contains 250mg CBD and just 12.5mg THC for fast-acting relief that can easily be taken without the intoxicating effects of a lot of THC. This tincture can be taken under the tongue or added to any beverage for a calming treat.
Eat a Meal
You want to make sure to eat a healthy, well-balanced meal before going to your tattoo session. When you are hungry, you run the risk of passing out from fatigue or of pain management becoming much more difficult. This is especially important before a long tattoo session.
Bring Snacks
If you're going to be getting a large tattoo and have scheduled a long tattoo session, make sure to bring a snack. Not only does it help satiate hunger, but it will also provide a distraction from the pain. Try some Caramel Fudge Brownies. These chocolatey, mouth-water, rich, caramel fudge brownies are unequaled in quality and home-baked goodness. Made with Full-Flower, Sun-Grown, Pesticide-Free, Standardized Full-Spectrum Oil Blends extracted with CO2 and Organic Cane Alcohol Extraction Methods. Each treat is individually wrapped in child-resistant plastic wrapping. Just unwrap and enjoy! 10mg THC / 10mg CBD per brownie. Snacking on an edible will help with any discomfort and anxiety.
After the Tattoo Session
Keep your tattoo moisturized with the Solace Topical CBD:THC lotion. This will help your tattoo heal properly and maintain the vibrancy of the ink.
Final Thoughts
Follow the above tips on using cannabis for tattoos and your ink session will go smoothly. The tips outlined above are meant to help you prepare for a tattoo session and help your artist create a piece you will be obsessed with.
Combine the aftercare instructions here with some pain-relieving strains from our menu and you'll be feeling good and will heal up in no time.
---
Disclaimer: Marijuana has intoxicating effects and may be habit-forming. Smoking is hazardous to your health. There may be health risks associated with consumption of Marijuana. Marijuana, in any form, should not be used by individuals that are pregnant or breastfeeding. Marijuana is intended for use only by adults 21 and older. Keep out of reach of children. Marijuana can impair concentration, coordination, and judgment. Do not operate a vehicle or machinery under the influence of this drug. This product may be unlawful outside of Washington State.