Sometimes, you need something a bit more special than just "hey" with a million y's when you're trying to grab the attention of your crush. While many stoner pick-up lines are totally cheesy, getting bae to crack a smile can often be all you need to break the ice. Besides, pick-up lines are meant to be taken humorously, so the cornier they are the better they work. So, jot these stoner pick-up lines down so you can win your crush's heart.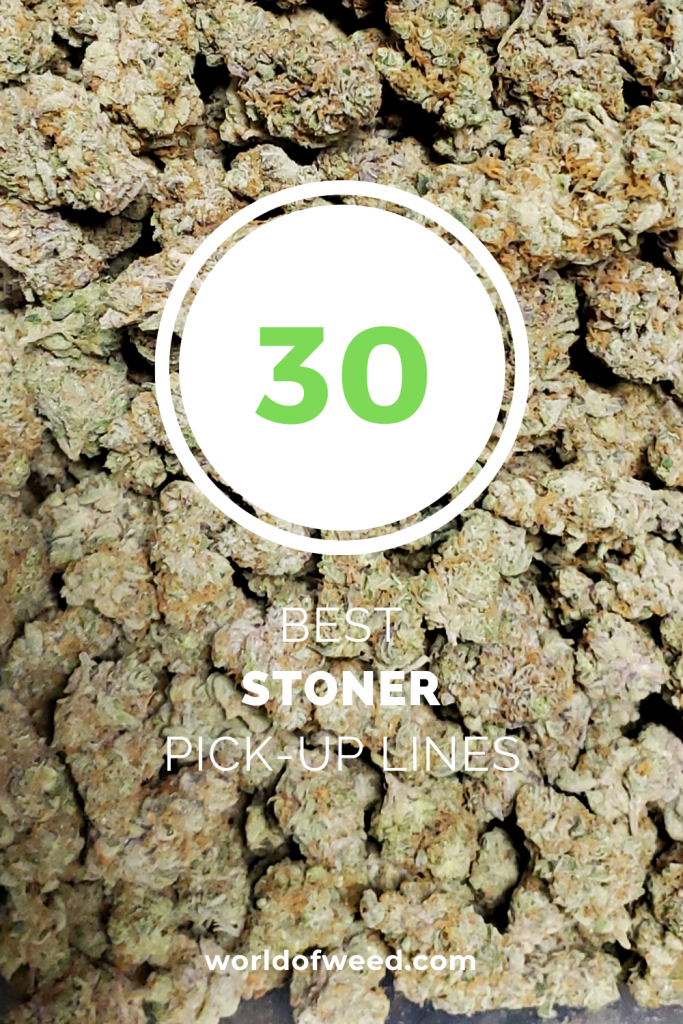 30 Best Stoner Pick-Up Lines to Get Your Canna Cutie
1. *crystal ball emoji* I see us seshing in your future.

2. Well, I texted you and I have weed. What's your final wish? *genie emoji*

3. Let's play smoking games! If I win, you take me out. If you win, I take you out. *burger emoji*

4. How am I going to sesh with you if you keep taking my breath away?

5. Either I have the munchies or you're looking like a whole snack.

6. It's important to follow your dreams. So…can I have your number?

7. Want to sesh?

8. Can I save you in my phone as "smoking buddy"?

9. Can you send me a selfie? I want to show the homie what my future wife looks like.

10. Netflix and blaze?

11. Is it just the WiFi OG or is there totally a connection?

12. Do you believe in love at first puff or should I pass you the blunt again?

13. Are you a sativa? Because you've got me lifted.

14. Hrm. "Us." Sounds like the name of a great strain.

15. Your eyes sparkle like the trichomes on this bud.

16. If I was going to name a strain, I'd name it after you.

17. Did you know there's a date more important than 4/20? Ours.

18. Are you made of weed? Because you're getting me high.

19. You must be a dab, because you're hot and I want more.

20. Remember me? Oh, right. I've only seen you in my dreams.

21. If you were a strain, you'd be Cutie Kush.

22. I'm no lab director, but I'm pretty good with numbers. Give me yours and I'll see what I can do with it.

23. Kiss me if I'm wrong. Flower with 55% THC exists, right?

24. Want some mids? No? Well, how about dinner?

25. I may not be a cannabis photographer, but I can picture us growing together.

26. Are you a cultivator, because you're making my love grow?

27. Are you a model? No? Oh, when did you quit?

28. Aside from being a sexy stoner, what do you do?

29. Is your nickname HS 11358, because you've got "fine" written all over you.

30. If you were a contract, you'd be in fine print.
Cat got your tongue? Struggling to find the right words to let your crush know you're into them? These silly stoner pick-up lines may be on the cheesy side, but they're bound to make bae smile if you're brave enough to take them for a test run!

With the hundreds (maybe even thousands?) of pick-up lines out there, it can be hard to find one that really conveys what you want to say. The above thirty stoner pick-up lines are a great starting point, giving you some one-liners that your date won't be able to help but chuckle at. Whether you're looking for the best stoner pick-up lines for girls or the best stoner pick-up lines for guys, we've got you covered.

Which of these 30 stoner pick-up lines are you going to use? Share with us down in the comments or drop your own stoner pick-up line.
---
Disclaimer: Marijuana has intoxicating effects and may be habit-forming. Smoking is hazardous to your health. There may be health risks associated with consumption of Marijuana. Marijuana, in any form, should not be used by individuals that are pregnant or breastfeeding. Marijuana is intended for use only by adults 21 and older. Keep out of reach of children. Marijuana can impair concentration, coordination, and judgment. Do not operate a vehicle or machinery under the influence of this drug. This product may be unlawful outside of Washington State.