Having a positive outlook on life comes with many advantages for stoners. This is especially true when you're just starting to venture into the world of cannabis. The knowledge and skill you develop is entirely dependent on how much you smoke, what questions you ask of your budtenders, and what cannabis content you're consuming. You can give a big boost to your smoke sessions with a heavy dose of positivity. Because a person who is friendly, fun, happy, and jovial can make a connection with other stoners with ease. And who doesn't want more like-minded stoner friends? Here is a list of positive affirmations for stoners. 

What are Stoner Affirmations?
An affirmation is a positive statement that asserts the truth or existence of something. It's a law of attraction tool that influences both the conscious and unconscious mind. It is a pronouncement of goals as though they have already been achieved. Affirmations keep you positive and motivated to turn your dreams into reality.

Stoner affirmations are statements that fill your mind with positive thoughts about your cannabis journey. It is important for a stoner to keep negativity at a distance as bad vibes ruin the high and can stress you out. But, keeping that negativity at bay requires daily positive thinking.

That's where the stoner affirmations come into play. 

Why Do Stoners Need Affirmations?
For a stoner, things can get unpleasant without warning. It's easy to get introspective and give in to negative thoughts, especially with the social stigma surrounding cannabis and its consumption. Once negative thoughts worm their way into your mind, they act like rats and destroy all of the hard mental work you've done. Furthermore, these negative thoughts can be as loud as your weed. Daily positive stoner affirmations can ensure that such adverse emotions don't take up space inside your mind.

Positive stoner affirmations are essentially a mental workout that strengthens your mind. With strong resolve, there is no goal you cannot reach. Practicing your stoner affirmations daily can help you to stay focused on your goals and to believe in yourself.

How to Use Stoner Affirmations for Positivity
Whether you're choosing affirmations from this list or are writing them out yourself, you need to make sure you feel a connection with them. The chosen stoner affirmations should resonate with all aspects of your life as a stoner trying to maintain positivity.

You can create positive stoner affirmations from negative emotions and existing problems. Think about what is bothering you, and then spin it to be in your favor. Once you have put together a list of stoner affirmations, write them down someplace visible. You need to be repeating these stoner affirmations to yourself at least once each day.

You can choose to either speak them aloud or say them in your head. Yet another option is to record yourself saying them and then listen to the affirmations on a daily basis.

The best times to practice your affirmations are right after you rise in the morning and/or right before you drift off to sleep. When you say the stoner affirmations in the morning, it sets a positive tone for the rest of your day. When you say them at night, your unconscious will become focused on those positive thoughts. This will help ensure you wake up feeling happy and full of energy. Follow it up with a good wake and bake, and you're all set for a great day!

The key to positivity through stoner affirmations is to say them with firm belief. This may be a bit tricky in the beginning, but with regular practice, you will believe the affirmations and will be able to manifest your dreams into fruition.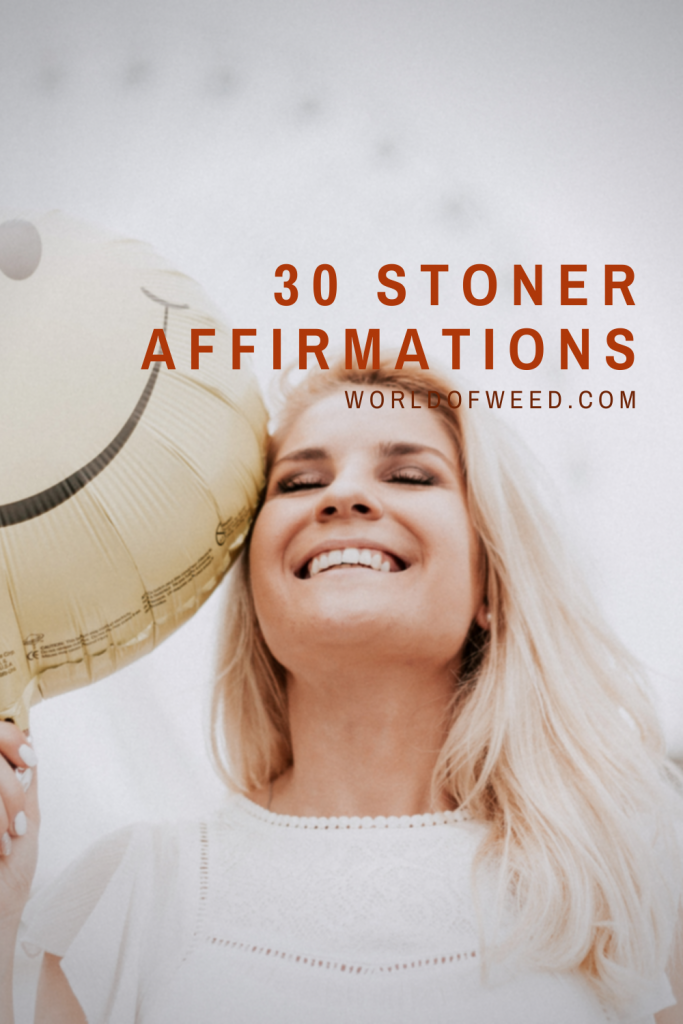 30 Positive Stoner Affirmations to Follow
We have compiled some of the best stoner affirmations for positivity. Many people have used such affirmations to help improve their mental state, bring positivity into their life, build their self-esteem, and manifest their goals.

Remember to choose the stoner affirmations that resonate most with you.

Daily Affirmations for Stoners Seeking Positivity
1. I am happy and healthy.
2. I love being a stoner.
3. I love having an optimistic outlook on life.
4. I am thankful for all of the positivity that surrounds me.
5. I grow more positive each time I smoke.
6. I am grateful for the connections I have made in the cannabis community.
7. I am ready to have another uplifting, productive day.
8. I am sativa happy and indica relaxed.
9. I am manifesting more cannabis into my life.
10. Nothing or nobody can stop me from blazing today.
11. I am full of joy and optimism today.
12. I have the patience to get through running out of weed.
13. I excel at smoke tricks.
14. I am proud of my accomplishments in life.
15. I am a productive stoner.
16. I can achieve anything I set my mind to.
17. I roll perfect blunts every single time.
18. I can outsmoke anyone, anytime, anywhere.
19. I am making a difference in the world.
20. I own the best weed in Washington.
21. My mind is clear and focused, ready to make the best decisions possible.
22. I am great at time management.
23. I am on the way to smoking all of the strains.
24. I believe in myself.
25. I am an optimistic, positive stoner.
26. My life is going exactly as I envisioned it.
27. I attract the best weed.
28. I am surrounded by the best people.
29. My positivity and enthusiasm for life are infectious, and people love me for it.
30. I am a natural stoner.
Final Thoughts
These stoner affirmations may very well seem simplistic and superfluous to those who are not used to practicing positive affirmations. It can be hard to believe that merely reading some words would lead to positive changes in your life. It sounds improbable, if not downright impossible. But, they couldn't be further from the truth. You see, the words you speak are an extension of your emotions. By phrasing things in a present-tense, positive way, you can change the mental tape in your head and replace it with an upbeat, optimistic one.

The secret to making stoner affirmations work for you is to believe what you are saying. You need to firmly believe every word of your affirmations. This isn't easy to do at first, so stick with it. Trust in the stoner affirmations process and read them with all the sincerity you have.

Believe us, it will turn you into a positive stoner in no time at all!

---
Disclaimer: Marijuana has intoxicating effects and may be habit-forming. Smoking is hazardous to your health. There may be health risks associated with consumption of Marijuana. Marijuana, in any form, should not be used by individuals that are pregnant or breastfeeding. Marijuana is intended for use only by adults 21 and older. Keep out of reach of children. Marijuana can impair concentration, coordination, and judgment. Do not operate a vehicle or machinery under the influence of this drug. This product may be unlawful outside of Washington State.