It's pretty tough to not resent Mondays. I mean, the day signals the end of all the fun and freedom that the weekend offers – – a fact that's especially true just following the New Year, when the weekend has a carefree, vacation-esque vibe.
Even if your job is super awesome, the looming reminder you have to go back to the grind come Monday can leave you feeling pretty out of sorts and just spinning your wheels all day. And then you have to spend your whole week just playing catch up.
But, since that Monday is going to happen whether you're particularly stoked about it or not, that lack of carefree fun doesn't have to. The key is adopt one of the smartest habits around, so you can set yourself up for a brighter, more productive week without really cutting into the weekend. In fact, it'll make it better.
Because weed makes everything better.
Start your weekend off the right way – – with a good Wake 'n' Bake!
The secret to a good Wake 'n' Bake lies in the preparation. So, we've outlined some great tips to make sure your next Wake and Bake is as chill as possible.
The Secret to a Good Wake and Bake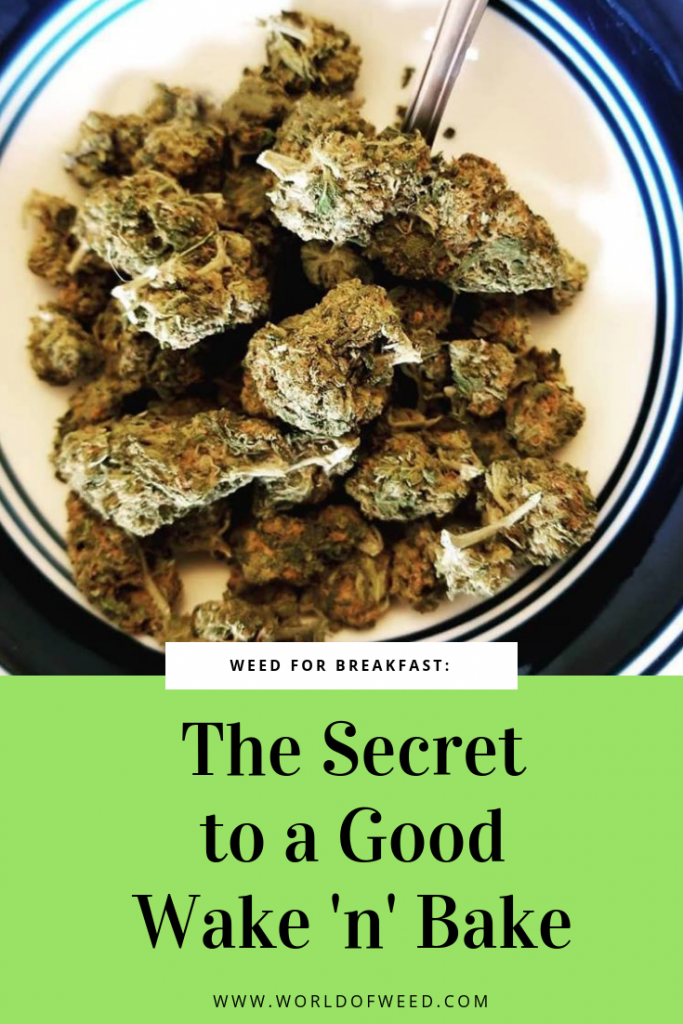 Start preparing the evening before
The secret to a good Wake and Bake lies in the preparation. Double-check your schedule the day before your planned Wake and Bake to make sure you don't have anything to do the next day.
Plan out your breakfast, make sure you've got everything you need to make it, and pick your comfiest outfit. Make sure you've got all the bud you need, and roll up your blunts or pipes for tomorrow.
It may seem like you're being a bit extra with your Wake and Bake, but preparing the night before your smoke sesh cuts out a ton of time and unnecessary tasks that take away from your chill time.
Pick high-energy strains
Certain sativa strains provide a great deal of energy, waking you right up and giving coffee a run for its money.
These strains can definitely be life-changing for those who have a tough time waking up in the mornings or tend to be prone to daytime lethargy. Getting out of bed can seem like an impossible task sometimes, but the right high-energy marijuana strains give you that boost of energy and motivation you need to get moving and enjoy your day!
Put together a super chill playlist to smoke to
It's hard to beat the cozy, comfortable serenity that comes from a peaceful morning with an overlay of music to set the vibe. This ultimate, carefree Wake and Bake day is best with its own background music. We recommend checking out this list of the best stoner songs about weed.
Wear your comfiest outfit
You've worked hard ALL week. You're finally able to chill out and relax with some great music and even better weed.
Why would you ruin that coziness by wearing something that isn't 100% comfortable?
Wear the comfiest clothes you own, and smoke out in max chill mode. (Adult onesies, anyone?)
Stay hydrated – – water is your friend!
As you probably know by now, cannabis tends to cause dry mouth, dry eyes, and dehydration. Always drink water, tea, juice, or other hydrating beverages before, during, and after your smoke sesh in order to really enjoy your Wake and Bake and the whole day. It cuts down on grogginess and it's the best thing for you.
Eat a true breakfast of champions
One of the best things about a good Wake 'n' Bake is indulging in a delicious, hearty breakfast once those munchies hit. We're talking about a FULL breakfast here, one that you wouldn't have time to make and enjoy any other day of the week.
We're talking waffles, eggs, milk, and slices of smoky bacon. Maybe even some freshly baked muffins or scones.
If you get a bit spacey after smoking, make your breakfast first, then smoke out, and then go devour that amazing meal when the munchies take hold of you.
Wipe your schedule for the whole day
While there are definitely some people who love to have a jam-packed day and busy morning, others prefer to know they can smoke out to their heart's content without having to do a single thing they don't actually WANT to do.
Depending on which strains you're smoking, you could be left kind of sleepy and just ready to chill out and relax all day, without any pressure of obligations.
If you're the type of person who would love just enjoying your day without having to do anything other than smoke, then you're going to want to make sure you wipe your schedule for the whole day and don't schedule anything else.
Do you have your own secrets to a good Wake 'n' Bake?
Share them with us down in the comments!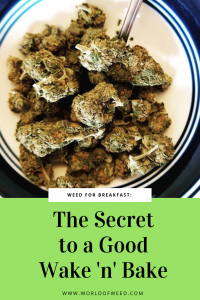 ---
Disclaimer: Marijuana has intoxicating effects and may be habit-forming. Smoking is hazardous to your health. There may be health risks associated with consumption of Marijuana. Marijuana, in any form, should not be used by individuals that are pregnant or breastfeeding. Marijuana is intended for use only by adults 21 and older. Keep out of reach of children. Marijuana can impair concentration, coordination, and judgment. Do not operate a vehicle or machinery under the influence of this drug. This product may be unlawful outside of Washington State.